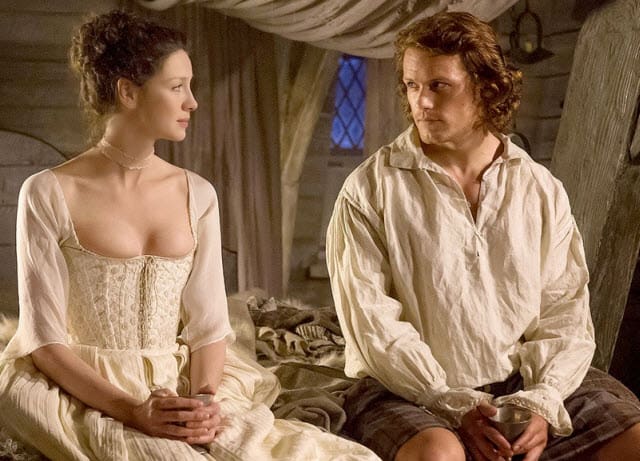 Television, in my opinion, is the greatest and most complete artistic medium in the world. It combines the incredible depth of a novel and the visual chaos of film. Television reaches thousands upon millions upon billions of people, and does it every day.
I've seen a lot of television in my lifetime; good, bad, indifferent. Same with film. Same with novels. And through this incredible medium I've found my lifelong passion; through this medium I've learned and absorbed so much good and bad art that I am a more educated person because of it.
So, when I say that Outlander is having one of the best seasons of any show ever to air, know that I mean it. It's not perfect; no show is. But the politics, the directing, the lighting, the acting, the writing, the setting; all of these things and a million more make this show the best new show to air this year, and it's not even close.
This episode was about the wedding between Jamie and Claire. It's a political marriage, done to keep Claire out of the clutches of Black Jack Randall. We the lead up to and the wedding itself in flashbacks; the present day is filled with Claire and Jamie getting to know one another. There has been a clear chemistry between the two since the moment they met; that part is undeniable. So the nerves between the two, who have definitely and more than a little obviously been stealing glances at one another, are understandable. Jamie, being a good person in a world full of crap, and her being married and in love with Frank, puts a damper on what is supposed to be a joyous occasion.
The flashbacks in which see how the wedding came to be are interesting; they flesh out the characters of Murtaugh and Rupert and Dougal, but I want to focus strictly on the Claire-Jamie scenes.
So.
Claire and Jamie make love in this episode. It's explicit, passionate, awkward, and explorative. Jamie is a virgin and is appropriately awkward about the whole process. Claire, who is already married (and I am sure she lived a full life before that), is much more knowledgable. But she is still nervous, and they spend a few hours just talking about their families, because, really, they don't know each other at all. They tell stories and grow more comfortable and they learn about their partners in the way that creates real intimacy. Only then does Claire feel comfortable enough.
The first time they have sex, Jamie finishes early (like every man ever), and Claire has to coach him on how not to crush her when he's on top. But Claire did enjoy it, and that's what scares her; though she loves Frank and wants to get back to him, she wanted to be with Jamie. She is conflicted because she liked the sex.
The second time is much better. Claire and Jamie learn more and more about each other, exploring the different facets of their lives. This emotional intimacy leads to a stronger physical one, but this time Claire is one on top. She dominates him, biting and pulling, and, most importantly, looking. She had Jamie first take off his shirt and she walked all around him, feeling his body and taking her fill of her new husband. It's a gaze that is usually reserved for the straight males; a gaze that is usually over the lithe, young bodies of women by men; it is a gaze that has never been afforded to women because, well, sexism. Outlander is a show that has a female protagonist enjoying sex and initiating sex and having respect for the female body. It a show that has a female protagonist linger on the scarred body of a naked man, so that it convey that Claire has wants and desire and feelings.
There have not been many shows, if any, that have done this.
The third time they make love is much more tender. It's much more about enjoying the company of their Other. A lot of other stuff happens around them but the episode is anchored to the idea of Claire and Jamie, discovering each other, in their own time. The era in which they reside is outwardly hostile to the idea of female power but Claire refuses to give up the (still small) privileges in which her female predecessors fought and died for. She is a human being and she will be treated as such.
No matter Dougal's actions or Black Jack Randall's actions or even Jamie's actions: Claire has made her choice and she will continue to make choices, because that is her right as a human being.
How sad it is that I am reveling in the idea of female agency in 2014.
See you next week.
[Photo via Starz]
Tell us what's wrong with this post? How could we improve it? :)
Let us improve this post!