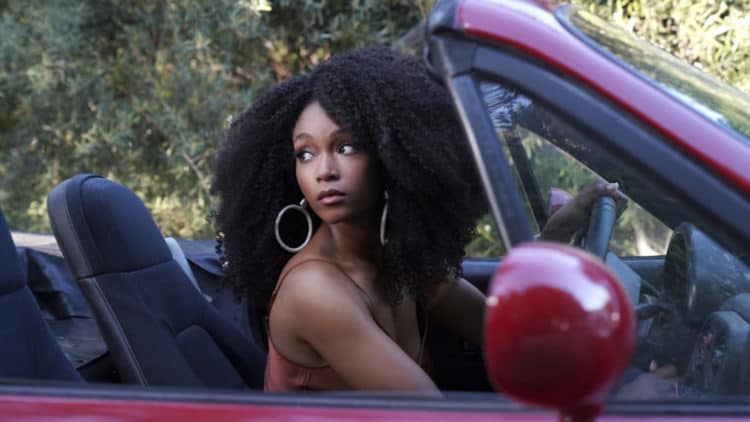 Things are heating up between Tyrique and Angela. Even though their relationship is giving real sneaky link vibes even a blind person could see that they are falling fast in love with each other. However, in a place as scandalous as Martha's Vineyard, it doesn't take long for their world of bliss to become one of chaos.
Angela Needs A Favor
Angela, Nikki, and Piggy are at a photoshoot for her hair care brand when Nikki gets a letter from one of the colleges she applied to. Nikki finds out that the only thing standing in her way of getting into her dream school is the lack of so-called "culture and experience she has". Angela promises Nikki that she's going to make sure she gets into that school. Angela believes that being part of the cotillion is just what Nikki needs and she needs Leah's assistance to pull that off. Although the two sisters are always at odds, Angela knows that Leah won't miss an opportunity to help her niece. However, in order to get Nikki in the cotillion, Angela will have to pay $25,000. Because Angela is supermom she makes it happen.
Teddy Is Up To Something
Instead of making a genuine effort to get to know his daughter, Teddy is prying into Angela's background looking for dirt. He has been in contact with Nikki's father. He offers to pay Nikki cotillion fee but Angela turns down the offer and insists that she wants to get to know him more. Teddy invites Angela and Nikki to the family dinner.
Escorts To The Cotillion
Now that Lauren is out of the closet, she lets her parents know that she wants Taylor to escort her to the cotillion. Surprisingly, they are totally fine with it but when Raymond mom's finds out her granddaughter is a lesbian and she's bringing a girl as her date to the cotillion she nearly has a heart attack. Nikki doesn't have a date for the event but like always her mom is on it. Angela asks Tyrique to escort Nikki to the cotillion which may be confusing since their relationship is supposed to be on the down low. Angela opens up to Tyrique about Nikki's dad and how he was in prison for most of her life. She expresses her regret for not letting her daughter have a relationship with her father because she didn't think it was best for her to visit him in prison. Tyrique feels honored that Angela would want him to escort Nikki to the cotillion but he has to be honest. He tells Nikki about the cameras that were originally placed in her office because Teddy wanted to spy on her. Tyrique admits that once he realized that she was a good person and didn't have any ill-intentions he took the cameras down. But Angela doesn't want to hear it. He makes it clear that his loyalty lies with the Franklins. Angela decides to break things off with Tyrique but Nikkk let's her mom know that she's being way too hard on him and that he deserves to be forgiven. Angela eventually gives him another chance.
Leah and Raymond's Marriage Is Falling Apart
Meanwhile, Raymond and Leah's marriage is slowly but surely falling apart. Raymond realizes that there is a brewing war involving his business. Raymond finds out about Our Legacy LLC from Alex and asks Leah about the LLC but she pretends to know nothing about it. Momma Liv doesn't understand why Leah isn't helping her son with his business. Raymond knows that Leah is lying. As their marriage is already on the rocks the secrets between them threaten to swallow them whole.
Lauren Gets Banished From The Cotillion
The Apple doesn't fall too far from the true. Lauren takes a page out of her mom's book and embarrassed Nikki at the cotillionn when it's her turn to light the candle. She claims that she saw Nikki almost kiss Taylor. Fed up with her mean girl antics, Taylor breaks things off with Nikki and let's her know she wants nothing to do with her. Angela and Nikki decide.to take Teddy up on his offer and attend family dinner at the Franklin estate that evening. Lauren's rude behavior towards Nikki gets her kicked out of the cotillion and sent to her room.
Book Of Secrets
Tyrique and Angela hatch a plan to obtain Teddy's book of secrets while at the estate for family dinner. Teddy leaves dinner abruptly because his Parkinson tremors are out of control. While Teddy goes to take his medication, Angela searches through his office and Tyrique warns her to hurry. Teddy takes more pills than he is prescribed and falls over having a stroke. While on the floor he sees Angela and Tyrique's feet leaving his office.