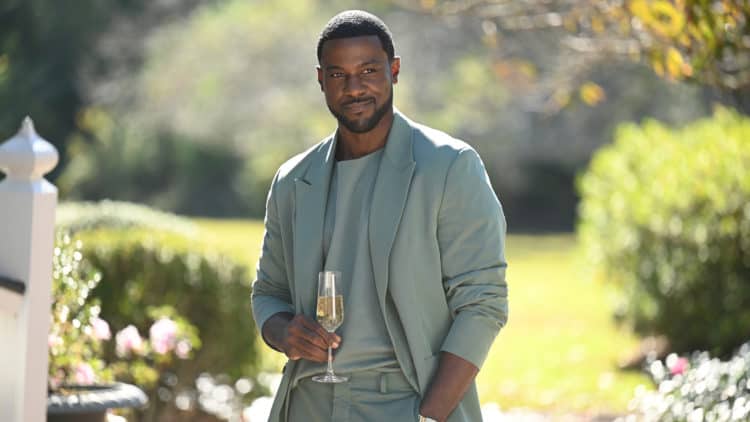 After nearly a month-long hiatus, Our Kind of People is back with the drama. In Episode 10 old alliances finally end reminding us that in Oak Bluffs you're either on Teddy's side or you're an enemy. It's that simple.
Redemption
Aunt Peggy is on the road to redemption and she's finally ready to make peace with her past because she's tired of feeling guilty. She finally has a much-needed talk with Tyrique about his father, revealing that his dad was involved in some of Teddy's criminal activities but for the most part he was a good person. This information gives Tyrique some relief but he still has questions about his father's death. What about Nate? Sometimes it's easy to forget about Nate because his character is quiet at times and he just melts into the background. Nate is focused on getting his life back together and being a good father to JoJo and controlling his feelings for Angela. When Nate learns that Aunt Peggy wants to turn herself into the police he and Angela try to talk her out of it but it doesn't work.
A Dream Come True or Not?
After weeks of preparation, it's bid week and Angela will finally know whether her business gets accepted or not into the prestigious organization. Five people make it into the Graceties and unfortunately, Angela isn't one of them. This is a major blow mainly because all the judges gave their stamp of approval instead of Leah, which is shocking since Leah is the one that talked some sense into stubborn Olivia and even guided Angela through the entire process. Of course, Teddy is behind Leah's sudden change of heart. Leah's betrayal breaks Angela's heart. Over the last few episodes, the two sisters relationship had significantly improved. Teddy told Leah that Angela needs to leave Oak Bluffs, since she can't leave the past alone. If Angela finds uncovers secrets it could destroy their family. Just like that Leah is roped into her father's malicious plans. If it's one thing we know, right or wrong, Leah will always choose her father.
New Alliances
Raymond realizes that if he's going to win his business back from Teddy he is going to need some help. Although his mother Olivia is just as cunning as Teddy and is willing to go the extra mile, she has her own agenda and can't really be trusted. What better person to form an alliance with than with Tyrique, one of Teddy's close confidants besides Leah. Tyrique and Raymond don't have the best history. They went to boarding school together and he never came to Tyrique's aid when he was falsely accused of stealing. However, Raymond was always cordial with him, but never warm enough to make him feel welcomed into his circle. Nevertheless, Tyrique agrees to help Raymond when he finds out that Teddy is trying to steal Raymond's business. The truth is the he still despises Teddy and believes that he had something to do with his father's death he just can't prove it. Tyrique gets rid of the form that Jack signed before his death that would give Teddy his shares of Darmon.
The Letter
Tyrique pays Angela a visit after the Graceties ceremony. He tells her he's sorry that she lost and also apologizes for keeping his distance. Angela forgave Tyrique but she was t exactly jumping in his arms. To make matters worse, Angela and Nate find a letter from Aunt Peggy saying that she has turned herself in at the police station. Will Aunt Peggy end up going down for accidentally killing her old boyfriend?
What Else You Need To Know:
In this episode we finally get to meet Angela's mother. Angela mother has mental issues and Teddy has kept her tucked away for years.
Leah tries to get some information from her mother but her mom has a full blown panic attack in the process and Teddy takes Leah away.
Angela and Leah share a sweet moment when Leah gives her a old picture of her mother in the Graceties. She tells Angela that her mother was ambitious and determined for her just as much as she is for Nikki.
Angela reveals that she believes that Teddy set up her mom up to be arrested. Leah knows Teddy is capable of just that but she insists Teddy wouldn't do that.
Raymond wants to know why Lauren would think Jack and his wife were having an affair. Leah admits that Jack missed her at the Diamond Ball back in Episode 2. She stresses that the kids wasn't mutual.
Tell us what's wrong with this post? How could we improve it? :)
Let us improve this post!