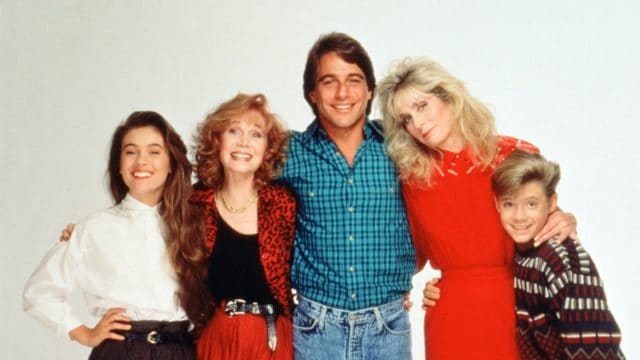 So I'll start by saying: do you know how hard it is to find individual clips of a show that's been off the air since 1992? You can find a lot of compilations but guaranteed finding individual clips is very difficult. That's why I've managed to find for you some of the funniest clips from the show, which means some of the absolute best. Who's the Boss was a show that challenged a lot of stereotypes and created a new look for men and women since it featured a woman as the main source of income and the man as the housekeeper that stayed at home all day and performed what were traditionally considered "womanly duties". In short, the show was a definite wake-up call to America.
But that could be why it was such a loved program too.
5. Spilled ashes
It's pretty simple, Angela spills an urn that she believes is holding the ashes of Tony's father and begins to freak out when he grabs the DustBuster and starts vacuuming up the mess. Thankfully he reassures her that his father is fine just where he is, buried in a cemetery where he can rest in peace. It's a touching moment for a funny clip but one that might have had a few people cringing.
4. The rhyming game
Mona, Angela's mother, was never shy when it came to speaking her mind, even if it went against her daughter. The character of Mona definitely flew in the face of everything that people had come to expect of older women since she was bold, crass, and didn't really care what people thought of her so long as she managed to get her two cents in.
3. Mic check
Since the character of Tony is a former baseball player this one kind of hits home with him. This young man that sits down at the mic sounds as though he might not have much of a voice when he first sits down. But then he channels some inner strength and lets loose with a sportscast that sounds so good that he could be a professional for the ballpark.
2. Don't disrespect the family
When a pair of fellow parents decide to label Jonathan as a wimp and bring it to Angela and Tony's attention Tony isn't about to stand for it and decides to get to his feet with every intention of telling the couple off. Angela however takes a different tact and decides to calmly, rationally, and as politely as possible tell the couple to get their butts up and get out.
1. Getting the boot
You've got to admit that getting fired from a volunteer program seems a little kooky. It's not as if the organization was formally firing him since honestly a volunteer tends to do things for free. But Mona's reaction could have been done without in real life. On the show however it definitely added to the moment no matter how rude it seemed.
You can easily see what this was such a popular show in its day.
Tell us what's wrong with this post? How could we improve it? :)
Let us improve this post!