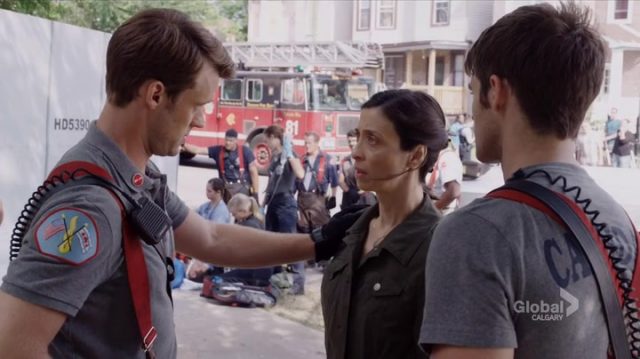 It's that time of the year again. Not only do the kiddies return to school and football games are in full swing, but a new television viewing season is upon us. Every September, TV fanatics wait for premiere week to catch the return of their favorites series and also sample the new shows that will be hitting the airwaves. This week, we will provide guidance on what you need to watch live so you don't miss the spoilers at the water cooler the next day at work. We will also discuss which shows can be recorded and watched on a lazy Saturday afternoon. Today, let's take a look at Tuesday nights. This day includes lots of comedy on ABC, three new dramas at 9 PM, and Chicago Fire anchoring the week for the franchise which now has 4 series!
8 PM
ABC: The Middle/American Housewife (October 11)
CBS: NCIS (September 20)
CW: The Flash (October 4)
Fox: Brooklyn Nine-Nine/New Girl (September 20)
NBC: The Voice (September 20)
Watch Live: Brooklyn Nine-Nine/New Girl – Brooklyn Nine-Nine will flash forward six months to see how Jake (Andy Samberg) and Holt (Andre Braugher) are coping in Florida as part of the Witness Protection Program. Megan Fox will return to New Girl later this season as Nick's (Jake Johnson) girlfriend Reagan.
DVR: The Middle/American Housewife – The Middle moves to a new night and Brick (Atticus Shaffer) is dealing with high school and learning how to drive. American Housewife will partner well with The Middle as it is also a family sitcom featuring a comedic vet (Mike and Molly's Katy Mixon).
9 PM
ABC: Fresh Off the Boat/The Real O'Neals (October 11)
CBS: Bull (September 20)
CW: No Tomorrow (October 4)
FOX: Scream Queens (September 20)
NBC: This is Us (September 20)
Watch Live: This is Us – The new series is anchored by Mandy Moore and Milo Ventimiglia, who are about to add another child to their family. Their lives become intertwined with other 36-year-olds, who all share the same birthday.
DVR: Scream Queens – The second season of this series will feature the return of Jamie Lee Curtis, Emma Roberts, and Keke Palmer. New faces that will be doing their fair share of screaming include John Stamos and Taylor Lautner.
10 PM
ABC: Marvel's Agents of S.H.I.E.L.D. (September 20)
CBS: NCIS: New Orleans (September 20)
NBC: Chicago Fire (October 11)
Watch Live: Chicago Fire – Season five of Chicago Fire will continue to bring the drama to the men and women at Firehouse 51. Severide (Taylor Kinney) and Stella (Miranda Rae Mayo) deal with the aftermath of the knife attack from Stella's ex. Also, Casey (Jesse Spencer) is learning to become a parent with Dawson (Monica Raymund) after her adoption goes through.
DVR: NCIS: New Orleans – Graceland's Vanessa Ferlito joins the cast as an FBI Agent sent to investigate the team in New Orleans.
Are you ready for the new TV season? Tell us what shows you will be watching on Tuesday nights in the comments section below.
Photo by: CBS