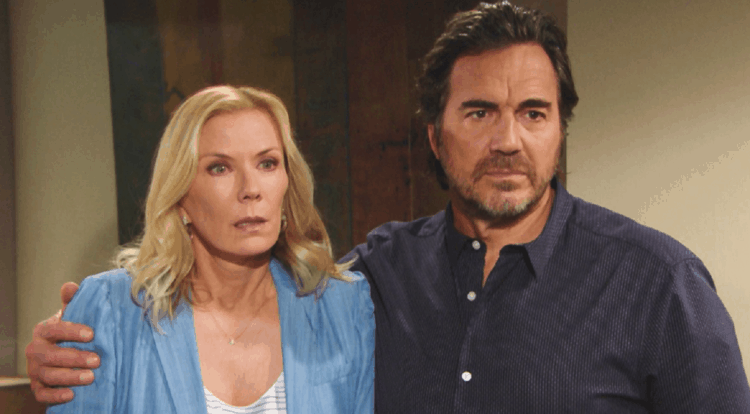 Bold and the Beautiful fans aren't sure what to think about the power couples on the show. There are some, but there does not seem to be one that stands out like they do on other daytime shows. There are some who seem like they might be pretty good together. There are some who might be the best of the best, and there are some who might just be so good that we will never see them last because fans cannot handle it. However, there are more relationship issues in this show than most others, so people don't really get to spend enough time together to gain the super couple status that so many others on so many other shows do. However, we still believe that there are some who are better than others, and we want to address that in some manner of speaking. You see, we think these couples have the ability to become power couples.
Katie and Bill
They have a chance to make this happen. They have a chance to get to the top of the game and make it as a super couple on the show, but will they? We have not seen much of her since she had her surgery. Of course, she's recovering and that is important. However, we do think that she is someone who can come out on top of all that is happening in her life. She's been a wallflower to her sister's major power player personality for so long now that it's almost tough to make things work in her favor. She has the potential, but we hope she can pull it out and put herself on top. She's done with the meek personality. We want more from her, and we hope to get it soon.
Sally and Wyatt
These two — and we are predicting this one now — are going to be the best couple that ever happened around here. There might be some that don't agree, and there might be a chance that they don't even work out, but we disagree. These two are both doing big things by not doing what their families want them to do. Her family hates his family, his mother hate everyone, and they are a couple who shouldn't be together if they want to be the kinds of people who make their families happy. But, we think that they are doing all the good things that they are meant to do by being together, and we think that they could go so far in their lives. We hope that they do, too.
Steffy and Liam
She had a chance to be with him, and he could have been powerful with her. She's a leader, and she's powerful, and she is the kind of woman he needs in his life. He is never going to reach his own full potential with women like Hope, and that's his issue. He has a chance to be his best self, but only if he is with her and they can make that work. We aren't sure that she might take him back, but we think she will eventually. They have a family together. Being with him might allow her to be with his daughter, Beth, who was hers for so long before they all found out she wasn't hers. This could work, and they could run the world.
Steffy and Bill
Can we bring up two people who could be super couples with two other people? You know what? We make our own rules around here, so here we go. We are going to go this route and say that we think it's entirely possible to make this happen. They could have been the most powerful couple in LA if they were together. They have the opportunity to rock the socks off everyone around here if they got together, even if it was a little weird considering their familial relations like her daughter. There's so much these two could have done and should have done together, but they didn't. It's too late now, of course, but they could have been more than slightly amazing. They could have been epic if they made it work.