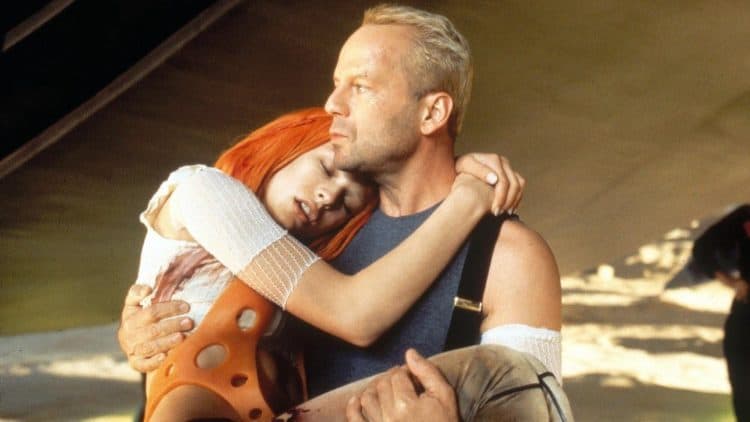 Alien/Human romances in the movies appear to be so much simpler than they might be in real life, don't they? The power of love is a universal thing apparently no matter that two people aren't of the same species even if they look alike, and aside from any cultural differences, it would appear that they can be as compatible as any two people might possibly be. Of course, there are moments when one has to ask 'how' and 'why' and maybe ask 'how' once again just to be certain. But for the purpose of this list, I didn't bother adding in Avatar largely because Jake eventually becomes the same species as Neytiri, which means that despite being human outside of his alien form it doesn't feel like it should count quite as much. But the other pairings that were put together are all technically within the alien/human parameters since even if an alien looks human the reality is that they came from a different planet and have a very different DNA profile than their human significant other. In some cases, it's pretty obvious, but when human-looking aliens are called aliens by actual humans….you get the picture hopefully.
Here are a few alien/human romances that we happened to think were interesting enough to mention.
5. Beverly Switzler and Howard – Howard the Duck
Remember the 'how' question that was posed earlier in the article? This would be one of those moments since the anthropomorphic ducks that are featured in this movie are more human in a lot of ways than any duck should ever be. But when it comes to getting his freak on with Beverly it would appear that Howard isn't that shy really and he's ready to show that he has a few human qualities that he can put to use. It's still a bit of an oddity to think of a duck in this way, isn't it? Simply trying to think of the dynamics of it is kind of problematic since one might actually feel uncomfortable in the process of doing so.
4. Lois Lane and Clark Kent/Kal El – Superman
It would appear that people feel a lot better when the romantic angle is made with aliens that look absolutely human despite the fact that any Kryptonian would be like a god to the people of the earth thanks to their genetic makeup. One would think that Superman would be more of a danger to Lois, not in any romantic sense, but simply because if he was ever seen with her by an enemy, that enemy would have the perfect way to strike at Superman. Do you think he'd go so far as to turn back time again if she were targeted in this manner? Or would there simply be a major smackdown coming for whichever villain decided to take it that far?
3. Connie Conehead and Ronnie – Coneheads
Connie is definitely a beautiful woman in the film but it feels as though Ronnie was way out of his league with the Coneheads since not only was he weaker than all of them, but the simple fact is that the lot of them are smarter than he would be if he lived to be 100. Plus, her father isn't the kind of guy you'd want to mess with, as evidenced by the way he peeled the roof of Ronnie's car away like a sardine can. It feels safe to say that Ronnie's limited intelligence might have been his only saving grace since he didn't know when to just leave well enough alone and let someone else deal with the Coneheads. Hey, young love.
2. Gamora and Peter Quill – Guardians of the Galaxy vol. 2
Let's say this clearly, Gamora could absolutely end Peter if she really wanted to. Being one of the most dangerous women in the galaxy, Gamora is by far and large not a person to be messed with when she tells a person to keep her distance. But somehow Peter managed to fall for her and, eventually, before her death, Gamora fell for Peter as well. It'll be interesting to see if they get together again the next Guardians movie since when Endgame concluded Gamora was gone and Peter was trying to find out where to start looking, while at the same time trying to compete with Thor for no reason.
1. Korben Dallas and Leeloo – The Fifth Element
Again, the human-looking aliens appear to be a big thing since Leeloo is obviously something unique to humanity, which makes a person wonder, was she reconstructed in the form that she belonged, or it was by human invention? If this was her natural form does that kind of stoke the ego of every human being to think that we're the perfect form? That'd be a discussion for a later date, wouldn't it? When all is said and done though she was pretty badass.
There are plenty of other alien/human romances out there, but these were some of the most interesting.