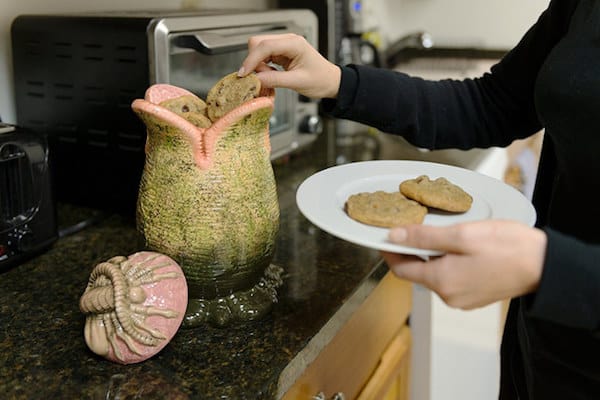 I was pretty sure that a Xenomorph Pez dispenser would be the highlight of all Alien related products out there, but I clearly underestimated the internet.  Someone actually produced an Alien Egg Cookie Jar with Facehugger Lid.   Yes, this product actually exists.   And for good measure a salt and pepper shaker were also created.   Here's the full product description:
Alien Egg Ceramic Cookie Jar with Facehugger Lid – The Xenomorph Egg (Ovomorph) sits on your kitchen counter filled with delicious treats instead of coiled surprise of a cuddly face hugger. Wait, the little creepy guy is here too, nestled on top of your goodies and keeping them fresh for another day!
And here are the features:
Highly detailed Xenomorph egg design from the Alien film franchise

Facehugger lid to keep cookies fresh

Ceramic cookie jar and lid measure 9″ by 5.5″

Not dishwasher safe, wash by hand only

In space no one can hear you take the last cookie!
I'm trying to coming up with words to describe this but I'm still trying to picture how I'd feel actually putting cookies in that jar.    Currently the product is ranked in the top 5,000 in Home and Kitchen which means it's definitely selling units.  As a former Amazon seller, I'd say they're doing at least 25-50 units a day.   Pretty impressive.