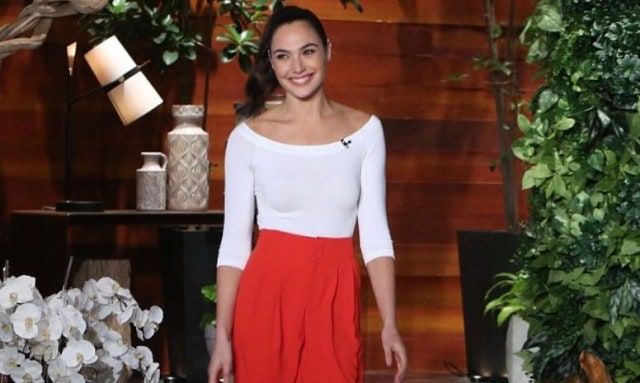 Lots of cool news coming out of Batman V Superman land today. The first is Gal Gadot's reaction to when she got the part of Wonder Woman. Earlier today Gadot revealed that she screamed when she heard she got the part. She appeared on The Ellen Degeneres show and said that she screamed when she heard that she was cast as the iconic female superhero – even though she was on an aircraft at the time.
'I didn't know what I was auditioning for – they said it was super confidential' explained the Israeli-beauty. She told Ellen that when Zack finally filled her in, she had to pretend to play it cool. Zack calls me saying: "I'm not sure if you have it in Israel but did you ever heard about Wonder Woman?" Then I went dead for about five seconds…came back to life and I tried to pull of my coolest voice saying: "Wonder Woman? Yeah. I've heard of her."
In other news related to Wonder Woman, Zack Snyder made an admission about the character. While promoting the film in Beijing, Snyder dished on what Wonder Woman's role would be in the upcoming film also starring Ben Affleck and Henry Cavill. According to Today Online, Snyder said,
"The one thing that Wonder Woman does get the opportunity to do, because she's not as deeply intertwined in the story, is the cool stuff," he said. "Like when you just get to show up and be cool, that's pretty much what she gets to do. Wonder Woman is arguably one of the most powerful female characters of all time and a fan favorite in the DC Universe"
Snyder also gushed about Cavill playing Superman all but officially admitting that Cavill is his favorite Superman.
"He really went all the way. He's an amazing Superman," he gushed. "I don't think it could be possible to have a better Superman because he really studied the mythology and everything else hard. When he first came into it, he was like, 'I didn't know much about Superman except what I've seen in the movies'. But he's really done his homework now and is constantly referencing all the comic books.
Which begs the question. Who's your favorite Superman? Is it Henry Cavill? Do you think that Ben Affleck is going to pull off Batman? Is this going to be the highest grossing comic movie ever? I think it certainly will be on the DC side of things. Let's hope doesn't spawn a ridiculous amount of Superhero vs. Superhero movies though. Gotta be careful to not go too nuts with this stuff.