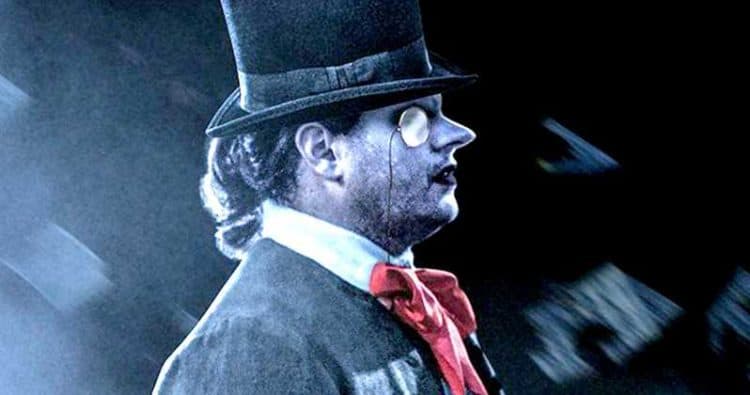 After making his first appearance in Detective Comics in December 1941, Oswald Cobbletpot has become one of Batman's most iconic villains. Known to fans as the Penguin, Cobblepot is a stark contrast to the rest of Batman's rogues' gallery much like Selina Kyle, aka Catwoman in that he is perfectly sane. The Penguin was inspired by Bob Kane and Bill Fingers – for Kane the mascot of Kool cigarettes being a penguin with a cane and a top hat shaped the image while Finger's imagined a villain favoring tuxedos while wearing expensive tuxedo suits. It worked – The Penguin is a gentleman gangster of Gotham city who owns the Iceberg lounge, an exclusive club which is often used by Batman to spy on the underworld.
A master criminal who is both a ruthless mobster and yet acts like a refined gentleman while most of his crimes, the Penguin wishes to be a wealthy, respected and/or feared membered of Gotham's high society while he steals bird-related items. The reason he wants to be feared and respected is highlighted by the common interpretation of the Penguin's backstory shows he spent his childhood being bullied for his short, pot-bellied figure..which resembled that of a penguin.
Armed with his umbrella weapons, the Penguin has remained one of the most iconic villains in Batman for many years. There have been many incarnations of the Penguin as there have been of Batman and the rest of the rogue's gallery of villains; the Penguin has been portrayed by actor Burgess Meredith in the 1960s Batman TV series, but this campy interpretation is matched by the much darker incarnation played by Danny DeVito who had no sense of the boundaries, and fairly recently in the Gotham TV series by Robin Lord Taylor who was capable of acting gentlemanly, buffoonish, and yet hides a psychopathic interior.
Those are just three examples of people – great actors who have played Penguin's live-action incarnations, but now someone is being teased as the newest film version of the Penguin.
For some time according to Cinema Blend, Josh Gad has been teasing social media for the role in DC's expanded universe, meaning he will be the second film version of the Penguin on the big screen since Danny DeVito was cast in Batman Returns, released in 1992. Since then there hasn't been another incarnation of the Penguin on the big screen whereas other villains have gotten the treatment.
Gad has been teasing social media for some time, claiming he was just having some fun. However, the fact remains he DOES love the Penguin's character, though no-one is aware if he is just playing a joke or not. In this Youtube video, annoyingly, he repeats he's just having fun – however, he also claims he would love to play the Penguin. These rumors have been going on since 2017 since Josh Gad was seen outside DC headquarters who was holding up a comic book with the Penguin's image on the cover according to this article from Movie Web – Gad didn't say anything about what the meeting was about, however, he did tease people about the role of the Penguin and he has been doing it ever since.
But Josh Gad HAS tweeted to fuel it, and according to this Youtube video, he has continued to fan the flames of the fire while also saying nothing about it. Meanwhile, Matt Reeves, the director who's going to be directing 'The Batman' remains tight-lipped about Josh Gad playing the Penguin even though they're good friends. So, what makes Josh Gad the perfect choice to play the Penguin?
Although he has been teasing being the next incarnation of the Penguin for some time, and this article from Independent says that he's hinting at being the Penguin with his crafted social media activity, Joh Gad is a brilliant actor who loves what he does, and he wouldn't say no to playing Oswald Cobblepot.
But Josh Gad has never done anything like The Batman before – his specialty is in comedy, but many actors have been known to move from genre to genre with no problem, and who knows? If Josh Gad plays a dark version of the Penguin as Danny DeVito did, rather than something that compares to Burgess Meredith's campy take on the character during the Batman 1960s series, then he can nail it – in this article from SlashFilm there is also the chance Josh Gad might not even play a live-action version of the Penguin, but an animated version of the character. That is certainly possible – DC comics is putting out many animated films, so the potential is still there.
But Josh Gad is still teasing the role, but usually, he is seen with an image of the Penguin next to him, and he's approved of the fan-art, according to this article from Cosmic Book News. The piece of fan-art in question shows a dark image of the Penguin, with his aquiline nose resembling a bird's beak while he has a monocle in his right eye, wearing a top hat and an immaculate dark suit that makes him resemble someone from high society while he is surrounded by real penguins wearing top hats of their own. Josh Gad is a brilliant actor who has been in the live-action reboot of Beauty and the Beast, and he has starred in Frozen, but despite all of his teasing of playing the Penguin, he does have the potential to join a long line of actors who have played/and or voiced the Penguin over the years. The piece of fan-art Josh Gad approved is not the only picture out there on the internet.
Tell us what's wrong with this post? How could we improve it? :)
Let us improve this post!