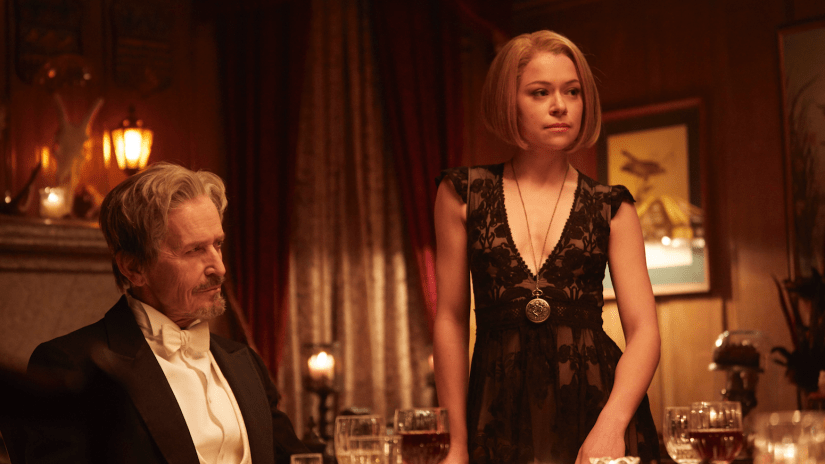 Every week Orphan Black delivers another layer to this complicated story. Usually, I think "Oh, okay," and just move on with my day. "Ease for Idle Millionaires," is not like that at all. Frankly, this episode did not put me at ease or leave me feeling idle at all.
What is going to happen to Cosima? They want Kira's eggs? But she's a little girl. I have developed disgust for Rachel, a character I have always found dynamic, now I just want her out of the picture!
So "Ease for Idle Millionaires" focuses on Delphine and Cosima, the fan favorite couple. They have been apart for so long, and the writers gift us a sensitive moment of when Cosima realizes she is sick, and Dyad owns her DNA. At first, I thought this was the best performance of the episode. Just you wait.
Meanwhile, Sarah strikes up a deal with Kira. Kira agrees to teach Sarah about their clone connection, and Sarah will clue her into the shady stuff the sestras get up to. I don't know why Kira isn't aware of all of it already, if she has some psychic connection to them. We shall see, I guess. This is a cute sequence of scenes, and I especially loved when S hears Kira's definition of hustling. Seems like Kira will be joining the ranks of the Manning hustlers.
Back on the island, Cosima discovers that PT Westmorland is attempting to synthesize a gene that will allow him to live forever. Unfortunately, PT knows about Cosima's digging around, and it only draws more attention to her. However, they want to know what she's learned, because let's be honest, Cosima is wicked smart. They need her brain.
So Cosima figures out that Susan and PT have been looking for a "fountain of youth" gene, that helps excel healing. They found it in a young orphan, Yanis, and used his genes when they created the Leida clones. However, all this experimentation severely impaired him, and PT kept him locked up in his basement.
Until Mud set him free. He manages to injure several people and murder at least one before returning to the basement where he feels safe.
Susan and PT never expected the healing gene to show up in Kira, the second generation that never should have happened. I love this! Orphan Black has a scientific aspect that was always beyond my reach, but now I get it! This missing piece, this poor orphan locked in PT's basement.
Susan and PT admit to the worst of it, they want Kira's eggs. What a twist! Sarah and S finally conceded to Rachel, and she has so much worse in store for our favorite little psychic.
Luckily, Delphine gets a message to S, and I hope she can implement a plan to save Kira. But you're wondering, "What was the best performance in this episode?"
That shining honor goes to Tatiana Maslany for her portrayal as Cosima confronting PT Westmorland. First, she accuses him of treating him inhumanely just for his legacy. Then he points a gun at her, and then encourages her to kill him, as it is the humane thing to do. Yanis is terrified, and I'm crying. Cosima throws the gun away, tells PT he cannot take away her humanity and crouches down to Yanis, apologizing. And PT shoots him in the head.
Wow. I'm still processing it. We only knew Yanis for one full episode, and that was it. The writers are not pulling punches in this final season. They want all of us to scream at our TVs, and it's working. In the end, Cosima is locked in a cage. I am nervous for our clone club. I don't think Orphan Black will have a happy ending.
What are your predictions for the end of this fifth season? Let me know!
Note: I loved the scene where Cosima wears a tux to the fancy dinner, and says "Frock that." The only shining light of the episode.
[Photo Credit: BBC America / Den of Geek]
Tell us what's wrong with this post? How could we improve it? :)
Let us improve this post!