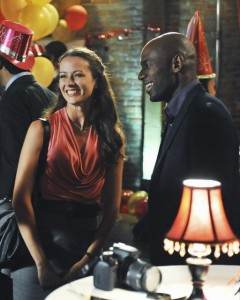 Firstly, and this will serve as my lone criticism, as this was an excellent episode of No Ordinary Family, I am not at all a fan of kitschy episode title naming conventions. Friends used the whole 'The One Where…'thing, and Monk had 'Mr. Monk and the…'. And now No Ordinary Family is committed to 'No Ordinary…'. It's a tad lazy, because the only effort applied to naming an episode is one obvious word. 'No Ordinary Ring', 'No Ordinary Quake', and now, 'No Ordinary Mobster'. Perhaps I'm just bitter at being forced to type the words 'No Ordinary'so many times and fear the onset of carpal tunnel it is sure to cause. And now that I have wasted an entire paragraph of my wrists'lifespans…
Mobster began with George losing a court case that would have landed Luka, a noted mobster, behind bars. George hastily threatens Luka after the trial, warning him that he would be taking his boss down. After a surprise birthday party thrown to him by the Powells, he drops off his coworker/new love interest Amanda, only to have her gunned down by a masked assailant.
Of course George knows that the hit was carried out by Luka or one of his cronies. When Jim hears
of this he decides to go after Luka and make sure an indictment sticks, even at the protest of George. George knows that Jim could be putting his friends and family at risk by going after someone so big. Jim carelessly intervenes, and when his mask is ripped off by Luka, his identity is revealed not only to the mobster he is putting away, but also to The Watcher.
This is the first time that real consequences seem to be in store for the actions of the Powells. While the Luka situation was resolved, The Watcher became intimately familiar with the family and is already exacting some unknown plan that will presumably be unpleasant for our titular family. JJ also paved the way for The Watcher to get closer to the family. His appearance at the end of the episode, showing up as Katie's 'date', has some frightening implications. Not only is he aware of Katie's closeness to the family, but he also has been monitoring JJ's online activity enough to know to show up.
Also interesting was The Watcher's denial of recognizing any of the Powells in the photo that Mr. King showed him. We don't really even know Mr. King's motivations yet, but we already have a second agent working toward nefarious ends.
Speaking of Mr. King, does he know about Stephanie's powers or not? I'm getting mixed signals here. He's clearly keeping very close tabs on her as evidenced by his phone call with Mrs. Volson (if that is even her). It seems to me that he must know about her ability, even if he is playing dumb. Otherwise he is a very unobservant supervillain.
This was a very entertaining hour for No Ordinary Family with little downtime. It's nice to see a more direct threat introduced that will outlast a single episode, and I'm genuinely intrigued to learn of the motivations behind The Watcher's actions.