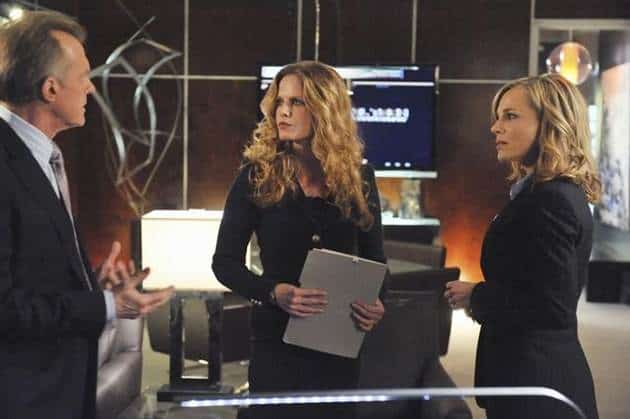 Rebecca Mader has kept busy since LOST, but fans of the fiery redhead have been without a weekly fix of her crackling wit and penetrating blue eyes since Charlotte Lewis came down with a time travel induced cerebral hematoma nearly two years ago. Tonight that drought comes to an end when Rebecca debuts her character Victoria Morrow on the latest episode of ABC's No Ordinary Family, "No Ordinary Brother", which premieres on ABC at 8pm EST. I was able to speak with Rebecca briefly about her character.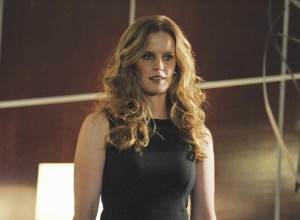 "She's fabulous, she's got lovely red hair and blue eyes," Rebecca told me. "Her name is Victoria Morrow she's the VP of Human Resources at Globaltech. I basically show up and I give Autumn Reese's character, Katie, a promotion, which is all rather intriguing. There's basically more to my character that meets the eye. She might have some sort of connection and history with Stephen Collins's character Dr. King and Joshua, 'The Watcher,'as well."
With an intro like that it would be a fair guess that Vitoria is a villain, but Rebecca wasn't going to give up her character's alignment. "Possibly." Is all I got. The next matter was how many episodes we could expect to see Mader, and Morrow, on this season. "At the moment I'm on my third, it's looking like it might be three." When asked if there could possibly be more episodes for her in the future, Mader said "With Sci-fi and comic book hero stuff really anything is possible, isn't it? Can you ever really disappear, I don't know?"
As for her relative absence from the small screen since Charlotte bowed out, I asked Rebecca if she missed working on a weekly role. "Yes and no. It's always fun to play a different character. On the flip side it becomes like a family and you begin to share your life with these people because you're together 12 to 17 hours a day. That's definitely a great feeling, to be part of something like that too. So I enjoy both."
As for working on No Ordinary Family, "I love the character, it's really fun to play. I'm having a really good time with the actors as well. Normally on a show there's always one narcissist or something, but everyone on this show just says '˜there just isn't one!', this is the show that doesn't have that '˜one person,'which is unheard of out here. Everyone is totally genuine, down to earth, and no one takes themselves too seriously."
If you're a fan of No Ordinary Family you probably know that at the core of the show's overarching plot is an event, a plane crash, that imbued the not-so-ordinary family of the title, the Powells, with super powers that somehow answered their individual human shortcomings – or perceived shortcomings. I asked Rebecca what power she'd end up with in such an event, "I would definitely go for a Harry Potter invisibility cloak, especially in LA where people are so full of bleep. It would be great to walk into a room and hear what people really think, and what they really say when you walk out of the room."
No Ordinary Family – "No Ordinary Brother" – Premieres Tonight, Tuesday January 11th, at 8PM EST
Tell us what's wrong with this post? How could we improve it? :)
Let us improve this post!