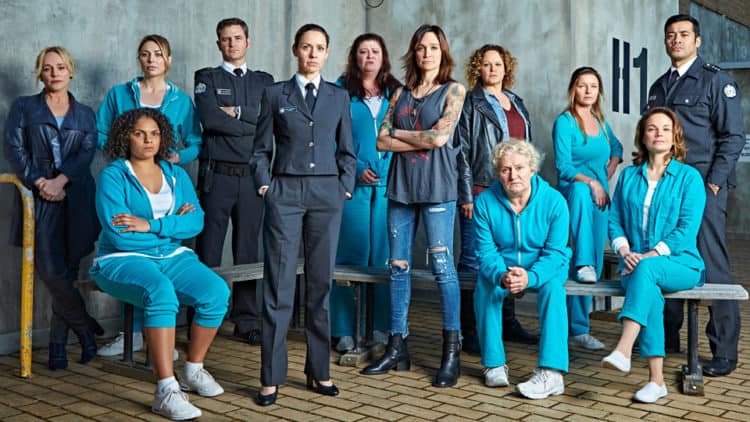 Anyone who was old enough to watch late-night TV in the 1980s may remember Prisoner, the massive Australian hit that gave us a sugar- free glimpse into life behind bars at an all-female penitentiary. 3 decades later, the show got a contemporary revamp with Wentworth, a similarly gritty, unrepentantly realistic reimagining of prison life down under. 6 years and 7 seasons after it premiered, Wentworth is as big as ever. Season 7 may have come to a close in July, but you won't have to wait too long to get your next fix: 20 further episodes have already been commissioned, and are currently expected to hit the air through 2020 and 2021. When they do, make sure you're watching…
It's an Awesome Deterrent
Number 1 reason to watch Wentworth? It's guaranteed to make you stick to the straight and narrow for the rest of your life. If your teenagers are starting to play fast and loose with the law, sit them down in front of Wentworth for a few hours and they'll be back to singing in choir and saying their please and thank you's in no time. Because make no mistake… prison life isn't easy, and Wentworth is not evenly slightly inclined to suggest otherwise. Unlike OITNB, which makes life behind bars seem just about ok once you get used to it, Wentworth gives no such illusion. Whether it's rape, murder, mayhem, or more beatings than you'll find in a city center come throwing out time, Wentworth is replete with the kind of no-holds-barred violence that makes you very happy to be sitting at home with your Ben and Jerry's and snuggle blanket.
The Women are Seriously Badass
As TV Guide notes, pitch the women of Wentworth against the women of Litchfield Penitentiary and things will only ever end one way. Wentworth is home to the type of hardened criminal that would make the ladies of Litchfield turn on their heels and run like the lily-livered, "victims of socio-and economic factors" they really are. Unlike OITNB, Wentworth doesn't gloss over the hardened edges of its inmates or portray them as the unwitting victims of circumstance. The women of Wentworth are serving time for doing crime- which, as you'd expect, means they're probably not going to be spending their days worrying about getting more books for the library or baking cakes for visitors' day. These women are seriously badass- which, let's admit, is kind of why we love them.
It Keeps you Guessing
How many shows have you sat down to watch where you can predict the season finale 20 minutes into its premiere? If a leading character is in life-threatening danger during the second episode of the first season, we all know the chances of anything disastrous actually happening is slim to none. Why would a network invest all that money in an actor only to kick them to the curb before they've proven their worth? If you really want to know, ask the producers of Wentworth, who over the past few years have taken the rule book of what you should and shouldn't do on a TV series and torn it into a million pieces. As Tech Aeris confirms, if you see someone in a life or death situation on Wentworth, there really is a 50/50 chance of which way things will go, regardless of how big a character they are or how huge a loss to the show their departure would be. Wentworth is all about showing what prison life is really like, and how the natural human instinct for self-preservation is really the only thing that determines how a situation ends.
Nothing is Clear Cut
Most shows have gray areas, but few are as knee-deep in moral ambiguity as Wentworth. Every time you think you understand a character, they'll do something so unexpected you'll need to rip up your analysis and start all over again. There's nothing two dimensional about anyone on this show: each character is fully fleshed out, with a complex backstory, a complex personality and an even more complex take on what's right and what's wrong. Even those characters who seem one of the 'good guys' can blow your mind with a sudden act of depravity. It obviously takes some extreme talent to pull of that kind of acting, and Wentworth has it in spades. As The Social Guru notes, its ensemble cast features some of the best acting talents in Australia; Leah Purcell (as Rita Connors) is a multi-award winner whose accolades include an AACTA Award and a Helpmann Award; Susie Porter (as Marie Winter), a graduate of the National Institute of Dramatic Art, has pulled in three wins at the AFI Awards over the past few years, while Pamela Rabe (as Joan Ferguson) is a veteran of the screen and stage who's picked up everything from Green Room Awards to Logie's over the course of her 34 year career.
It's Perfect for Binge-Watching
You know how you can sit down with some shows and get bored halfway through the 2nd season? Not gonna happen with Wentworth. If you're looking for your next binge-watching experience, Wentworth is basically going to satisfy all your requirements plus some. Just make sure to have some Kleenex and a shoulder to cry on when you do… the show might lack the funny moments of OITNB, but what it lacks in giggles it makes up for in some of the most heart-wrenching moments TV has probably ever screened. The characters may be a train wreck, but trust me when I say it's the kind of wreak you won't be able to pull your eyes away from, no matter how hard you try. If you don't slam through all seven 7 seasons in less than a couple of weeks, you'll have some explaining to do.
Tell us what's wrong with this post? How could we improve it? :)
Let us improve this post!