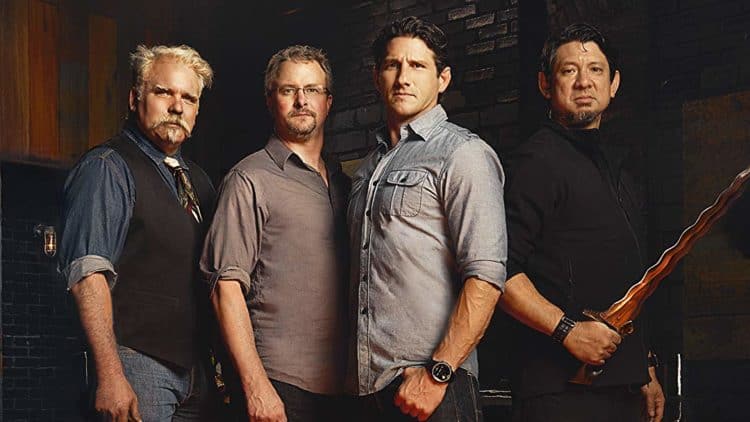 If you want a hefty dose of excitement with your reality TV, you'll struggle to do better than Forged in Fire. Conceived by host Wil Willis in 2015, the show offers contestants the opportunity to win $10,000 (along with being named champion bladesmith) by putting their talents well and truly to the test. After rigorous tests and grueling challenges, the contestant's efforts are judged by a lineup of Master Smiths — a fearsome feat that's seen grown men weep. Now in its seventh season, Forged in Fire's popularity seems in no danger of waning anytime soon. If you haven't get caught it, get yourself up to speed with our guide to the cast.
Wil Willis — Host
Former army ranger Wil Willis was born into a military family in 1975 and spent his formative years moving from army base to army base as part of his father's work. The early exposure to the military lifestyle clearly had an effect, and after completing his high school education, Willis signed up to devote his life (or at least, the early part of it) to serving his country. As part of his initial training, he went through both the Advanced Individual Training and the Ranger Indoctrination Program (R.I.P) and the Basic Airborne School. After completing his training, he joined the 3rd Ranger Battalion, where he served for five years. From there, he spent almost ten years in the Air Force Para- Rescue Team, earning a Sikorsky Rescue Award in recognition of his bravery in the process. After serving as part of the Air Force Reserve Duty's 308th Rescue Squadron for a year, Willis retired from the army and began to forge a new career as an actor. Intent on developing his skills, he studied playwriting and screenwriting at the New York Film Academy. After graduating, he signed up to Broken Lizard Productions and quickly found himself a hosting gig on the Military Channel's 2009 reality series, Special Ops Mission. He also made guest appearances on Beerfest (2006), In the Valley of Elah (2007), Sovereign (2015), Last Call with Carson Daly (2011), and An Officer and a Movie (2012). Somewhere along the way, Willis developed the nickname "Human Swiss Knife" thanks to his proficiency with weapons- a skill he put to good use in 2015 when he came up with the idea of Forged in Fire. Off-screen, Willis is happily married to Krystle Amina, and has two sons from previous relationships.
J. Neilson — Judge
J. Neilson had already been a master bladesmith for 20 years by the time he made his TV debut on Forged in Fire in 2015. After years of pumping out some of the finest knives around from his workshop "Shop in the Woods" in Towanda, Pennsylvania, Neilson's skills were internationally recognized in 2008 when he was honored with the title of Master Smith by the American Bladesmith Society, a rank only 115 other people in the world hold. In season three of Forged in Fire, Nielson had fans speculating after he was replaced for several episodes by fellow Master Smith, Jason Knight. As it turned out, the leave of absence could be traced to a hand injury Neilson suffered almost a decade ago; after undergoing surgery in 2016, he made his return to the judging panel in episode 8 of season 4. Off-screen, Nielson is the married father of one daughter.
David Lain Baker — Judge
Prior to becoming a Hollywood prop maker of historical and theatrical blades, Baker had dreams of becoming an actor. After moving to Hollywood in 1980, he landed a few minor parts, moving into larger roles after landing Call to Glory. Ultimately, however, making weapons proved a bigger draw than acting, and he began developing film props. After putting his talents on show in Westland Weekend and Deadliest Warrier, Baker landed his breakthrough in Forged In Fire, a series he's clearly more than a little passionate about. "What I love about swords, knives, weapons in general especially the historical pieces is that they are deadly work of art," he's said. I got a great job in the world. I do what I love to do. One of the best things about my job is receiving messages on social media from a father who is saying their daughter wants to be on Forge and build knives. We as a show get to inspire somebody -that's the magic, that's the best part of this job."
Ben Abbott — Judge
After winning two seasons of Forged in Fire, Ben Abbott moved from contestant to judge in season 5, stepping in for the absent J. Neilson while the longstanding judge underwent hand surgery. According to Earthernnecklace, Abbott's talents aren't simply limited to weapons; the talented metal worker is also a dap hand at making craft replica cauldrons, bowls, jewelry, hammers, and chisels. Abbott discovered his passion for metalwork after seeing arms and armor in museums as a teen, and in season 2 of Forged in Fire, he showed the world just what his years of training had come to when his beautiful Khanda blade won him the championship title. In season 3, his Scottish Claymore did the same. Whether or not he'll continue to serve as an occasional standby for the other judges or eventually return as a permanent addition to the lineup is unconfirmed; judging from how well he managed to fill Neilson's rather large shoes, producers would be wise to consider it.
Doug Marcaida – Judge
Doug Marcaida is an edged-weapons specialist, U.S. military contractor, martial arts instructor and knife designer. His extensive knowledge and skills in the field (along with his expertise in Kali, a martial art developed in the Philippines), has made him a go-to figure for providing weapon awareness to the military, law enforcement, and security organizations. In addition to creating his own unique brand of Kalie (Marcaida Kali), he's also created several types of new weapons, including the DART (Direct Action Response Theory) Karambit, a small, curved weapon designed to fit perfectly in the hand.