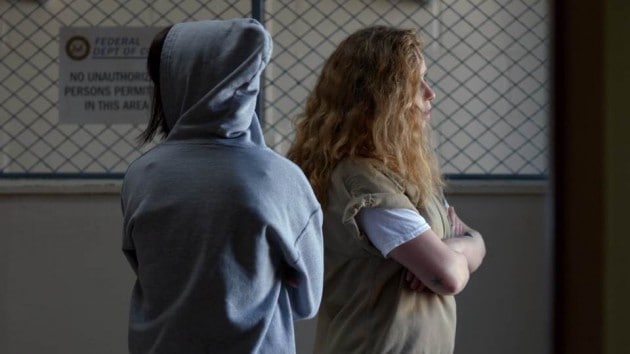 Though Vee is gone and forgotten from Litchfield, her influence remains strong; the opening scenes of "Empathy Is a Boner Killer" emphasize this, portraying but a handful of the strong communities formed when Vee forcibly drew lines in the sand last season. Yet, as Orange Is the New Black fortifies the emotional bonds between characters, "Empathy Is a Boner Killer" brings conflict back to Litchfield in swift, powerful fashion, like the alarm that ends Mother's Day in the premiere; as sudden as it is significant, and as emotionally devastating to the audience as it is to the characters involved.
The first of these developments is a little less obvious; Nicky's downfall is the heart and soul of the episode, but there are other signs in "Boner Killer" that the smiles and warm feelings around Litchfield aren't built to last. All of a sudden, Bennett has abandoned his job, leaving Daya to wander around the prison hoping she'll run into him; yet, the flashbacks of "Bed Bugs and Beyond" linger, the "grenade" in Daya's stomach becoming an ominous sign of her relationship with Bennett. Nobody's seen or heard from him, and all Daya has is a baby on the way and a ring made of gum wrappers to hold onto; that hole in Daya's supposed "family" really frames the episode for what is to follow, which ranks among the most heartbreaking stories Nicky's ever told.
Let me be upfront: from the beginning, Nicky's been one of my favorite characters. Unlike most people in prison, she'd come to terms with her flaws, and almost welcomed the struggle that came with them; after she got clean and reconciled with Red, it's been a pleasure to watch her grow into her own, without being entangled with Lorna, trying to grow out of her self-destructive tendencies. Yet after stealing Vee's heroin stash, it was only a matter of time before it ended up getting her into trouble, which has made for dreadful scenes through the first three episodes, particularly anytime Big Boo rolled up and verbally cracked her knuckles.
Turns out Big Boo was just a mislead; the real problem was Luschek, the spineless electrician who has shown time and time again that he's a self-serving prick. When the Meth Twins find the heroin stash and get high, it's clear that Nicky's plan is going to fall apart, however the knife twists extra hard when it turns out to be Luschek that sells her out, after Caputo finds the dime bag of heroin Nicky stashed under Luschek's desk. Paired with the flashbacks depicting Nicky's absuive, manipulative relationship with her mother before she landed in prison, "Boner Killer" gives voice to Nicky's struggles with Red early on and to the hopelessness she exhibits – and in an episode where dreams are coming true, Nicky finally "gets out," only in the darkest, most heartbreaking way possible.
Her sudden departure, paired with Bennett's sudden disappearance, bring harsh reality back to the world of Litchfield; you know things are back to normal if Caputo is bowing down to Mrs. Fig yet again (though with a little added panache, given their shared "experience" last season and Caputo's knowledge of Fig's gay husband), and Healy is working through problems with his mail-order bride. There is a funeral for the library books in this episode (led by Poussey and Taystee; "what are we going to do without a damn dictionary?"), but the real deaths of the episode are Nicky's departure and Daya's dream of happiness with Bennett; whether the two of them return this season or not, their sudden absences tear at the very thread of the familial ambience season three has re-established in Vee's wake.
Thankfully, these stories don't just happen in a vacuum of cruelty (I'm looking at you, Game of Thrones); for all its darkness, OItNB wouldn't be as loved as it is without some satisfying moments, which "Boner Killer" provides in droves, as if reflecting on its own title. However, there's nothing boring about Alex and Piper's "improv" in Officer Roger's drama class; and there's certainly nothing boring about Healy's translated conversation with his 'wife,' where he finally gets a mother figure who understands him. These re-affirming moments only make the heartbreak stronger, yes; but they are also important moments in maintaining the balance between light and dark on Orange, something "Boner Killer" does with confidence and ease, yet another reminder why it's one of the best shows on TV.
Other thoughts/observations:
– Luschek wants to prove himself to his family, so he employs his brother-in-law to sell smuggled heroin. Classy move, guy.
– The old ladies (some of them) want to build a corn field to sell private sex time?
– "I've my own quilt of lies to sow." I love how openly poetic Orange can be at times, even when it threatens to stretch the show's reality a bit.
– "David Sedarises… or Sedari, I guess."
– Speaking of the library funeral, what has happened to Poussey's booze stash in the ceiling?
– Lushek, getting threatening: "I will kill you… with murder."
– Random thoughts from the mind of a (former) upstate New Yorker: I've never heard Albany called a "burgeoning tech valley," particularly by friends I have that live there. Utica's reputation (unfortunately) sounds about right, though.
– Sister Ingalls, considering evolution: "Our mouths evolved to give bj's?"
– "So long, Beer Can." "See ya, Fangs." I love you, Orange is the New Black.
[Photo via Netflix]