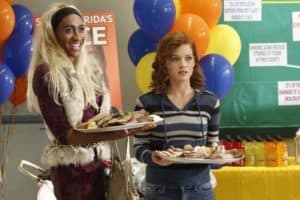 If there's one thing that I'd like to see Suburgatory work on, it's the fact that it has weird tonal shifts that come out of nowhere. I actually welcome the fact that after six episodes, this show has so many different avenues and story angles that it could go down, likely producing a solid series in the process; I just think that the show has been a little jerky in terms of when it expresses each side of its identity. The first spurt of Suburgatory episodes may all have funny lines and character aching to be thrown together in varying combinations, but they've also suffered from a clear identity crisis.
In "Charity Case", the show goes back to the broad humor of a couple of past episodes and amps up the cartoon-y nature of the events by about a billion. Having Tessa focus her efforts/negative feelings on the people of Chatswin now that she's seemingly okay with her residence in Suburgatory was satisfactory enough, but I think that "Charity Case" played it a little too silly and big without grounding the show enough. It's the first time where the show's gotten away from itself and zoomed about for 20 minutes, dipping and zipping and damn near flailing about; I don't mind a little manic energy in my comedy and it's been established that Suburgatory likes to go large, but it was a strange choice after last week's slower, calmer Halloween episode that focused primarily on character building.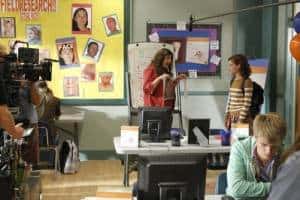 You could argue that there was character building here, as we find out that George was fairly popular in his youth and Noah has an inferiority complex when it comes to George, but I don't know if the ends justify the time it took to get there. Watching George with someone aside from Dallas for once is a nice change of pace, even though I enjoy Cheryl Hines immensely, so I appreciated the pairing with Noah, but it felt very Standard Issue Sitcom. Sure, Suburgatory has shown that it can spice up mundane-sounding plots with its extremely witty dialogue, which is present in spades here, but it fails to completely save The Adventures of the Skylight King from being a little underwhelming. In a nutshell, George is putting in a skylight in Noah's super high-tech bathroom, takes a shower, is caught by the maid in said shower, freaks out, slips, and hits his tooth, requiring dentist Noah's assistance. When Noah won't give him a discount, all bets are off and while picking at their bond is something that needs to happen more often, to figure out why they're friends and what made them so close, I hope it happens under a different structure next time.
We also learned that Tessa's (fairly) altruistic, although her plot regarding to wasteful Chatswin High students going from trying to save the skin of Floridians to trying to save Tessa from herself (after being introduced to Tessa's friend from the city Gladys, a homeless transsexual) didn't highlight that fact as much. I understood where this storyline was going and I think it was a fairly decent double as opposed to being a full on grand slam; it opened up the school a little more and let us see what Chatswin High is like, as well as giving Reggie Lee a more to do, but instead of being rote and unmemorable like George's plot, this was more unbelievable for unbelievable's sake. Having characters and situations that are larger-than-life is one thing, but what Suburgatory accomplished in most of its first batch of episodes is having a semblance of reality to tie the crazy to. Without that strong core, Tessa's plot quickly turned messy and over-the-top, stretching the limits of believability in terms of the intelligence of certain characters and taking the satire to a place it didn't need to go.
The cast of Suburgatory is so good that I would watch them gather together to read War and Peace, but "Charity Case" is the first time that I've felt underwhelmed by the show in its short history. It's not an awful episode of television and there are lines and moments that make it fairly watchable, but I just know that the show can accomplish so much more than something like this. In time, Suburgatory will know itself enough to know when, where, and how to utilize each of its mode without upending the applecart, though it's already been self-assured in terms of its rhythms from the first couple of episodes on. While I enjoy the combinations that the show keeps throwing at us, notably George & Dallas and Tessa & Dalia, I'd like to see more of a shuffle in terms of plotlines and who interacts with who, as well as even more fleshing out of peripheral characters. The possibility for Suburgatory to become one of the best comedies on television is out there, ready for the taking. All that remains is the show stepping up even more and snatching its rightful spot as a go-to comedy for years to come.
Thoughts, Quotes, & Observations:
"At the risk of sounding negative, people out here are stupid."
"Tessa, do you know what this is?!" "A dramatic mood shift?"
"Where is Orlando?"
"You're the face of Florida's face."
"If it's extra cheesy, then I guess we should do it."
"Thank you for stopping by our shanty. We'll see you around the soup kitchen."
"You're poorer than everyone else and some people question your ethnicity."
Funny sight gags: Noah in the show and coming out much, much less orange; Tessa eating a trash apple; Gladys's tacky outfit looking exactly like something Dallas would wear.
Sighting: Katie Micucci (Raising Hope) in the dentist's office! No ukelele, though.
She may have been noticeably absent tonight, but Ana Gasteyer has been named a regular on the show.
Suburgatory's on hiatus next week due to the Country Music Association Awards, but in two weeks, Tessa's plans for a low-key 16th birthday party get derailed by Dalia and George throws his back out, only to be "aided" by Sheila.