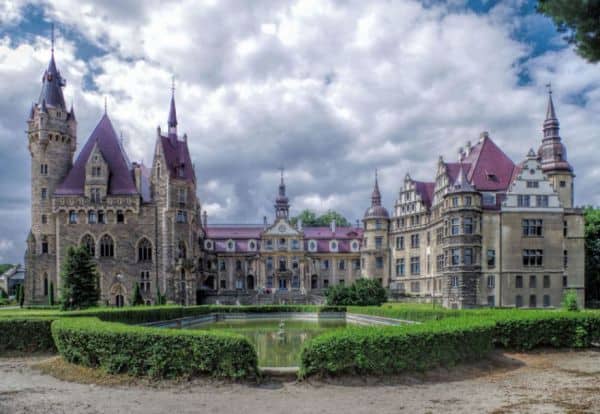 Located in Upper Silesia, Poland, this beautiful old castle is a veritable mansion that was, upon excavation, also found to be an old Templar stronghold. Its historical records only date back to the 17th century, meaning that it could be far older and could have seen use as a number of different things before being renovated and reused in its current form as a real Hogwarts school of wizardry. A person would have to speak and understand Polish to get into the place and excel within the courses, but barring that the inside of this place is simply stunning from the pictures that can be accessed via the link above.
Mozna, as the place is known, has 10-day sessions in the summer and winter that can be taken and offers a fairly wide variety of classes such as divination and the history of magic among others that can be taken. It is also looking for professors at this moment for those that might be interested. The tuition is fairly low at $650 per person which includes living in dormitories and receiving the needed items for one's education. A person can even earn a diploma at the successful end of their coursework. All in all it seems like a very magical time that could be had by any student that simply wants to learn what it is to be a magician, or to learn what magic is all about. But that's not the only function of this place.
Mozna is also a hotel that can book guests throughout the year. Some of the rooms are sparsely furnished, though others are quite opulent in their design. Many rooms are far from being the same, a though various designers were brought in to fix up each room and were strictly ordered to do something different each time. In some rooms the designs look as though they've been left alone for decades, while in others they appear to have been updated to reflect the more modernized era. It's a bit of an oddity really since the interior of the place has no real rhyme or reason to it that can be seen when trying to piece everything together as one cohesive building. On the outside however everything seems to come together just fine, granting a magnificent display of beauty and grandeur along with a very rigid sense of history and the passage of time. Despite how the grounds are kept up and the building is taken care of one can still see just how the years have passed along the surface of the castle. They haven't been entirely cruel, but neither have they been kind.
The interior however is something that needs to be seen to believed. Whether classes are held while people are checked into the hotel portion of the castle or not is a good question, but one would almost think that the two would occupy different wings, as the castle is big enough and does offer a wide enough space for the two to coexist. It'd be an experience just to visit, that's for certain.