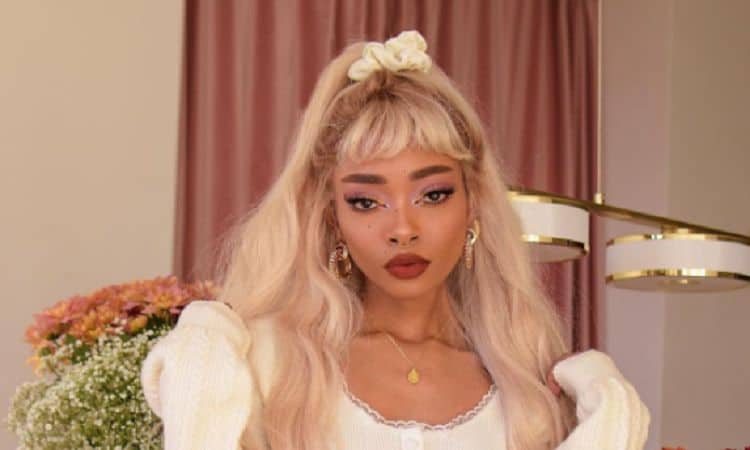 Known for her good looks and unique style, Nyane Lebajoa has become famous all over the world. She has built a large following across social media platforms and people can't seem to get enough of her content. Ironically, however, when she started her online journey she had no idea that she would eventually become a star. As we all know though, the internet has an interesting way of working things out. She is now among the top beauty influencers in the business and the sky is truly the limit. She has some great things in the works and her fans can't wait to see what she does next. Here are 10 things you didn't know about Nyane Lebajoa.
1. She Is Originally From Africa
If you've ever heard Nyane talk, her accent probably hinted to the fact that she's from the U.K. While it's true that she has lived there for much of her life, she is actually from a small country in Africa. Nyane told Mess Magazine, "I am originally from Lesotho, a small country in Southern Africa. I spent my teenage years in the UK and moved to Berlin."
2. She Has A Twin Sister
If you don't have a twin, you've probably wondered (at least once) what life would be like if you did. Nyane, however, never has to wonder about that. She has a twin sister named Mpho who has also had a successful career as a blogger and internet-famous fashionista. The two have collaborated often over the years.
3. She Started Modeling As A Teenager
Thanks to the rise of social media influencers, it is becoming more and more common for the word 'model' to be used to simply refer to anyone who has ever posted a high-quality picture on the internet. But Nyane has real-deal modeling experience. She started modeling when she was just 14-years-old but eventually realized that it wasn't a career she wanted to pursue.
4. She Has An Interesting Strategy For Picking Out Clothes
Nyane has gotten a lot of attention for her creative style, and many people will be surprised to know how she goes about picking out some of the things she wears. While talking to Itch Fashion she said, "I always look for weird things that I know people will dislike but after a short period will absolutely love!"
5. She Wants To Get Into Music
Although most people know that Nyane is a wiz when it comes to hair, fashion, and makeup, most people don't know that she also loves music. During her interview with Itch Fashion, she revealed that she wanted to get into making music but it doesn't appear that she's done so.
6. She Is A Big Fan Of The Show Bates Motel
Thanks to her busy schedule, Nyane doesn't get much time to just sit back and relax. When she does though, she enjoys catching up on some of the shows she loves. One of her favorite shows is the A&E series Bates Motel which aired from 2013 to 2017.
7. She Wears Makeup Less Than People Think
Makeup plays a very important role in Nyane's online persona, and her love for makeup is one of the things that has helped her build such a large following. However, in a video on her YouTube channel, she confessed that she doesn't actually wear makeup that often. Outside of creating looks to post on social media, Nyane is usually makeup-free. Although there are a lot of people who are curious about what she looks like without makeup, she added that she probably won't be posting any photos without makeup because that simply isn't part of her brand.
8. She Has Her Own Hair Company
Nyane isn't just a social media star, she's also an entrepreneur. Her love for hair inspired her to start a company called Temper where she sells high-quality wigs. She currently offers a wide variety of colors and styles and many of her looks are unique.
9. She Loves Connecting With Fans
One of the reasons Nyane is so popular is because she's put a lot of time into cultivating strong relationships with her followers. She enjoys getting to interact with them and she encourages her supports to send her emails with questions and comments.
10. She Doesn't Eat Dairy
Ice cream is a go-to dessert item for lots of people, but unfortunately for Nyane it's one that she isn't able to enjoy. In her Q&A video she mentioned that she can't eat dairy although she didn't go into detail as to why. Chances are that she is lactose intolerant.