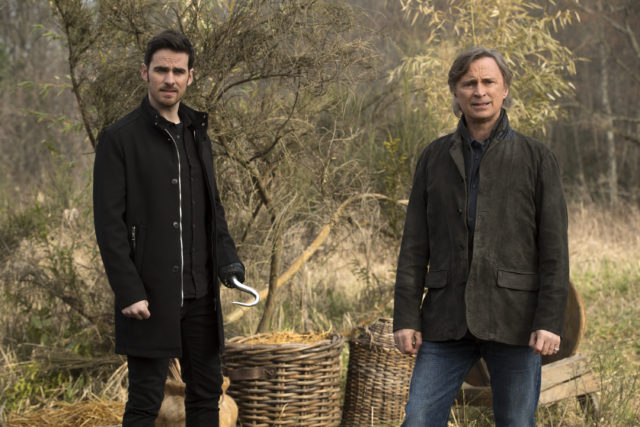 I know that it's been a few weeks, but I've written about Once Upon A Time with regularity for the last two seasons, so I wanted to make sure and get reviews done for the last two episodes. Season 7 has certainly had its ups and downs, making keeping up with reviews (especially on Friday nights) difficult to keep up with. Lately, however, Once Upon A Time has shown that it still has a little gas left in the tank, and is headed toward an ending on a pretty high note.
Over the last few episodes, Once Upon A Time has told some emotional stories, like of Rumplestiltskin wanting to spare Tilly/Alice of a burden, the story of Alice and Robin finding their way back to each other, and the story of Henry recovering the heart of the truest believer and reuniting with his family at long last. As a long time fan, these stories have been deeply emotional to me, watching the characters having come so far from where they started. Even though this is the first part of the series finale, this show will always be special, and it looks like they might just stick the landing (regardless of whether or not you think Season 7 should have ever happened).
I was skeptical when I heard that Kitsis and Horowitz were opening the two-part finale to anyone who wanted to return. Since they'd dedicated so much time in the past to giving closure for characters like Peter Pan and Cruella De Vil, or Robin Hood, how they would go about bringing them back for a swan song as the series nears its end. It has since become clear, and I think it's an excellent way to parade everyone's favorite characters back in front of them at the end. Next week's appearances are easy to figure out, since Henry is in trouble, but I appreciated the use of the wish realm to give everyone who wanted a chance to appear one last time.
"Homecoming" as an episode leaned on nostalgia for the earlier days of the series…but it worked. It was able to make Rumplestiltskin a villain without compromising the growth by regular old Mr. Gold. The stakes are higher than they've been on the show all season, and it's smartly relying on the major, longtime players instead of over-involving the new ones.
Here are a few other thoughts:
I'm appreciating the increasingly clever uses of Jared Gilmore as we approach the end of the series. He was so integral in the beginning that it's only right he be included, and new Henry v. old Henry has not only been compelling, but illustrates what a strong casting choice Andrew J. West was.
I know all of the other fans will be thinking "duh" but I'm really excited for next week's episode bringing back the rest of the primary cast. It's so exciting.
Next week is the series finale. It's been a wild 7 years. Be forewarned, my finale reviews can often turn into sappy love letters to shows. So in case I don't say it next week: it's been a pleasure reviewing this show.
"Homecoming" was a wonderful penultimate installment, and as sad as I am that the series is ending, I'm looking forward to the finale.
What did you guys think? Did you enjoy the episode? Let us know!
Once Upon A Time's series finale airs next Friday, May 18th on ABC
Tell us what's wrong with this post? How could we improve it? :)
Let us improve this post!