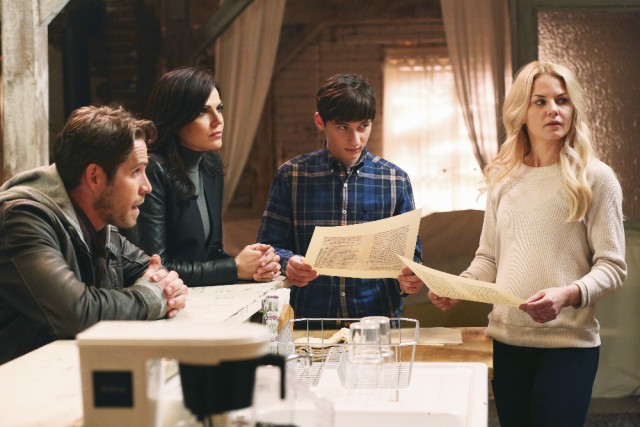 Okay, so I've gotta admit, when I first read about what was going to happen in this week's Once Upon A Time, I was not impressed. I thought to myself, great, they're bringing Belle and Zelena to the underworld because they're played by series regulars who've been sitting out too long. And to some degree, I was right. But "Our Decay" packed an emotional punch that I just wasn't quite ready for.
This week on Once Upon A Time: Rumplestiltskin creates a portal on Hades' behalf that brings Zelena, her child, and Belle to the underworld. When they arrive, Belle learns some startling information. David and Mary Margaret miss their child, so they attempt to speak to him. In the flashbacks, Zelena and Hades' past is revealed.
Okay, I'm semi-uncomfortable to admit this to the world, but I'm currently an expectant father. I'm using that information as a preface for the comments I'm about to make. So, normally, this show's constant talk about babies and use of children and evil child-nappers is exhausting. I always get annoyed when I don't know a thing about Robin Hood, but there is constant talk of baby Emma, baby Henry, baby Neal, and nameless Robin-Zelena baby. However, I'm not sure if it's my impending parenthood, or the slight shift in tone but for this episode, I was moved. I never felt sympathy toward Zelena until this episode. Her overwhelming love for her child and willingness to give her up to save her was incredibly powerful. Everyone involved deserves high praise, particularly for the scene in which she gave the child back to Robin. Rebecca Mader, Sean Maguire, Lana Parilla and Emilie De Ravin gave just stunning performances, some even in their silence. I could really feel everything they were feeling, and I was moved by it. Again, it may be the impending fatherhood talking, but nonetheless, powerful stuff.
The other part of this episode that I really appreciated was Rumple's complete and utter acceptance of who he is. He's the Dark One. He craves power. He loves Belle. He's doing Hades bidding for his son's well being. Robert Carlyle is excellent as Rumple in every twist and turn, but the acceptance of self was huge for the character. It's an evolution that I can really get behind. I hope he stays the Dark One AND becomes a hero, because I crave chaos.
The rest of the episode didn't really jive with me. There were a lot of talking heads and not doing much. Henry's little teenage attitude and the author stuff was stiff and contrived. I had some slight appreciation for the romantic history between Hades and Zelena, but it still felt forced and rushed. They should've done some hinting at it before dropping it all at once (no pun intended). If the entire episode had been like this, I would've felt like I wasted an hour and should've just read a recap. Lucky for everyone, it wasn't.
This episode packed some serious emotional punch. While I didn't like the whole thing, it still kept me invested and interested and gripped by the emotional stakes. There are some wonderfully talented actors on this show, and they really made "Our Decay" worth watching.
Once Upon A Time Season 5 Episode 16 Review: "Our Decay"
Summary
Zelena, her baby, and Belle travel to the underworld, and Hades plans begin to unravel, on this week's solid Once Upon A Time.