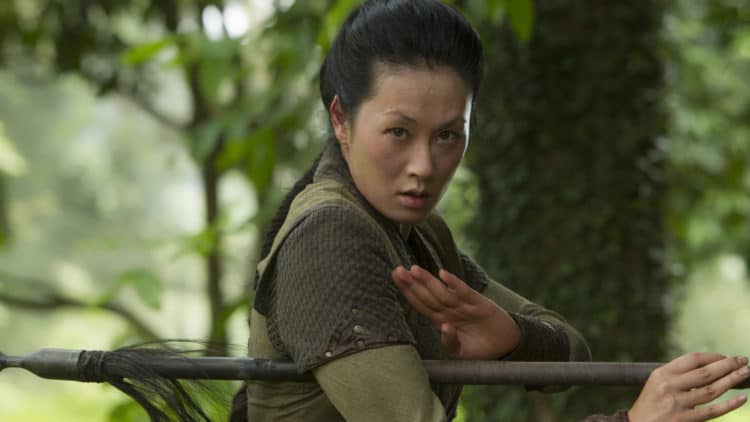 If you've been a fan of Olivia Cheng's work since the beginning, you may have a hard time believing that it's been more than 20 years since she made her on screen debut. The road hasn't always been easy for Olivia, but she's always persevered. Over the course of her career, she has managed to establish herself as a talented and hard working actress which has gained the respect of viewers, colleagues, and critics. She is best-known for her role in TV shows like Warrior, The Stand, and Marco Polo. No matter what kind of project she's working on, Olivia can always be relied on to put on an unforgettable performance. Keep reading for 10 things you didn't know about Olivia Cheng.
1. She's Canadian
Olivia was born and raised in Canada to parents who immigrated to the country from China. Olivia is very proud of her roots but admits that growing up Asian in a predominantly white community wasn't always easy. She told Elle Magazine, "I always had my identity questioned in the only home I'd ever known because I wasn't white. Hurtful assumptions and jokes, feeling invisible or 'other,' and physical attacks aren't new."
2. She Was A Shy Kid
It's easy to assume that all actors are outgoing because of what they do for work. In reality, however, lots of actors have struggled with shyness and Olivia is one of them. When she started taking acting classes as a kid her teacher told her that she was too shy. Over the years, however, Olivia has overcome that.
3. She's Not Afraid To Get A Little Political
There are lots of people in the public eye who are afraid to express their opinions on certain subjects because they don't want to alienate or offend anyone. Olivia, on the other hand, has no problem standing behind the things she believes in – especially when it comes to politics. She has used her social media presence to consistently support Joe Biden's presidential campaign. She has also spoken out on other issues such as racism.
4. She Understands The Importance Of Self Care
In in the United States, being extremely busy is often seen as a good thing. Most people spend more time working than they do doing anything else and being exhausted is often seen as a badge of honor. In reality though, everyone needs a break and self care has become an extremely important topic. Even though Olivia works in an industry that can be very demanding, she's a big believer in the importance of taking the time to take care of herself.
5. She Was A Gymnast
Olivia has always been an active person and when she was younger she was heavily involved in gymnastics. She did the sport competitively for several years before getting into acting. While she no longer does gymnastics, she still loves to exercise on a regular basis.
6. She Loves To Paint
Olivia is truly a woman of many talents and she loves getting the chance to utilize them all. Outside of acting, painting is one of her favorite things to do. In an Instagram post she said, "Painting is one of the few things that seems to relax my mind to go the other way. I don't care if I'm good, I'm just happy to try."
7. She Worked In Journalism
Olivia's journey to professional acting looks a little bit different than many other people in the industry. After completing the radio and television arts program at NAIT, Olivia began as a video for a local TV station. She then went on to become a freelance correspondent for ET Canada.
8. She Enjoys Traveling
Every creative person needs a strong source of inspiration, and new experiences are some of the most inspiring things a person can have. Olivia loves getting the chance to travel as much as possible and she has been to places all over the world including France, Mexico, and South Africa.
9. She Loves Interacting With Fans
Fans are an important part of every entertainer's success, and Olivia doesn't take this for granted. She has worked hard to build a strong relationship with her fans and and she enjoys getting the chance to interact with them as much as she can. It's pretty common to see her responding to questions and comments from fans on Twitter.
10. She Loves Comic Books
Olivia was a big fan of comic books when she was younger. In an interview with Wingman Magazine she said, "When I was growing up I read X-Men, X-Factor, Punisher, Spider Man. My heart goes back to Wolverine, which loved. When I was little, I was a big Power Pack girl…I used to go to comic book conventions when I was younger and would find Wolverine comics. I don't read them now, but I do watch the comic book shows and movies."