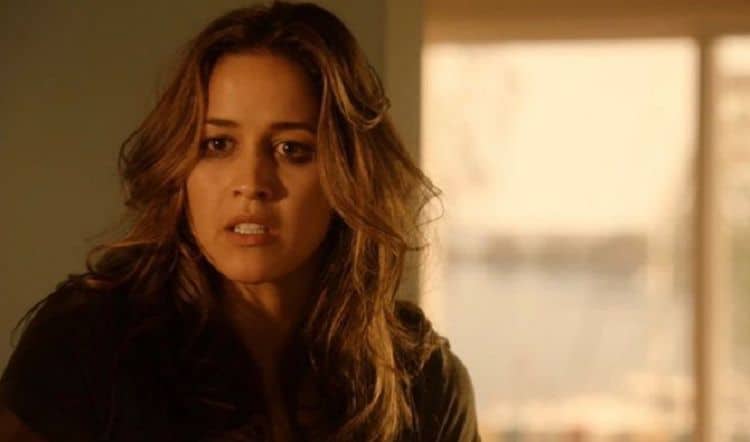 Jaina Lee Ortiz is an actress who is best known for her role as Detective Annalise Villa on the television series "Rosewood." She appeared in the series from 2015 to 2017, and she made a lasting impression on viewers, turning them into fans. We wanted to know more about her so we looked into her past along with her personal and career history. Here are 10 things that we discovered that you might not be aware of.
1. Her Birthday
Jaina Lee Ortiz was born in California on November 20, 1986. This makes her 33 years old. Her birth name wasn' Jaina Lee, however. She kept her surname the same, but for professional reasons, she changed the rest of her name. Her parents named her Jessica Ortiz.
2. Her father was a detective
We wonder if it is a coincidence that Jaina landed a role as a police detective. Her father is Joe Ortiz and he is a first-grade detective for the New York Police Department. He moved his family from California to The Bronx, New York to accept the position. Jaina calls The Bronx her hometown which shows that this is the place that she felt the most comfortable and still considers to be her home base.
3. She started out as a dancer
Ortiz didn't start her professional career as an actress. She actually began training to be a dancer when she was just nine years old. She became really good at salsa and mambo. By the time she was 15 years old, she started teaching dance. Just a year later she was privileged to travel internationally as a professional dance instructor as well as a performer. Jaina Lee is a disciplined and multi-talented entertainer.
4. Jaina Lee is a professionally trained actress
Jaina didn't just move from dancing to acting. She put in the time and effort to learn one of the more popular acting techniques. She attended Maggie Flanigan Studios for two years where she learne the Neisner technique. This gave her a leg up on her budding career in acting. Jaina is a teacher/instructor herself so she knows the value of shoring up a natural talent with professional training. With acting, there is always room for improvement but gauging from the success of her career currently, it appears that she has mastered the most important aspects of the craft.
5. She is an only child
Jaina Ortiz doesn't have any brothers or sisters. She was the only child that Joe Fuentes and Daisy Acevedo had together. This didn't seem to be a problem for her though. What it meant was that her parents had more time to devote to fulfilling her needs. They saw to it that she had everything that she needed in life. This included dancing lessons and the attention that she required as a minor when she embarked on her international career as a dance instructor and performer when she was just a teenager.
6. She is married
One of the most frequent questions that fans ask about their favorite celebrities is their marital status. Jaina Lee Ortiz is a happily married lady. She and her husband Brad Marques tied the knot at a private ceremony with their friends and family in attendance in 2010. Jaina's husband is also involved in the entertainment business as a scriptwriter and from all indications he is also doing very well in his career. The couple does not have any children yet but who knows what the future may hold for them.
7. Jaina Lee Ortiz Net Worth
Jaina Lee has enjoyed two very successful careers and she is in high demand in both of them. So far, she has managed to juggle them both very well. Throughout her two careers, she has earned a lot of money. Her total estimated net worth is $3 million. We're assuming that this is the figure that represents the net worth of both she and her husband Brad. The talented young couple is very wealthy and they are just getting started in their professional careers.
8. She was a makeup artist
We also learned from our investigation that Jaina Lee has yet more talents. In addition to being a talented dancer, instructor, and actress, she is also a makeup artist. She spent s).ome time working for Mac Cosmetics. It seems that there is just no end to the amount of talent that Jaina Lee Ortiz possesses. It's highly likely that the confident Ortiz is simply good at everything she puts her time and energy into.
9. She has 11 credits in her acting portfolio
Although 11 credits of acting experience isn't a lot, for Jaina Lee Ortiz, it represents years of work. She got her start in acting in 2004 when she was cast in the role of Spanish Rice in "Sad Spanish Song." She performed as a dancer in the 2008 film "High Voltage." Her big break came in 2012 when she landed a recurrent role as Petrona in the television series "The Shop." The same year she appeared in the film "The After" as Marly. Jaina has landed several recurring roles in television series since that time, and she has stayed busy with decent parts to play.
10. You can follow her on social media
Jaina Lee Ortiz has a verified Instagram account. This is a good resource for fans who want to keep up with the latest news about what's going on in her life both professionally and personally. Jaina Lee does a great job of keeping the page current. So far she has made 1,556 posts and there are some amazing photographs of her on the site. She currently has more than 284,000 followers. This gives us an idea of just how popular she is. Jaina Lee Ortiz has made it to the status of celebrity personality.
Tell us what's wrong with this post? How could we improve it? :)
Let us improve this post!