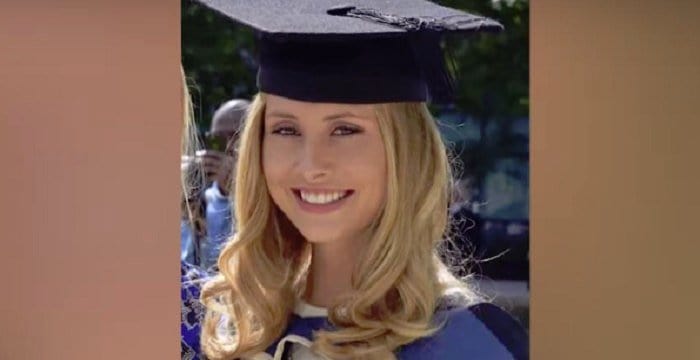 Spiderman's been seen with a new lady, and it's definitely not MJ or Gwen Stacy. The new lady is Olivia Bolton, and Tom Holland seems to be head over heels for this one. After watching celebrities play characters so well on screen, we sometimes forget that they're just people too with love lives and romances. Tom Holland is just another twenty-something year old that has fallen in love with a beauty. Olivia Bolton and Tom Holland are now "officially" dating, but there's still little to be known about this mystery girlfriend. Let us introduce you to Olivia Bolton aka Spiderman's girl with these 10 things you probably don't know about her.
1. Old friend
We admit that most of what you're going to read about Olivia will probably be in the context of Tom's life. Apparently, Tom and Olivia have been friends for a long time now. The two have spent many years together as friends but only realized their special connection more recently. Olivia was spotted with Tom at a music festival, and that's really where the speculation of their dating began.
2. Social media
Obviously, Tom follows Olivia on social media. It's the kind of thing celebrity stalkers like us figure out early on. We've seen a photo of Tom and Olivia together when they were only children (they've known each other for that long), but that's the extent of what we've seen on Olivia's social media pages. The reason why is because she's got her settings all on private. So while Olivia may be dating a big time celebrity at the moment, she likes to maintain her privacy as much as possible–that's something to respect right there.
3. Breaking Twitter
It's a little known fact, but Olivia may have actually broken Twitter that day when the news broke out. What news, you ask? It's when the news broke out that Tom Holland is not dating Zendaya but is dating a relative unknown, a childhood pal, the mystery blonde–Olivia Bolton herself. Many Tom and Zendaya fans were brokenhearted upon hearing the news, but Tom Holland was actually very much relieved that the news was finally out. We can imagine that Olivia must've been thrilled as well.
4. Light background
There aren't many things around there to read about Olivia Bolton, but we do know from this article from Heavy.com that she's from England, and she's recently graduated from college. This puts her in the early 20s category, and given that she was Tom's childhood friend means that they're probably close in age. Olivia spent some time in Nottingham, as she grew up with her parents Stephen Bolton and Sophie Fish, and she also grew up alongside two other sisters.
5. Work
Olivia is probably just aiming to live a normal life even though she has a not-so-average boyfriend. She's done with college now, and she's just doing the work hustle. She currently works in the digital production industry in London, but there aren't many other details to spill here. At this point, we don't know what company she's working for or what it is exactly that she does as a digital producer. But to beget the eyes of someone as wonderfully talented as Tom means that she's probably got something worthwhile to offer.
6. Sister
We probably know more about Olivia's sister, Grace, considering that Grace's Instagram profile isn't set on private. At least it gives us a little glimpse into Olivia's world somehow. Tom's brothers follow Grace on social media, which probably means they follow Olivia as well. Grace also attended Cardiff University, which could also mean that Olivia might have graduated from the same university.
7. Cousin
Olivia has been mistaken as Tom Holland's cousin before. This speculation is coming from the posted photo of the couple when they were younger. The picture looks innocent enough, which means that people have mistaken innocence for familial. There are also other "Olivia Boltons" in the world, and some of them have been mistaken for Tom's current girlfriend. To clarify things, Tom Holland is not related to Olivia Bolton of England. They are definitely not cousins, especially since Olivia has been spotted grabbing Tom's butt before.
8. Beer drinker
There's nothing like a woman that likes her beer. Olivia is much like your average 20-something year old female. She likes to go to festivals, and she likes to live it up. From recent photos, we've also gathered that she likes beer. Who wouldn't like beer shared with Spiderman anyway? We'd probably drink anything as long as we get to drink it with someone as awesome as Tom Holland.
9. Harassment
People are horrible–this we already know. But people on social media are on a whole other level. Ever since news broke out that Tom is dating Olivia, the young woman has been the subject of harassment on so many occasions. People are purposely finding her social media accounts just so they can post negative things. Olivia and her sister Grace have since blocked so many people out of their pages, and it's truly unfortunate that they had to do so. Some people are even calling Olivia "ugly," stating that Tom is better off with a beauty like Zendaya. We say it's time we let the lovers be.
10. Lovely couple
On a final note, we're going to say that Olivia is 100% family-approved. Aside from the fact that her family and Tom's family have known each other for a long time, it seems that Tom is really taken by her; friends and other family have said the same. We've gotten to know Tom Holland in the last few years from his role, and we know that he's a fairly decent human being. We can only gather that Olivia must be just as decent–and maybe even better than what we think. She certainly seems like it. We sure hope so because a lot of fans are going to be in defensive mode if ever Spiderman aka Tom Holland gets hurt in all of this.