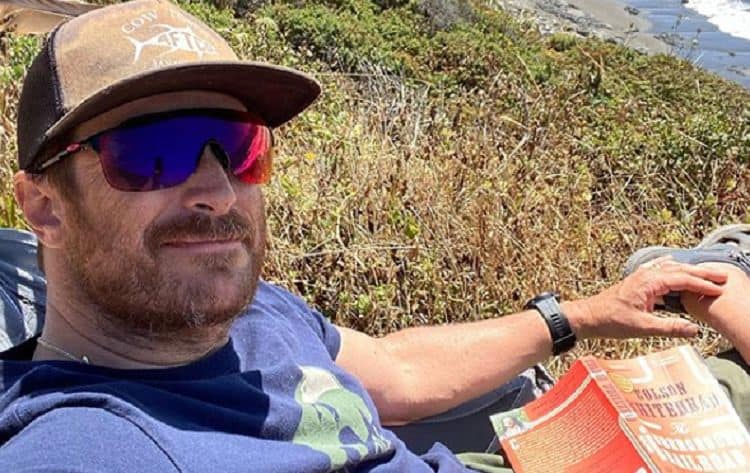 When you come from a family as successful as Oliver Hudson's the bar is pretty high and he always risen to the occasion. As the son of Goldie Hawn and the brother of Kate Hudson, Oliver's choice to go into acting was a no brainer. While his name isn't as well-known as some of his relatives' Oliver is an incredibly talented and he's had some very memorable roles throughout his career. Most fans will remember him from his role as Jeff Fordham on Nashville and his role as Adam Rhodes on Rules of Engagement. Currently, he has a main role on the TV series, Splitting Up Together. Keep reading for 10 things you didn't know about Oliver Hudson.
1. He Plays Poker
Oliver has tried his hand at playing professional poker. Unfortunately for Oliver, his great acting skills didn't translate to him having a very good poker face. He competed in the 2005 World Series of Poker Main Event, but was eliminated in the first round by Sam Farha.
2. He's An Outdoors Kind Of Guy
Oliver has spent all of his life in and around Hollywood, but he's never bought into the pretentious lifestyle that sometimes come with that environment. He is a down to earth guy – literally. Oliver loves spending time outside and enjoys doing things like hiking, bike riding, and camping.
3. He Hosts A Podcast
In April 2020, Oliver announced that he and his friend, Joe Buck, would be launching a podcast together. The podcast, which is titled Daddy Issues with Joe Buck and Oliver Hudson, is about "Working fathers and long-time friends take an honest, unfiltered look at what it's like to be a father, a son and a brother navigating the world today."
4. He's A Family Man
Being a father is something that has always been important to Oliver, and it's now his reality. In 2006, he married actress Erinn Bartlett. Erinn has appeared in shows like How I Met Your Mother and Charmed. The couple has three children together: two sons and a daughter.
5. He Was Born With A Lung Infection
Like most new mothers, Goldie Hawn was excited when she was preparing to give birth to Oliver. However, that excitement quickly faded after complications arose immediately after his birth. Oliver had been in the womb for 10 months and had begun breathing before he was born. This resulted in him being born with a lung infection that nearly killed him the day he was born. Hawn prayed and asked the universe to heal her son, and fortunately her prayers were answers.
6. He Has A Great Relationship With His Step Dad
Oliver Hudson and his biological father Bill Hudson have had a very turbulent relationship. At one point, Bill even publicly disowned Oliver and Kate. But what Oliver lacked in his relationship with his biological father, he made up for in his relationship with his step father, Kurt Russell. Kurt and Goldie have been together since the early 80s, and Russell has played a major role in Oliver's life.
7. He Was Once Of On People Magazine's Most Beautiful People
Oliver's good looks are impossible to ignore. Like his mother, he has a captivating quality to him that has been catch people's attention for decades. In 2002, he was number 6 on People Magazine's list of most beautiful people. Other celebrities to make the list included Halle Berry, Shakira, and Josh Hartnett.
8. He Supports The Black Lives Matter Movement
After the murders of George Floyd and Breonna Taylor, the Black Lives Matter movement gained renewed interest from people all over the world. As BLM continues to fight to end racism and systemic oppression, many celebrities have decided to show their support. Oliver Hudson is among them. Not only did he particulate a virtual show of solidarity by posting for Blackout Tuesday, he also has been working hard to educate himself on how he can be the most helpful.
9. He Loves Dogs
All of the dog people out there can breathe a sigh of relief, Oliver Hudson is definitely a dog person. And like any good dog person, he often shares photos of his fur babies, Bronco and Donut, on social media. He hasn't made a separate social media page for the dogs yet, but we're sure no one would complain if he did.
10. He's A Brand Ambassador
The success Oliver has had throughout his career has resulted in him building up a pretty impressive following on social media. On Instagram, he has 884,000 followers. That number combined with his real-life celebrity has made him the perfect ambassador for many brands. His most recent post for a brand was for a supplement company called More Labs.