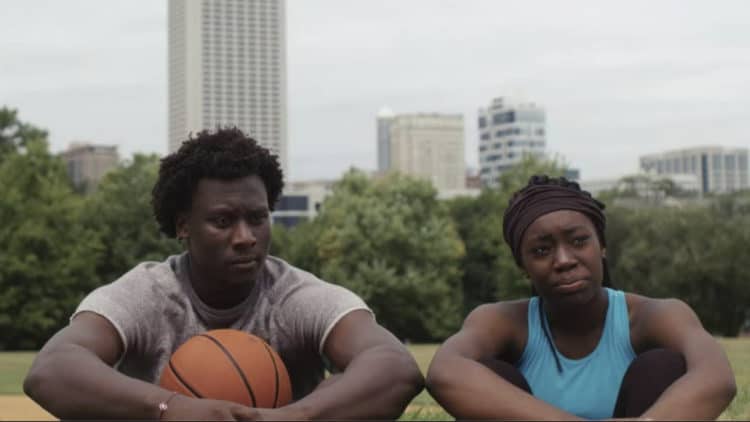 In the entertainment industry, it just takes one opportunity to make a person's career, and it looks like that opportunity has come for Okea Eme-Akwari. Although he's relatively new to the business, he's made quite a bit of headway over the last few years. He made his on screen debut in 2018 and got his first major opportunity when he joined the cast of Cobra Kai in 2021. That wasn't all 2021 had to offer him, though. He also joined the cast of The Walking Dead and his role as Elijah has been getting him a lot of attention. The future is looking bright for Okea and he's excited to see where this journey takes him. Here are 10 things you didn't know about Okea Eme-Akwari.
1. He Is Based In Atlanta
Since Okea's career is just getting started, there isn't much information about him online yet. That said, we weren't able to learn much about his upbringing. What we do know, however, is that he appears to be based in Atlanta but it's unclear if that's where he was born and raised.
2. His Brother Is Also An Actor
Apparently Okea isn't the only person in the family who is a professional actor. He has a brother named Onye Eme-Akwari who has also been acting for the last few years. Onye has had minor roles in some well-known series including Greenleaf, NCIS: New Orleans, and Queen of the South.
3. He Is A Fairly Private Person
From what we can tell about Okea so far, he is the kind of person who prefers to stay low key. As his career continues there's a chance that he'll decide to be more open, but he definitely doesn't seem like someone who wants to share all of his business with the world.
4. He Almost Lost His Sight
In January 2020, Okea posted a photo on Instagram with a caption that read: "This time last year I was in the ICU hoping to get my eyesight back…now here I am looking at some family vacation pictures, and charting my vision for 2020. God is good!" He didn't go into detail about his health scare.
5. He Likes Giving Back To Others
Okea did an interview with a YouTube channel called Cobra Kai Kid which also served as a fundraiser for the Boys and Girls Club. Okea chose to raise money for the organization because he believes they play an important role in helping young people navigate the world. It'll be cool to see what types of charity work Okea decides to do as his career expands.
6. He Is Not Actually Young Enough To Be In Juvie
Okea's character in Cobra Kai was sentenced to a juvenile detention center for brutally assaulting another kid. In real life, however, Okea would be serving time behind some real bars if he were to ever get in trouble with the law. He is currently 25 years old and will be turning 26 in the summer of 2021.
7. He Is Not Really Into Social Media
Most people Okea's age can't stay off social media for an extended period of time, but he isn't one of those people. Instagram is the only platform where Okea appears to have an account. He has only posted 19 times since 2017 and he doesn't seem to have a huge interest in social media.
8. He Loves Playing Basketball
Okea's life is all about acting now, but when he was younger sports was the thing he was focused on. He grew up playing sports and prefers playing to watching. While talking to Cobra Kai Kid Okea shared that he loves playing basketball and was a member of the team in high school. Unfortunately, a bad ACL injury ended his competitive career, but he still enjoys playing basketball for fun.
9. He Has Always Been A Karate Kid Fan
Even though Okea wasn't even close to being born when the first Karate Kid film was released in 1989, he has always been a fan of the franchise. Getting the chance to join the Karate Kid universe was a dream come true for him on a personal and professional level. Hopefully his character will be brought back for a bigger role in the next season of Cobra Kai.
10. He Is Very Family Oriented
Despite not knowing much about Okea's family, it's obvious that that they are very close. If you scroll through the comments on many of his pictures, you'll see comments from several of his family members including his mother and grandmother. They all seem to be very supportive of him and his dreams.
Tell us what's wrong with this post? How could we improve it? :)
Let us improve this post!