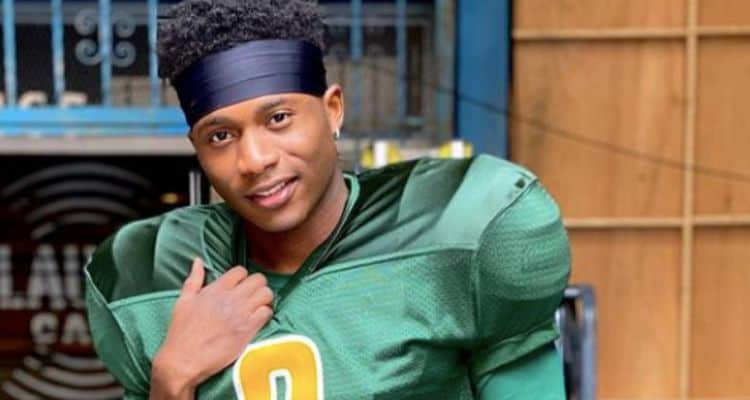 Da'Vinchi may be new to the acting world, but in just a couple of short years he's already made a big splash. After making his on screen debut in 2018, he got his first big break the following year when he was cast as Cash Mooney in Grown-ish. He kept the momentum going in 2019 when he joined the cast of the CW's All-American. During his time on All-American, Da'Vinchi has gotten the chance to expand his fan base and people are really loving his portrayal of Darnell Hayes. Additionally, he also has some other great opportunities in the works that are sure to continue to establish him as one of the hottest up and comers. Keep reading to learn 10 things you didn't know about Da'Vinchi.
1. He Legally Changed His Name To Da'Vinchi
Although Da'Vinchi is technically his 'real' name, it's not the name he was giving at birth. Da'Vinchi was born Abraham D. Juste but he has since legally changed his name. When asked why he made the chance he told Talk Nerdy With Us, "Leonardo Da'Vinchi. A lot of people know him as just a painter, but he was not just a painter… A lot of times in the industry, when people see you as one thing they want to pigeon hole you and keep you there. I'm not just an actor…"
2. He Wants To Help Young People
Of course Da'Vinchi wants to entertain people by doing what he loves, but when it's all said and done he hopes to make a bigger impact than that. One of his biggest goals is being able to uplift and inspire young people and encourage them to believe in chasing their dreams.
3. He Got Into Acting During College
Lots of actors have amazing stories about how they knew they wanted to act from the moment they could talk. Da'Vinchi's story is a little bit different though. He has always loved the arts, but he didn't always see himself becoming an actor. He didn't really start getting interested in acting until he was in college.
4. He Has Haitian Roots
Da'Vinchi is originally from Brooklyn although he moved to New Jersey at a young age. There isn't much information about his family online, but one thing that we do know is that he has Haitian roots and he is very proud of his culture. These days, he appears to be living in the Los Angeles area.
5. He Likes To Stay Positive
Life hasn't always been easy for Da'Vinchi and he comes from humble beginnings. On top of that, being in the entertainment industry comes with lots of ups and downs. All of those things aside, however, he always does his best to focus on the good and be thankful for every opportunity that comes his way.
6. He Worked Alongside Ben Affleck
Da'Vinchi may not be the most seasoned actor in the game, but he's already earned the respect of some well-known veterans. In 2020, Da'Vinchi made his film debut in the movie The Way Back which starred Ben Affleck. The role was a dream come true for Da'Vinchi.
7. He's A Rapper
When Da'Vinchi said that he isn't just an actor he was being serious. He is also a rapper and music was actually what initially brought him into entertainment. Da'Vinchi loves expressing himself through music and has plans to release some songs. He also has some experience doing spoken word poetry.
8. He Didn't Really Watch Black-ish Before Being Cast In Grown-Ish
Since it's debut Black-ish has become incredibly popular, but Da'Vinchi hadn't really watched the show before he earned a part in the spin-off. During his interview with Talk Nerdy With Us he said, "I was not an avid watcher. I had probably only watched one episode. After I got the audition, and when I got the callback, I started watching the latest just so I could get a feel for the show, the direction it was going to go, how they played their comedy and stuff like that. Now, with season four of Black-ish, I watch every episode, because it's hilarious."
9. He Likes To Read
Da'Vinchi loves reading and it's the perfect way to satisfy his desire to constantly challenge himself and learn something new. He enjoys a wide variety of books but is especially interested in inspirational books that he can help him make improvements in his own life.
10. He Loves Fashion
Any time Da'Vinchi steps out of his house, you can bet he's doing to be looking his best. He has a great sense of style and seems to enjoy putting different outfits together. It wouldn't be too surprising if Da'Vinchi decided to do some modeling work down the line.