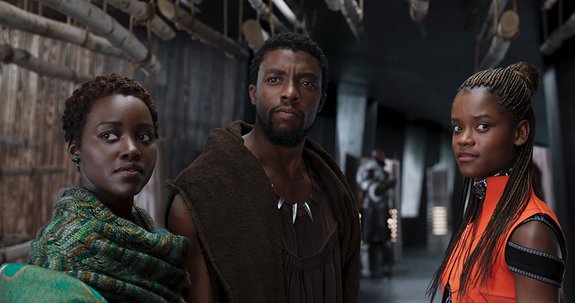 It sounds pretty cool that Octavia Spencer is going to buy out a theater in Mississippi so that people in an underserved community can go and see Black Panther. This movie is making a lot of people supremely generous thus far and has sparked a lot of similar efforts to make sure that those who can't afford a ticket can take a night at the movies. That only leaves one question though. If she's buying out the theater, what about the people who can afford the tickets that want to see the show as well? Is she just buying out one screening or is she buying the entire day and night? Her idea is a good one for certain and there's no need to criticize it, I'm simply curious to wonder whether she's buying out the theater for one showing or the entire day.
Obviously there wouldn't be any loss of revenue unless she decided to not buy concessions as well, which would up the price quite a bit. But seeing as how she's a famous actress that makes a healthy paycheck she should be able to do this no problem. It's a wonderful thing that people are doing and Black Panther is turning out to be the kind of film that so far is really bringing people together. I only have one mild criticism and that's the fact that she specifically says that she's interested in bringing all the brown children out so that they can see this movie. It's mild because a lot of underserved communities across the nation do seem to belong to a lot of African American families, but there a lot of impoverished families that belong to different ethnic groups as well, and I do wonder if she's going to allow white children, Hispanic, Asian, and others to join in the fun if they happen to live in the communities she's trying to help.
I absolutely applaud Spencer's desire to show people a good time and allow them to see what is historically one of the most anticipated movies in the MCU to date, but let's at least be fair about it. If there are kids of different races that live in those communities she's trying to treat I would hope that she wouldn't discriminate, and I get the feeling she wouldn't. When you're a kid going to the movies is a special kind of thing since it doesn't happen all that often, unless you're given that opportunity. It's a magical time when the lights go out and you get to experience the film as though you're really in the picture for a while and living the story, and when you don't have the life experience of knowing when the movie will end and thinking of all the other things you have to do that day it's so much more special.
All possible criticisms aside, I really do hope that Spencer enjoys the look on the kids' faces when they walk into that movie theater and then walk out after talking animatedly to each other about what they saw. That would be an awesome feeling.