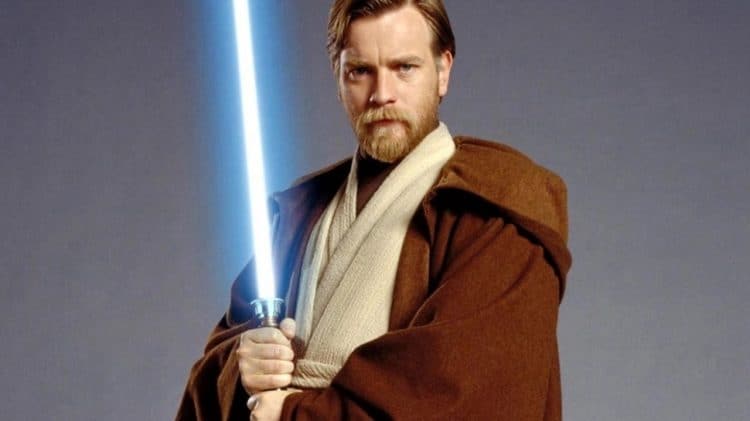 If you're a Star Wars fan and you grew up when the prequels came out, then you have to be excited for the Obi-Wan Kenobi series coming in May. And if you want an overload of sweet nostalgia, then you have to watch that trailer. Seriously, once the Duel of the Fates music came on, I totally lost it. On top of all the glorious action we got to see in the trailer, we finally saw Ewan McGregor back in the saddle as the first Jedi we saw in Star Wars. And I think we need to realize just how significant his performance as Obi-Wan really was.
Not only was he one of the saving graces of the prequels, but he also had to come off of a terrific performance from Alec Guinness. Both actors were amazing as the character, but the difference between them is that Ewan McGregor was far more enthusiastic about playing him. Still, despite a serious lack of enthusiasm from Alec Guinness, he managed to deliver a stellar performance that landed him an Oscar nomination for Best Supporting Actor. Ewan McGregor deserves all the credit in the world for carrying such a heavy torch and actually making the Obi-Wan character his own. As of now, I think many Star Wars fans would think of Ewan McGregor as Obi-Wan before Alec Guinness. That's a place rightfully earned, especially since he has become the real hero of the franchise. If you disagree, then maybe this Disney+ can change your mind.
As for the supporting characters in the series, Obi-Wan will be contending with some of the most overlooked antagonists in the franchise. If you watched the Rebels cartoon series, you'll be familiar with the Inquisitors. Season one gave us a strong introduction with the Grand Inquisitor and in the subsequent seasons, we were introduced to more of them. The second season gave us the Fifth Brother, who will be appearing in the Obi-Wan show, played by Sung Kang. There are other Inquisitors who have yet to debut in the Star Wars shows, such as the Third Sister, who will make her debut in the Obi-Wan show. On top of that, we will be seeing the Grand Inquisitor in live-action form at last. That is exciting, as it gives Obi-Wan a physical challenge.
Those won't be the only threats Obi-Wan will be fighting with his lightsaber. We know this series is setting up for a rematch between him and Darth Vader, his old apprentice. That should be an epic rematch and we expect to see more Hayden Christensen. However, apparently Obi-Wan was originally meant to face another one of his greatest foes. Before Anakin was even his apprentice, the then-Jedi Padawan had to cross lightsabers with one of his toughest challenges, the sinister Darth Maul. After Darth Maul killed his master Qui-Gon Jinn, the younger and inexperienced Jedi had to fight the Sith warrior on his own. We all remembered how that match ended, with Darth Maul being cut in half. By normal circumstances, he should have died right then and there. However, regular rules don't apply to Star Wars. The Clone Wars cartoon brought back Darth Maul and healed his broken body and mind. But he didn't forget who put him there and during his time in the Clone Wars, he relentlessly pursued Obi-Wan in a quest for revenge. This is when Darth Maul became a bigger character than before, even fighting his former master alongside his brother.
He would eventually escape from the clutches of Darth Sidious and go on to become the leader of his own crime syndicate. And of course, his story did continue in Rebels, where he would go on have his rematch with Obi-Wan… for about three seconds. Kind of anti-climactic, but it was pure strategy and skill from Obi-Wan's part. Darth Maul would die in Obi-Wan's arms and that is where the rivalry definitely ended. But this fan-favorite wouldn't just stop appearing in Star Wars shows and movies. After his death in Rebels, we saw him take on Ahsoka Tano and escape once again. His next live-action appearance would be a brief cameo in the 2018 Han Solo movie. That pretty much ended there, but I'm sure fans would love to see him pop up again somewhere.
Apparently the writers of the Obi-Wan show did have Darth Maul in an early draft, but that was later scrapped. Is that a good thing? I would actually say yes. Now look, we all love Darth Maul. Along with Obi-Wan, he is one of the saving graces of the lackluster prequels. Outside of the movies, he has some amazing story arcs in the cartoons and the comics. I'm glad he has evolved beyond that scary-looking bad guy who rarely speaks. But if he's going to appear in another Star Wars show or movie, it has to be done out of necessity and not fan service.
Fan service can work if it's not forced (no pun intended) and if Darth Maul did pop up in the Obi-Wan series, that's exactly what it would be. Throwing in a fan-favorite just for shock value is not a good way to help develop that character. For the case of Darth Maul, his character can be developed in other places, but not this show. Once we got to Rebels and Darth Maul lost his criminal syndicate, the only thing he had left was Obi-Wan. The point of them meeting again in Rebels was that he fully dedicated the remainder of his strength and mind to killing Obi-Wan. He didn't succeed in the end, but even in his final moments, his failure didn't seem to faze him. Maul just seemed like he was relieved that in death, he could finally be at peace. This was a big moment for his character development and it only made sense because he spent a lot of time in solitary leading up to Rebels.
Would it make sense canonically if he actually did fight Obi-Wan in the series? Not really, since he just discovered his most hated rival was still alive in Rebels. If the writers went with this idea, that would create a very noticeable continuity error. And if I must say, why bring back another character we already know too well? I favor bringing in more original characters for this series. It has been working out well for other shows, most notably The Mandalorian.
If it can work out for that series, then Obi-Wan can do the same and it can also fit in the characters we're already familiar with. On top of seeing the Grand Inquisitor and the Fifth Brother, but also the Third Sister, an original character created for the series. We can have a combination of both original and familiar characters for these shows, as long as they don't overcook the fan service. We've seen how that can backfire in the past and it should not be repeated in future shows. What are your thoughts, Star Wars fans?