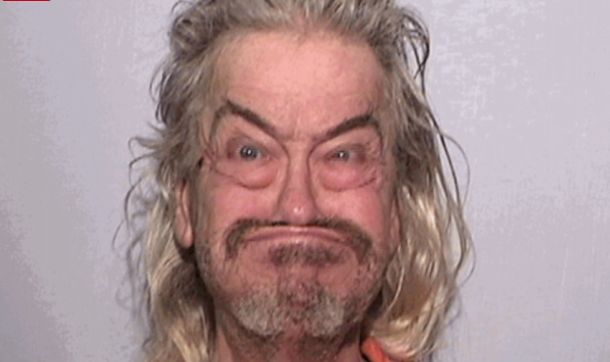 There are certain mugshots that will live on in society for hundreds of years. Off the top of my head, you've got mugshots of Frank Sinatra, Al Capone, Larry King, and even Marilyn Monroe just to name a few. If you close your eyes I bet you could picture those mugshots pretty clearly. In recent years I think the most famous mugshot is the one of that guy who's now a model. That might have been the most widely viewed mugshot in internet history.
However, there's one going around today that I could not pass up. Yes, it's the one above. Does this look like the face of a man who attacked his family with a hatchet? You bet it does. The "man" in the mug shot is 63-year-old Noel E. Dawson Jr. and based solely on his appearance, I would say that his behavior seems about right.
Via Toledo Blade
Mr. Dawson is accused of chasing a family member Sunday with a hatchet. Prosecutors allege he swung the hatchet at the man, but struck his truck instead – leaving a large dent in the hood, according to a complaint filed in Toledo Municipal Court. When Mr. Dawson was arrested, he refused to give the officer any of his information and rather just shouted obscenities, court records show.
We will NOT be seeing a mugshot like this again anytime soon.