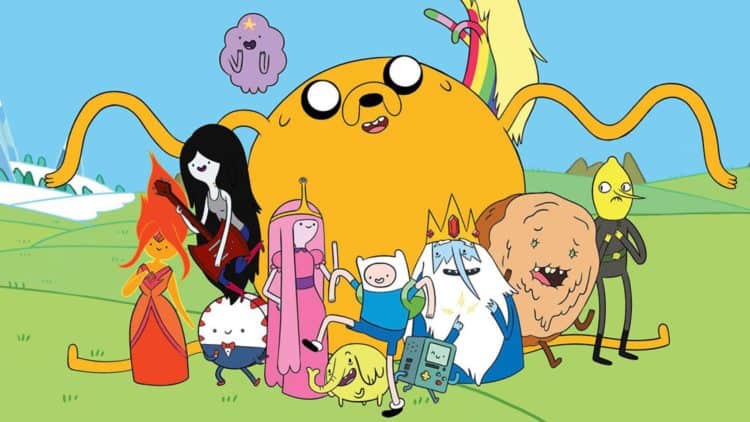 The television series "Adventure Time" is about a kid and his dog and their adventures in a world that is in a post-apocalyptic state. Although it's intended for kids, it's one of those shows that draws adults and teenagers as well. It's a show that anyone of any age can appreciate and enjoy. If you haven't seen it yet, then you may be missing out on a truly enjoyable viewing experience. To Whet your appetite, here are 10 things you never knew about "Adventure Time."
1. The post-apocalyptic genre of the series was unintentional
When the creator first wrote the plot for "Adventure Time," there was no intention to make it a post-apocalyptic show at all. It was more of a focus on creating a magical environment. This aspect of the series developed over time as a natural evolution. Elements were added to the world gradually and by the eight-episode, elements of nuclear bombs, the scarcity of people and the zombie businessmen landed the show firmly in this genre, but it wasn't in the original planning to take this approach. Because it was working so well, they kept it going.
2. The show began as a short pitch that was first rejected
Nickelodeon made a visit to the California Institute of the Arts when Pendleton Ward was a student there. They requested each student to make a one-minute short pitch. Ward made his pitch he didn't hear back from them. It wasn't until after he was finished with the studies that he revisited the Adventure Time project with more vigor. He had another shot when they offered another promotion they called "Random Cartoons." They also requested pitches with ideas for new cartoons. Ward was prepared and built a pilot which was inspired by sketches he had previously been working on. His pitch was accepted and the rest is history.
3. Princess Bubble Gum originally had a different name
Princess Bubblegum was intended to have a different name before she was introduced to the world. Pendleton Ward had originally planned to name the character Bettie, after his mother. As it turned out, the character was officially named Princess Bonniebel Bubblegum and it's been shortened to a series of nicknames on the show including P-Bubs, Peebles and PB.
4. Ward is the voice of Lumpy Space Princess
Pendleton Ward is a guy, but he does an amazing job of lending his voice to the nasal and dramatic female character Lumpy Space Princess. You wouldn't know it was a guy unless we told you so. He does an incredible job of sounding like a typical valley girl.
5. Finn's voice is performed by two brothers
The voice of Finn isn't just supplied by one voice actor, it's done by two, and they are brothers in real life. The first was Zack Shada who was the first Finn voice at the time of the pilot. He was Finn for the first three years, but as with most young voice actors, his voice began to change so his brother Jeremy Shada stepped in and is the current voice for Finn.
6. "Futurama" features an "Adventure Time" crossover scene
If you're a fan of "Futurama" you may remember when the 22nd episode of their Season 7 contained a scene where Finn and Jake made a cameo appearance. Do you remember when Bender went down the dungeon stairs searching for Leela? When he got to the dungeon he discovered Jake and Finn chained and imprisoned there.
7. BMO is no certain gender
Niki Yang is actually the voice for BMO, the video game system of Jake and Finn. Originally, BMO was set to have a voice that was computer synthesized but a human voice gives him and her a more natural sounding voice. Incidentally, Yang is also the voice for Lady Rainicorn.
8. Some of Lady Rainicorn's lines are not suitable for children
If you're a monolingual English speaker then you wouldn't know that some of the lines that Lady Rainicorn recites are a bit out of the sphere of what you'd want your little ones to hear. She's speaking in Korean and only uses English on occasion. The phrases contain some explicit sexual references and it's a good thing that the majority of kids either don't understand the language or don't know what it really means if they are Korean speakers.
9. The executives at "Adventure Time" wants "The Office" cast as guest voices
If you're a fan of the office, this is some really exciting news. The execs want the whole office crew to come on board and lend their voices and they want everyone who's ever starred on the show. So far, they've convinced Rainn Wilson and the actors who play Creed and Kevin, but they're still working on it and hope to make the vision a reality.
10. There have been a few romantic elements and they're based on the Riverdale girls
Princess Bubblegum has emerged as an occasional romantic figure on "Adventure Time." The creator of the series has based the moments on the type of romance that you found in the Archie comics with Betty and Veronica and how Archie tends to go back and forth between the girls, but it's more of a friendship than anything else.
Tell us what's wrong with this post? How could we improve it? :)
Let us improve this post!