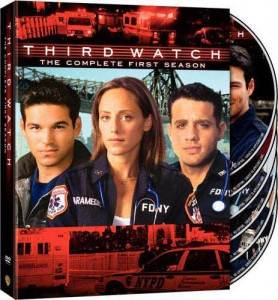 Original Air Date: February 28, 2000
Third Watch was, at times, funnier than most sitcoms I've seen. For a drama, it knew how to bring an element of humor without losing its credibility. "Nature or Nurture" features a plotline that had me laughing almost nonstop, thanks to Bosco (who else?), while also presenting a serious debate between Doc and Carlos over whether it's your environment or yourself that shapes who you are. The combination of the two makes this one of my favorite episodes of the first season.
From the get-go, things are off: Jimmy walks into an awkward situation when son Joey meets new girlfriend Brooke while he's in the shower. Yet that's nowhere near as funny as what happens next. Bosco is on his way to work, when two guys attempt to rob him. Being that this is Bosco we're talking about, he not only foils the robbery, but decides to rob them instead – taking their wallets and all their clothes and leaving them standing outside in twenty-degree weather. Jason Wiles plays this with such glee it's impossible not to enjoy it just as much as he does, while also knowing that this is going to come back and bite him in the behind bigtime.
No sooner has Bosco started his shift in possibly the best mood ever than the two guys are in the precinct, filing a complaint against the mysterious guy who robbed them. Bosco panics over this, and it only gets worse, as when he pulls Faith aside to tell her why he's wound up, Sully and Davis happen to overhear. Needless to say, our favorite beat cop's mood goes downhill in a hurry. "I am so screwed," he moans. "I swear if I make it out of this, I'm going to get like a…lobotomy." The resulting conversation he has with Faith, begging her to help him, is priceless:
Bosco: I swear to God, Faith, I swear I'll change. I'll get help. I really will.
Yokas: Therapy. Licensed, able to prescribe medication type therapy.
Meanwhile, Doc and Carlos are dispatched to the shooting of a Latin Posse gang member, and as Carlos says, "We're going to be back and forth all day, cleaning up the payback, and the payback for the payback." Not long later, they're dealing with a member of the rival gang who's also been shot, and his younger brother who pulls a gun on them saying they'd better keep him alive. They manage to do so, but it's not easy. Witnesses report the incident, and Sully and Davis investigate, but Doc doesn't want to press the matter any further. In fact, he's determined to find the brother before the cops do. He and Carlos get into another argument about what is best for kids in similar situations, which is food for thought. It's heartbreaking to hear the victim's mother say "You should have let him die."
Bosco disposes of the evidence from his morning armed robbery while out on patrol. Faith warns him to "keep a low profile and stop yourself from running off at the mouth." The expression on his face when she says that is priceless, as if to say 'this is me you're talking about,' which is precisely her point. He's not pleased when they get back to the squadroom and he sees the wanted flier considering him "armed and extremely dangerous," especially since he thinks it looks nothing like him. His idea is to follow the two guys around waiting for them to do something else he can arrest them for. Yokas is thrilled.
Carlos has a change of heart, and though the shooting victim's younger brother is picked up for a lineup, claims he can't identify the kid. However, the good deed ends up being punished when both brothers are later involved in a hideous drive-by, the younger one killed instantly. Doc snaps, and decides to dump his eleven-year-old corpse in his apathetic brother's lap, electing to refuse treatment to his older brother on that alone.
Bosco finally gets his opportunity at psuedo-redemption when the two would-be robbers try to hold up a jewelry store, and seizes it. There's the obligatory chase when one of them tries to run (really, how many times did Jason Wiles have to chase somebody on this show? He might be fast, but that's still got to be a pain), but they're arrested and he gets Faith to agree to take them back to the precinct alone so he's not identified.
There's a third plot about Jimmy's gambling and how his crappy parenting is continuing to mess up Joey, but it only serves to highlight how much of a loser he can be, considering he tries to get money out of his son's college fund to pay off his debt and by episode's end, loses his car and gets beaten up while his son watches. The show goes to pains almost to show how dysfunctional Kim and Jimmy's relationship can be, and how their child suffers for it, yet surprisingly they ended up remarried and back together at the end of the series. Go figure.
I love this episode for a variety of reasons. The Bosco storyline is downright hilarious in its absurdity, and both Jason Wiles – he of the incredible talent for snark in both dialogue and just the expression on his face – and Molly Price play it perfectly. Coby Bell and Skipp Sudduth aren't in this one much, but Ty and Sully's reactions to Bosco's predicament are funny anyway. Yet as funny as this episode is, it also provides some food for thought in the Doc and Carlos storyline. Both sides of the argument can be identified with, and the final image of Doc leaving the body of one brother in the lap of another is poignant. This is another example of how Third Watch can balance comedy and drama in the same episode effectively, without tilting too far one way or the other, and as such is a more complete hour of television than most shows can ever hope to be.