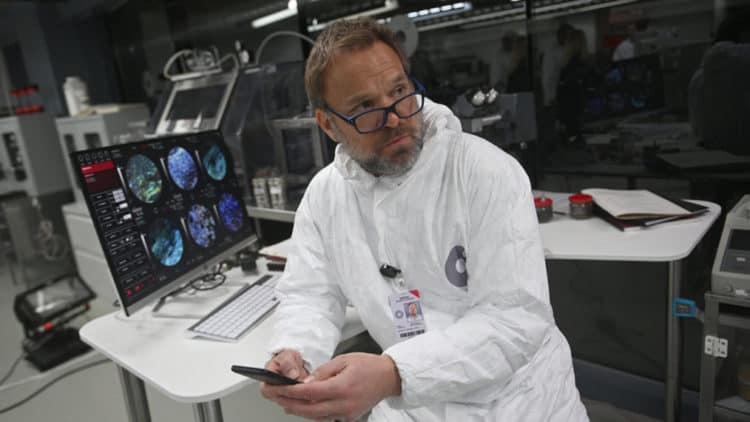 Norbert Leo Butz has had the type of career that many actors can only dream of. Not only has been in the industry for more than 20 years, but he has managed to work consistently through it all. At this point in his career, Norbert has nearly three dozen acting credits and he is best-known for his role in the Netflix series Bloodline as well as the series Mercy Street. Recently, he has been getting a lot of attention for his role in the new show Debris. In addition to his on screen work, he has also had a successful theater career that has included performing on Broadway. Continue reading to learn 10 things you didn't know about Norbert Leo Butz.
1. He's A Missouri Native
Norbert was born and raised in the St. Louis area and he came from a very close knit family. When he was younger, the thought of one day making it to places like Hollywood and Broadway seemed completely farfetched. Although he no longer lives in St. Louis, his midwestern roots will always be a very important part of who he is.
2. He Originally Wanted To Be A Journalist
Norbert first got into acting during his time in high school, but after graduation he didn't initially plan on pursuing acting. Norbert told Talkin' Broadway, " I was about a week away from being a journalism major at the University of Missouri in Columbia. I had my dorm room set up and was already to go. I'm from south St. Louis, from a very middle class Catholic family. People don't go to New York and become actors from my neighborhood. They just don't do it. I secretly auditioned for a conservatory in St. Louis called Webster University for a BFA in Acting and I got accepted. "
3. His Name Was Actually Supposed To Be Tim
Not only does Norbert have a fairly unique name, but he also has a unique story behind how he got it. During his interview with Talkin' Broadway, Norbert revealed that his name was originally Timothy James Butz, however, his father, who is also named Norbert, secretly changed the name on his birth certificate.
4. He's A Tony Award Winner
Like many other formally trained actors, Norbert has always loved the theater world. There's simply something about being on stage that nothing else can compare to. Over the course of his career, he has gotten many opportunities to share his talents through theater and he has been a part of several Broadway productions. Norbert has one two Tony Awards with the most recent being in 2011 for Best Performance by a Leading Actor in a Musical for his role in Catch Me If You Can.
5. He Made His TV Debut In Law & Order: SVU
Norbert has been doing it big from the moment he made his first TV appearance. Instead of getting his first gig in a random show that no one has ever heard of, Norbert made his debut in the popular series Law & Order: Special Victims Unit in 2000 as a character named John Fenwick.
6. He's A Singer
Although most people think of Norbert as an actor, the truth is that he's an all around performer. Music is also very important to him and he has had a successful career as a singer. He has released four projects since 2014. His most recent album, The Long Haul, was released in 2019.
7. He's A Husband And Father
Trying to balance a career in the entertainment industry with being a family man isn't always easy, but Norbert has found ways to make it work. He has been married to actress Michelle Federer since 2007 and the couple has one child together. Norbert also has two children from a previous marriage.
8. He Loves Being Outdoors
Just because Norbert is a celebrity doesn't mean that he wants to constantly be surrounded by flashing lights and crowded events. He actually appreciates the chances he gets to have quiet time. Norbert spends a lot of his free time outdoors observing the beauty of nature. He enjoys doing things like going for walks and hanging out by the water. Norbert also loves to garden and he often grows his own vegetables.
9. He Enjoys Reading
Norbert is the kind of person who is constantly looking to learn new things, and as a result reading has become one of his favorite hobbies. He loves kicking back with a good book and often shares photos of the books he's reading with his followers on social media.
10. He's Done Some Voice Work
Most people who have been following Norbert's career are familiar with the live action work he's done. What some people don't know is that he's also done some voice acting. He voiced the character Peanut in the 2019 animated film Wonder Park. He also provided vocals for the 2000 film Looking for an Echo.