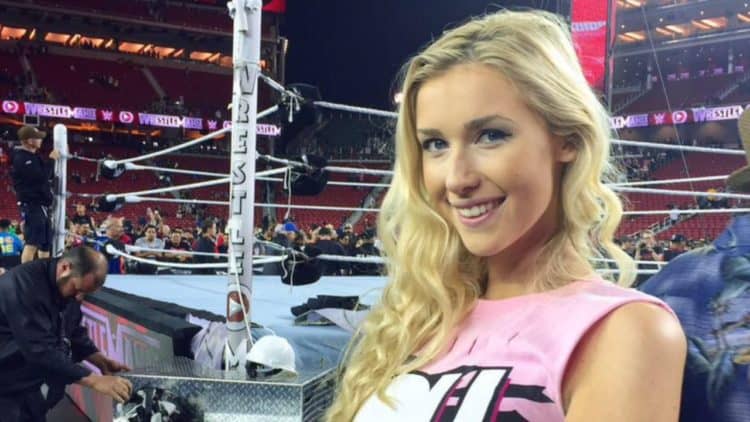 Some kids are born to famous parents and don't have a lot of say in what happens in their lives as a result. Noelle Foley however decide at one point in her life that she was going to try and follow in her father's footsteps when it came to wrestling. There's no doubt she would never be a hardcore legend as her dad was since he's still one of the greatest legends that wrestling has ever produced. But seeing as the business took a toll on her dad and her mom made it kind of clear that it's not all glitz and glam like it appears to be. Wrestling is fake in many ways but it still takes a hefty toll on a person's body and even the divas that compete in the squared circle at this point suffer pretty heavy injuries despite looking like a million bucks every night they're out there. It's not an easy life to be certain.
Here's a few other things you might not have known about Noelle.
10. She's the daughter of Mick Foley.
Of all the families to belong to this is by far one of the craziest since Mick Foley is, outside the ring and in, one of the nicest guys in the business. He's done a lot to promote wrestlers and he's been a loving family man, but his career has still been hard on everyone in his family.
9. She was in Beyond the Mat.
Noelle was a little kid at this point and watching her father's matches were absolutely traumatic since it equates to watching your father getting beaten down in the ring. Mick actually felt pretty bad about it upon watching the footage later on since he saw his family's reaction.
8. She's pretty big on social media.
You can imagine being Mick Foley's daughter had a lot to do with this but at the same time she's managed to create a lot of her own fame by stepping up and deciding that she wanted a piece of the business for herself.
7. She got her name due to the season she was born in.
She was born during the Christmas season and that's how her name was brought up. A lot of people will cast about for a name for their child when it comes time for them to be born, and sometimes the first thing that comes to mind is what the result ends up being.
6. She didn't quite make it as a wrestler.
https://www.instagram.com/p/BmzM6cWAnfV/?hl=en&taken-by=noellefoley
She did give it a try but unfortunately she can't handle people grabbing her hair and that's a big problem in a women's division where this is a common thing to happen. She gave it a shot and trained with Sasha Banks and Becky Lynch, but it didn't work out.
5. Her net worth is $1 million.
Again a lot of this comes from her family name no doubt since at this point she really hasn't done much and has been distancing herself from the wrestling career she didn't establish. But she has no problems talking about wrestling to anyone that has questions.
4. She's been optimistic about a modeling career.
She's definitely pretty enough and keeps herself in good shape for a modeling career so there's nothing really stopping her from going out and doing what she wants to do. If not a wrestler then perhaps still a diva?
3. She was in the show Holey Foley.
This was one of the many shows that the WWE started pushing for a while, but when Noelle dropped the bombshell that she wanted to be a wrestler no one wanted to hear it and the belief was that she just couldn't do it since she's not athletic and she can't stand pain. Following in her father's footsteps is not realistic since she really doesn't have the killer instinct.
2. She has her own YouTube channel.
It doesn't seem to take much to run a YouTube channel and since her name is Foley it's likely that a lot of people tune in wanting to hear about wrestling and her fitness tips. She can give both quite honestly since she is fit and she's been around wrestling for most if not all her life.
1. Her fame is due pretty much to her father.
If that point hasn't been driven home enough then hopefully this will make it clear. She's where she is due to her family name and that's the biggest draw she has so far. If she becomes a star model then kudos to her but the beginning of her career, no matter how far it goes, is due to her family name and what people generally think when they hear it, if they know Mick Foley.
Noelle should be able to gain her own amount of success, but a lot of it will come because she had a boost due to her name.