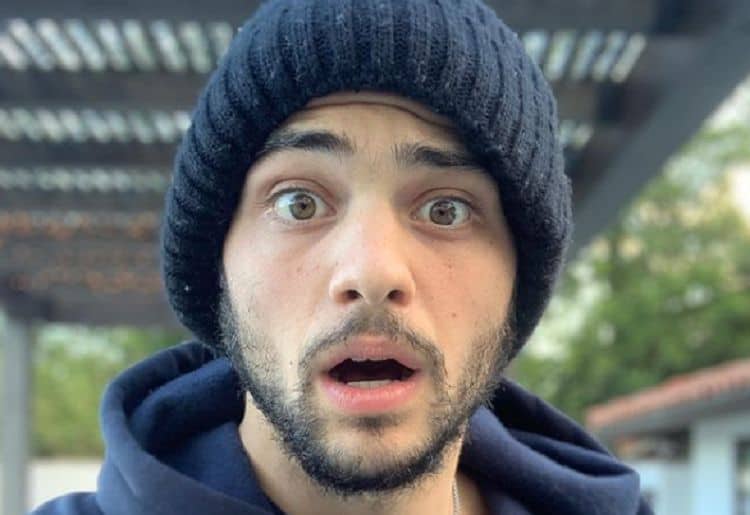 If you are a fan of Netflix movies, then Noah Centineo must be well known to you. He is one actor who is taking over the screens as a charming boy because of his dashing looks and smile. Many ladies might be eyeing the star, and he is ready to mingle. He is in the cast of "Sierra Burgess Is a Loser" that came to the screens on 7 September. His journey to being an actor did not start from childhood, but he stumbled upon it while pursuing other things. You might be curious to know more about this actor and here are some facts about him.
1. His first pet was a rabbit
When Noah was young, his pet was a rabbit, and he named her "Princess." Princess made his childhood awesome as he loved to play with her most of the time. The life of his pet was later cut short when the family brought a dog to the family that ended up eating the rabbit. Noah then took the dog to be his pet, replacing the rabbit.
2. He is a selfie pro
If you are following Noah on Instagram, then you must know that he loves the camera. The numerous selfies he posts make some of his fans ask him on the best selfie advice, and he responds that it is vital to get the right lighting when taking a selfie. His Instagram photos display his skillful photography skills since he takes them at several places with different postures.
3. He prefers meeting people in real life than sliding to DMs
If you think you can start up a conversation with Noah through his Instagram, then you better think again. He does not respond to direct messages from his followers on Instagram. He says that he has a long list of fans texting him, hence finds it hard to respond to them. He prefers meeting someone in real life and talk rather than conversing through Instagram. Noah further finds it strange chatting with people he has only seen their photos, and he has good reason to be wary given the many cases of stalkers.
4. He does not do drugs
With celebrities, partying is a lifestyle that mainly revolves around girls, drugs and alcohol. Noah, however, sets himself apart from the crowd since he prefers being sober. He does not smoke, drink, nor abuse drugs. Many people find drugs to be the best way of releasing mental pressure, but for Noah, yoga is what assists his mind relax.
5. A dog attacked him and left him with a scar when he was 6
If you have a close look at Noah's face, you will notice that there is a scar on his face. The scar was a result of an attack by a dog when he was six years old. In his interview with Buzz Feed, he says that the dog left a massive hole, but he does not blame the dog. He says that the dog did not know what he was doing, yet Noah did not want anybody to put the dog down. His parents later got him a bigger dog, and he believes the bigger one was better. Noah must be a very forgiving person because he still has a soft spot for dogs despite the incident.
6. He loves girls who take care of themselves and are honest
All men have the ideal type of girl, and for Noah, his perfect kind of girl is one who is honest and takes good care of herself. He told E News that he loves a girl who is open about her feelings. He says that it might be difficult for one to be open, but communication is what makes a healthy relationship. Apart from having the qualities he mentions, he also does not plan to date any of his fans. He feels that his fans might love him due to his character rather than love him as a person.
7. He has a massive following on social media
Noah has massive fans on his social platforms with millions of followers on Instagram and Twitter. Despite the large number of people following him, Noah does not visit these social platforms frequently. When you look at his Instagram, he has 17.6 million followers with only 239 posts while on Twitter, he has 1.6 million followers.
8. He wanted to be a soccer player
Despite Noah being prominent in acting, his journey into acting seems like an accident. He had no interest in acting and wanted to become a soccer player. He told Pop Culturalist that he just loved playing drums and acrobatics. His sister later dragged him to auditions as she wanted to become a model. After several auditions, his sister saw the potential in him and told him that he could make more money through acting. His family supported him to attend classes in acting, enabling him to become the great actor we know today.
9. He loves to read and write
Apart from acting, Noah also loves to read and write. He narrates one incident where he went for a date with a girl after having a book swap. When the girl came to his residence, they exchanged books, and Noah read for three hours. He loves getting the content in the books and relating them to his current life. Besides reading, Noah also writes to express his feelings about what he is going through in life. He feels relaxed after putting his experiences down on paper and making them available in the future when he might need them.
10. He has a net worth of $2 million
Noah Centineo has made massive wealth through his acting career, thanks to Netflix that brought most of his work to light through their streaming services. His wealth is also from TV shows such as "The Fosters" where he made around $18k per episode. Apart from acting, he is also a model, a career that works well with his good looks. He is currently worth $2 million.