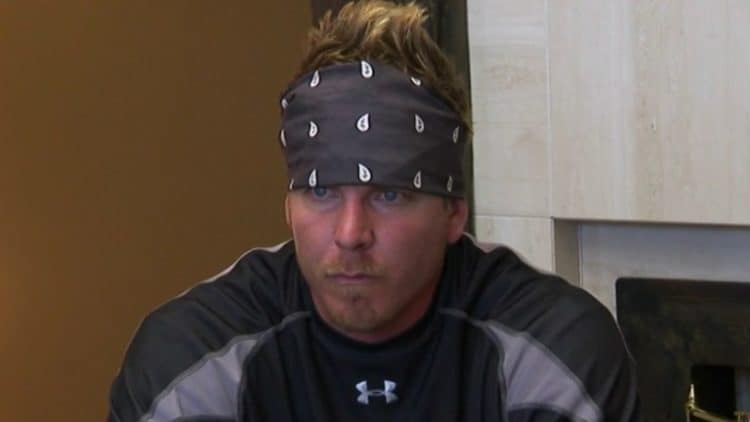 When Mark Long signed on to be a cast member of Road Rules: USA – The First Adventure, he probably had no idea that he would still be working with MTV more than 25 years later. That's exactly what happened, though. Over the years, Mark has become a fixture on The Challenge and he has earned the respect of all of the cast members he's crossed paths with over the years. With his willingness to push forward no matter the obstacles, Mark has proven to be the kind of competitor that people would rather work with than against. Despite being almost 50-years-old, Mark is still going hard and it doesn't look like he has plans to stop any time soon. Keep reading to learn 10 things you didn't know about Mark Long.
1. He Once Considered Becoming A Weatherman
Being in the entertainment industry is something that Mark has always dreamed of. Even at a young age he envisioned himself being on TV in some capacity. During an interview with Dish Master, he said that he "thought of becoming a weatherman because I always felt they were less stuffy than the news people."
2. He May Have Been Married At One Point
Mark doesn't have any children and he has been single as far as most people know. However, there appears to be a small window of time when Mark may have been married. During The Challenge: Battle of the Sexes 1, Mark appeared to be wearing a wedding ring, but there was never any further information about him being married.
3. He Likes Giving Back To Others
Since making his reality TV debut, Mark has built a huge platform and he has used it as a way to give back to others. Over the years, he has worked with several charity organizations and has volunteered as various charity events. He is especially passionate about causes relating to children.
4. He Has Some Acting Experience
When most people think of Mark's TV experience, Road Rules and The Challenge are the first things that come to mind. What many people don't realize is that Mark has also done a little bit of acting over the years. He made his acting debut in the series Sweet Valley High in 1996. He was also in an episode of the popular Disney series Even Stevens.
5. He Enjoys Interacting With Fans On Social Media
Mark is incredibly thankful to all of the people who have supported him over the years and he likes to connect with them whenever he gets the chance. He is very active on social media and it's fairly common to see him responding to questions and comments from fans on Twitter.
6. He Is All About Family
Mark doesn't have any children of his own, but that doesn't mean that family isn't at the top of his priority list. He has very close relationships with his loved ones and they have always stood behind him in his various endeavors. Mark has an especially close relationship with his parents.
7. He Studied Communications
Even though his life has taken a bit of an unconventional path, there was once a time when Mark was on a very traditional journey. Mark attended the University of Florida where he graduated in 1995 with a degree in communication, journalism, and related programs. His career path may have been a little different than most, but it's still given him the chance to put his degree to good use.
8. He Spends A Lot Of Time Working Out
Mark is all about making sure he looks and feels his best, and staying active has been the perfect way for him to do that. He spends a lot of time working out Now that he's back on The Challenge, all of the working out he's been doing is going to come in handy.
9. He Is An Entrepreneur
Despite being a reality TV star, Mark hasn't solely relied on MTV to make his living. In 2012, he started a supplement company called Pocket Protein Inc. In addition to that, he has also been working a full-time job for several years. It's unclear whether the company is still active today. According to his Linkedin profile, he is currently an account executive with Heart Television.
10. He Loves To Spread Positivity
Things haven't always been easy for Mark, but he has been fortunate to have lots of cool opportunities during his lifetime. He has learned the value of having a positive attitude and pushing forward even when things get rough. He loves sharing messages of positivity with others and often uses his social media presence to share good vibes.