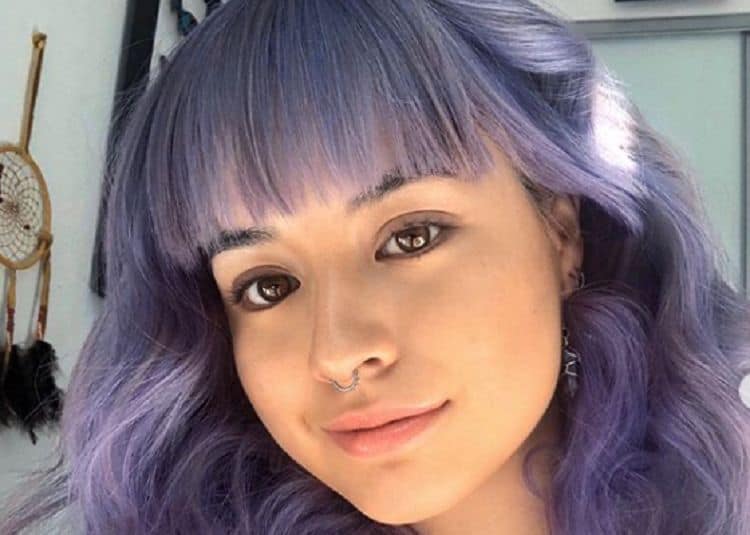 Star Slade had a lingering thought about becoming an actress but never acted on it until she was 15. Like most actors, her start was on the stage before making her way to the television and film industry. So far, "Burden of Truth" has become the ticket to her stardom leading her to star alongside famous people like Jason Momoa and Kristin Kreuk. However, there is more to her than acting. Her other creative outlets include painting, writing, and dancing, but she also prioritizes spending time with her family. These ten facts will let you in on her personal and professional life.
1. She always wanted a dog called Luna
Some girls dream of weddings and finding their Prince Charming, but all Star could think about was getting a dog once she grew up. Just like parents plan for the names of their children, the actress also had the right name for her future dog – Luna. Therefore when the time came for dog ownership, Star started her search, and the moment she met a big dog named Luna, she knew she had to take the canine home with her. She consequently adopted her.
2. Why she likes the name "Luna."
In her interview with kawarthaNOW.com, Star revealed that her love for the name is due to her obsession with the moon, which is in turn inspired by the Harry Potter character. Luna is Harry Potter's daughter, which means "moony," but most fans mistakenly think that he named her after Luna Lovegood. As if fate was conspiring to grant Star her wishes, she got to play Luna Spence in "Burden of Truth." The actress had wanted her name to be Luna all along and feels lucky that she got her wish.
3. Her role was changed after memorizing 20 scripts
Actors have been known to be quite dramatic in portraying how hard it can be to memorize the script. Some like Rita Ora, who acted in "Fifty Shades of Grey" claimed that she could not remember her lines during filming; thus, they had to feed them to her through an earpiece. It was funny since the actors only had three English lines in the entire film. Star, however, is not one to make excuses, and even when she was handed loads of scripts for "Emerald Code," she memorized them only for production to switch her role.
4. She had to turn down a role due to a contract
Whoever said rules were made to be broken did not foresee the implications of a breach of contract. Many actors have ended up in court for failing to fulfill their end of an agreement, and top of the list is Kim Basinger who had to pay $3 million more than her net worth after backing out on playing the lead in "Boxing Helena." Star has learned from such actors and decided to turn down a role in "Cardinal" because she is held up by a six-year contact with "Burden of Truth."
5. She is not active on social media
Being in social media has become like a basic need. Those who tried as hard as they could, not to get sucked in, eventually gave in and signed up their accounts. Besides, even celebrities who feel they should not let the entire world know what they are up to, still feel the need to be on the platforms hence use fake profiles. All the same, Star is among the few who are yet to keep putting their lives on the public platforms. Even in her Instagram account, the actress has only made four posts that have helped her garner 18.8K followers so far.
6. She started acting at 15
After joining Lindsay Little Theater, Star did not think it would lead to her knowing how much she loved acting. Her best friend, Anwen, texted telling Star that there was an upcoming play, "Forgotten" that Anwen's mother had written, and Star would be a great fit. Despite not having any experience in acting, Star decided to go for it and got to have her first-ever audition. She must have put on a good show because she landed the role. The audition process gave her insight into the acting world and convinced her that maybe it was time to focus on it.
7. She wants to be a good role model
Most celebrities do not like to be looked up to as role models. Rihanna set the record straight that she was expected to set a good example when she was a teenager herself and only just beginning to find her way. She added that being a role model became more of a job than she wanted it to be because she wanted to focus on creating music. Star, on the other hand, is not bothered by the undue pressure such responsibilities will have on her. Instead, the actress is always thinking of how to impact the young people who look up to her positively.
8. Her first love was dancing
Star prides herself as a classically trained ballet dancer who began dancing at the age of 14. After moving to Lindsay, she started dance classes at the Donita Ballet School. Her talents saw her become a City Dance Corps Performance Company member and joined several collectives, including D'Air Dance Collective. On May 13, 2017, she performed at the Vienna concert where tickets were going for $20 and $15 for adults and students, respectively.
9. She put her dancing career on hold to concentrate on acting
People are always at different points in their lives, and we all have varied goals. For instance, while Glee Jackson put his acting days behind him to study philosophy and theology, Star chose to go down the acting path. According to MyKawartha.com, despite her acceptance to the Quinte Ballet School, the actress found that as an adult, she had to make decisions that were best for her future. However, she plans on going back to dancing someday.
10. She met Anwen O'Driscoll through Lindsay Little Theater
Star started her acting journey at the theater, and destiny ensured that it brought her and Anwen together. The two became best friends and even co-stars in several productions. In 2016, Lindsay Little Theater was proud to announce the two veterans as leads in "Emerald Code." Later on, they co-starred in "Forgotten," where they shared a role.