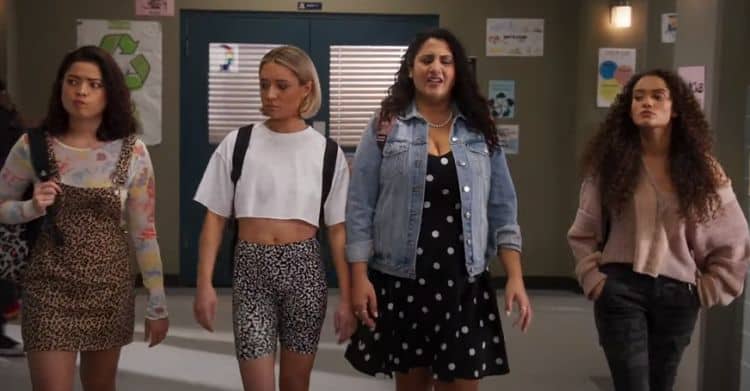 Lizze Broadway might not be a household name, but we'd be willing to bet that it won't be much longer until she is a household name. The young actress has been involved in the industry for some time now, and she's been working hard. She's been working as a model, she's done voice-over acting, and she's been working hard to get ahead in the business. We think she can do it, but we also think we want to know a little bit more about her before she's a household name and no longer a mystery to us.
1. She's From Ohio
Lizze Broadway was born and raised in Toledo, Ohio. She was born in 1998. Her specific date of birth is February 16, 1998. She is still quite young, so she has a lot of time to try and make it in the business. She's doing it, too.
2. She's Been in A Lot of Famous Things
She's got a long resume of amazing work on her side. She's been in "Bad Mom," "Southland," "Shameless," and much more. That's why you know you recognize her face even if you aren't sure about her name just yet. She's been all over, an dshe's making ti work.
3. She's in Stranger Things
And here you go. This is where she's going to make herself a household name. The Netflix series is a big one, and it has a huge following. People fall in love with the show, and they want to see more of it, but things aren't going to get any further along for her without her becoming a household name because of this. She's making it big here.
4. She's Not Single
She's allegedly dating a young man by the name of Tanner Buchanan. He is an actor who stars in the ABC series "Designated Survivor," as well as things like "Game Shakers," on Nick. He's also made some appearances in "Grey's Anatomy," and he and his rumored girlfriend have allegedly started their own YouTube channel together.
5. She's Got Instagram
What's interesting about her Instagram feed, however, is that she only has six posts. She does have more than 23.5k followers, though. That's a lot of followers for someone who doesn't post much – or ever. Her first post is from November 2019 and her most recent post is from August 2020.
6. She's Felt Like Social Media Wasn't True
One of her very few Instagram posts is a long one about how she feels that she's not been honest or transparent or real about her life right now, and she's been given a chance to have this ability to start over. She's made it clear that she's got a lot going on, but that she's also been capable of starting over. We imagine she deleted most of her stuff after that.
7. She's Always Wanted to Act
Another thing that you should know about the young actress is that this has always been a dream. She's been wanting to do this most of her life, and it's something she's been dreaming of. She knew when she was just a child that she wanted to go into show business, and it's clearly worked for her in that capacity.
8. Her Net Worth
Lizze Broadway has an estimated net worth of around $200,000. We don't know what her average salary is when she's working, but we also imagine that she's going to find she will be making a lot more as her life goes on. She's working on big projects, and big projects pay a lot more.
9. She's Private
If there is one thing we can say about this young actress, it's that she's quite private. She doesn't share much of her personal life on her social media pages, or anywhere else for that matter. We like that about her. Most 22-year-olds are all about sharing their personal lives and every single detail of what they are wearing, eating, or doing on the internet, and this is something we just hope is going to stick around for her. Privacy is so valuable.
10. She Won a Modeling Competition
Her entire start in the entertainment industry is thanks to the fact that she once won a talent show. It was the International Model and Talent Competition when she was younger. We don't know too many details about how she won or what she was doing when she won, but we do know that she won the competition and she has been able to make that work for her as far as her career is concerned.