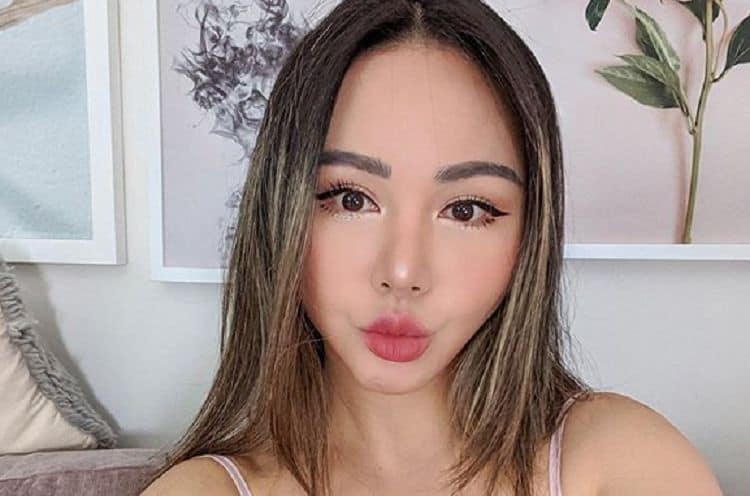 Thanks to the internet and people like Chloe Ting, accessing information on health and fitness is now easier than ever. Well-known for her YouTube channel that focuses on at home fitness, Chloe has built an entire brand around staying in tip-top shape. Since joining YouTube in 2011, Chloe has gained more than 8 million subscribers and over 900 million total views. If you want to get more active without paying for a gym membership or a personal trainer, Chloe is your girl. Continue reading for 10 things you didn't know about Chloe Ting.
1. She Has A Health Condition
There's no secret that Chloe is in amazing shape. She has a great body and most people assume that she always feels good about the way she looks. Unfortunately, though, that isn't always the case. Chloe suffers from a condition called small intestine bacteria overgrowth (SIBO) which often results in bloating and cramps. As a result, Chloe has moments where she doesn't love her appearance. In November 2019, she shared a photo of herself with a bloated stomach and said, "I'm not pregnant, I'm just gassy. Just want to share this cause I don't look shredded all the time. I get a little afraid to share photos like these because I should be lean and have abs because I post fitness videos, and it might seem like I'm not credible because I'm bloated. Fk that cause I actually look like this most of the time this year which has been difficult to deal with."
2. She Has A Master's Degree
There are lots of people who make YouTube accounts with the intention of some day becoming famous on the platform, but that wasn't Chloe's intention at all. Before starting a YouTube she worked as a statistician after earning a master's degree in financial marketing.
3. She's Not Proud Of Her First 20 Videos
There's definitely a learning curve when it comes to creating content for YouTube, and it took Chloe about 20 videos to get over it. She refers to her first several videos as cringey and adds, "I feel like the first 20 videos that I made were just so horrible. I think the worst one was probably more like fashion, though."
4. She's An Avid Traveler
Chloe loves to travel. She told Husskie, "I always find it fascinating to explore new places, meet new people, and get inspiration along the way." Because of her career, Chloe has gotten the chance to visit lots of places including Tokyo, Los Angeles, Rome, and Paris.
5. She Puts A lot Of Research Into Her Fitness Programs
There are lots of people on the internet who put out content just for the sake of putting out content. There are also plenty of people who claim to be experts but have no idea what they're talking about. Chloe isn't either kind of person. She takes her brand very seriously and puts a lot of time and research into the information she shares.
6. She Struggles With Work/Life Balance
Since Chloe's job also crosses over into her personal life, she admits that it can be difficult to create work/life balance. She says, "It gets really hard to switch off when there's so much to get done and it's a constant hustle." On the other hand though, she does appreciate the flexibility that comes with her line of work.
7. Her Success Has Taught Her A Very Valuable Lesson
Being a YouTuber has definitely been a learning experience for Chloe. But the greatest lesson she learned is one she never would have thought. She learned to have more confidence and herself and now knows that she should always try things.
8. Her Age Has Helped Her Deal With Her Name
Most social media stars are in their teens are 20s. However, Chloe didn't even get started on YouTube until she was 29. Instead of seeing her age as a disadvantage, she says that it actually helped her deal with the negativity that can come with being so popular on the internet.
9. She Inspired A TikTok Challenge
Chloe's primary platform may be YouTube, but she's officially crossed over into the TikTok world. Her 2 week shred challenge inspired the hashtag #chloetingchallenge to go viral. Lots of users have been participating in the program and documenting their results along the way.
10. Her Initial Content Was Focused On Music
Even when Chloe decided to start creating content for YouTube, fitness wasn't the first thing she had in mind. In fact, the very first video she uploaded was of her playing a piano cover. Once she started seeing which kinds of videos were getting the most engagement, she decided to shift her focus.
Tell us what's wrong with this post? How could we improve it? :)
Let us improve this post!