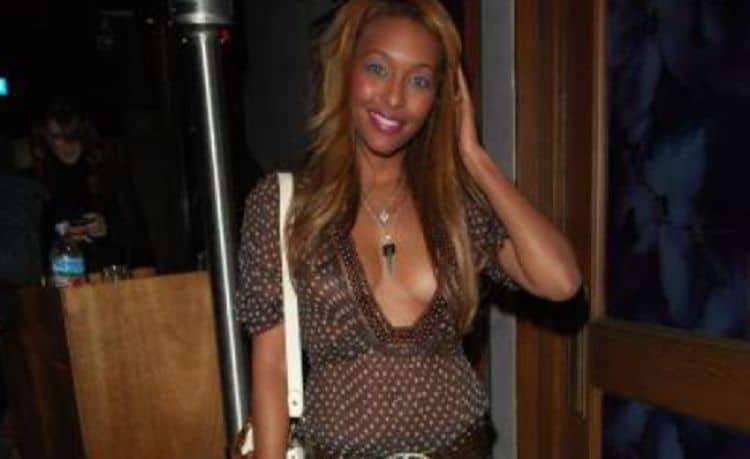 Nicole Narain is an actress and a model, and she's clearly gorgeous. Her life has been an interesting one, and many people have no idea that this classic beauty has been through nearly as much as she has in her life. Born on July 28, 1974, the model has had a lucrative career, but she's also had her fair share of struggle. She's suffered from addiction, she's been part of reality television, and she's been part of a major lawsuit with an actor you know well by name. Here's your chance to get to know a bit more about this lovely model so that you might understand her story a bit more.
1. She's American, but She's of Guyanese Descent
She was born and raised in Chicago, Illinois, which makes her an American citizen. However, her parents nationalities differ, which is part of the reason she is so lovely. Her mother is Afro-Guyanese, and her father is Indo-Guyanese. This explains her striking features. We don't know what her parents look like, but we do assume they must be lovely.
2. Was a Playmate
She is one of the beautiful women who has been chosen as a Playboy Playmate in 2002. She was the first monthly playmate of the year chosen in 2002 in January. The model chosen before her was Shana Moakler, and the one chosen after her was Anka Romensky. She's in good company with the women she fell between.
3. Music Video Star
For much of her life, she's been a model. However, she's also spent a little time working in other industries, too. She was, for example, a music video star for more than a few different artists. You can see her working with Fabolous, R.L., LL Cool J, and even Mario Winans. She's starred in videos for each of them, and they can all agree that she's easy to work with and that she brings a certain type of appeal to the screen when she's working.
4. She's Been on Reality Television
Not only has Nicole Narain modeled, she's also been a reality television star. However, most of her appearances were nothing that she felt too good about. The one she was part of that she might be most excited about was a celebrity edition of "Fear Factor," which is a show that makes the people who participate do horrible, terrifying things like eat live bugs or spend time in a box full of snakes facing their fears to win a large sum of money. She did not win, but she was probably just as terrified as anyone else on the show. The other show she appeared on in reality television is "Sex Rehab with Dr. Drew," in which she was there to discuss her sex addiction. She was someone who was merely trying to overcome her issues, but she chose to take a very public route in her path to do so.
5. She's Been Sued by Collin Farrell
She was once part of a lawsuit by famous actor Collin Farrell because someone released a sex tape of the two of them. He was not pleased when the tape was released, and he filed a lawsuit naming her to prevent the distribution, sale, or profit of the tape. It did not get too far, and the lawsuit was settled by both parties. However, rumor has it that the video is still available online if you know where to look. We are sure this is something neither of them are happy about.
6. She's an Addict
We mentioned above that she was part of a reality show with Dr. Drew, and it's because she's an addict. Unlike some people who are addicted to drugs or alcohol, she's addicted to sex. She's sought help many times for her addiction, but we don't know how she is doing with it these days. We hope she's found herself on the path to recovery and that she is living her life as happily as possible.
7. She Went Through A Dark Time
When she was part of the sex tape release along with Collin Farrell, she was horrified. She had to find a way to over come this, but it was not an easy task. She spent a lot of time in her apartment in LA doing things that did not require she leave her home and face the general public, and she once said in an interview that the only reason she enjoyed her time at home in that period was because she turned off her phone. Collin Farrell stated at the time that he wanted her help to stop the tape from being released any more than it had already been, and that she refused to help him. He alluded to the fact that she might be responsible for the release, and she was not.
8. She Met Farrell at the Playboy Mansion
She said the two of them hit it off quickly and efficiently back in 2002 when they met at an event at the Playboy Mansion a few months after her centerfold spread was released. She called them both similar in that they were free spirits and that they had that in common. They spent about six months together in a slightly more than casual relationship before things just ended amicably between them. He was not around much because he was in the prime of his own career, and it wasn't a natural fit.
10. She Was Raised by A Single Mom
Her mother and father were not together when she was a child, and she was raised — along with her two siblings — by a single mother. Her mother is fiercely protective of her daughter, and she was very supportive of her even when things were not going well in her own life. She made it a point to call her daughter every single day from where she lived to make sure her daughter was all right and that all was well. It's sweet.
Tell us what's wrong with this post? How could we improve it? :)
Let us improve this post!