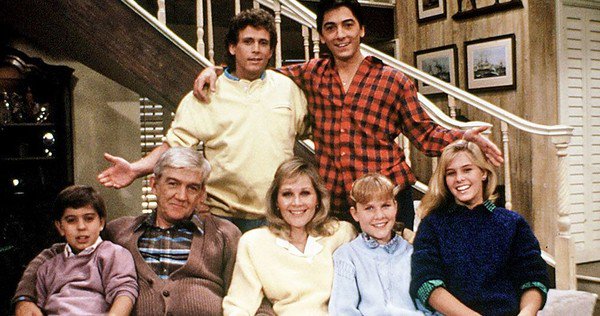 Scott Baio (and apparently his wife as well) is having none of this passive attitude men who are the target of the #metoo mob tend to have. He went to Facebook Live to post a 15 minute statement about the accusations of Nicole Eggert and co-conspirator Alexander Polinsky who decided that 24 years later is a good time to be creative and accuse a successful actor. Baio decided to punch both right in the nose and challenge them, essentially saying, "Bring it on." As of this writing, they haven't.
The reason of course is we are talking about two alleged actors whose time in the limelight has faded into oblivion. Eggert hasn't done anything worthwhile since 2014, and Polinsky is picking up scraps of work wherever he can — mainly voiceovers. The #metoo movement has been flowing since October of last year, so where have they been these last 4 months? It seems they major accusers who have been in the limelight (Oscars, Grammys, etc.) have spewed their venom, so the two decided the time is right.
It seems Eggert had no problem posing as a "Baywatch" babe for 44 episodes, 2 years after "Charles in Charge" ended. Since that streak of fame ended in 1994 she has filed for bankruptcy in 2013 and sold her home in 2015, according to TMZ. Her life definitely isn't what it used to be, yet rather than taking responsibility she wants to go political and try to being down someone who described her as "a close friend." Not a peep from her for more than 2 decades, even when her life was going south 5 years ago. Why go after Baio now?
Turns out Eggert commented on a tweet that referred to Baio's support of Donald Trump. "Ask what happened in his garage at his house when I was a minor. Creep." Baio stated in his Facebook Live video that Eggert brought up the accusations back in 2012 during her failed attempt at 2 reality shows. Basically, Baio left it alone, likely figuring it was self-promoting hype (which no one paid attention to at the time). So the #metoo movement is the ideal vehicle for her to drum up the charges once again. (She probably took a cue from Dylan Farrow.)
It will be interesting to see what comes of this social media war. Baio has no need to back down because he appears to have a stack of evidence showing Eggert is a liar along with co-conspirator Polinsky. (By the way, how would he know if he wasn't there? Did Baio brag to him about it?) Heavy.com makes the point that "4. Baio's Wife, Renee Sloan, a Stuntwoman, Is Coaching Baio to Convince The World That Eggert is Lying." This is a good thing since husband and wife are teaming up together and demonstrating unity. Unlike many wives of the accused, Sloan is giving a good name to marriage and to believing their husbands aren't creeps. Being a stuntwoman undercuts the idea that she is some passive wallflower who mindlessly does what her husband tells her. A huge problem for the #metoo-ers.
It may be a stretch, but this could be a turning point in the #metoo Games. It's not likely Eggert & Company will retract anything publicly, but the evidence Baio has made publicly available wreaks considerable havoc on their story. But be sure to give equal credit to his wife Renee, who has been supporter, defender, and coach of her husband against the troops of #metoo.