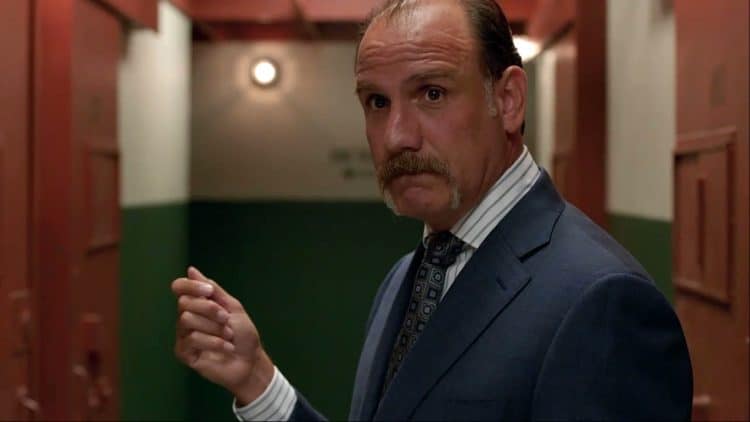 Nick Sandow has played dozens of characters over the course of his career, but most people will remember him best from his role as Joe Caputo in Orange Is The New Black. Although Joe did some questionable things, he also had a soft side and the complexity of the character quickly made him a fan favorite. Not only did the character really put Nick on the map, but it gave viewers the chance to see just vast his talent is. Although Joe hasn't had another acting role since the show's end in 2019, he has been busy working on other projects and there's a good chance we'll get to see more of him in the future. Keep reading for 10 things you didn't know about Nick Sandow.
1. He's a New York Native
Nick was born and raised in the Bronx to a close knit Italian family. When he was a teenager, he relocated to Manhattan to focus on his acting. He spent two years studying acting at the William Esper Studio. Although New York will always have a special place in Nick's heart, it looks like he's called Los Angeles home these days.
2. He Didn't Initially Think OITNB Would Be Successful
Orange Is The New Black was a huge success and has arguably played a huge role in Netflix's approach to creating original series. Despite loving the show from the moment he read the script. Nick admitted during an interview with the Today Show that he didn't think the series would ever become big. Fortunately, he was wrong.
3. He Has Theater Experience
Nick has spent the majority of his career doing on screen work, but like many other talented actors he actually got his start on the stage. He has appeared in several theater productions over the years including a 2004 run of Baptism By Fire which was performed at Studio Dante.
4. He's A Writer, Director, And Producer
When most people think of Nick Sandow, the work he's done as an actor is what immediately pops into their minds. What many don't realize, however, is that he's also done a lot of work behind the scenes. He is a successful writer, director, and producer and he has worked on a number of projects over the years. He even got to direct a handful of episodes of OITNB.
5. He's A Proud Dad
Nick takes a lot of pride in his work, but nothing beats the amount of pride he takes in being a father. He has been in a relationship with a woman named Tamara Malkin-Stuart for several years, but it's unclear whether or not the two are married. They have two children together : Sasha and Sterling.
6. He Has A Lot In Common With Joe Caputo
If you've ever wondered if Nick and Joe Caputo share any similarities, the answer is yes. During an interview that was published on Medium Nick said, "It's very hard for me to separate Caputo from myself. I think our writers are great at seeing and feeling an essence in the cast that's deeper than an actor can realize about himself."
7. He Loves Sports
When you're from a big city like New York, it's almost impossible to get caught up in being a sports fan. After all, professional sports are a huge part of the culture of New York. When Nick has free time, he loves to spend it enjoying live games. He particularly likes to watch football and soccer.
8. He's Worked With Jay- Z
Nick has gotten the chance to work with lots of cool people during his career, and Jay-Z is one of them. In 2017, the two teamed up to tell the tragic story of Kalief Browder. Nick served as the producer for the 2017 documentary, TIME: The Kalief Browder Story.
9. He's Passionate About Social Justice
As you may have been able to guess from his involvement with the Kalief Browder film, Nick has a strong passion for social justice and he has openly supported the Black Lives Matter movement as well as other initiatives to put an end to racism. He also has no issues with discussing his politics and has made it very clear that he a supporter of Joe Biden and Kamala Harris.
10. He Likes To Read
Nick probably doesn't get a lot of free time (that's not necessarily a bad thing) . But when he does get the chance to kick back and disconnect from every distraction, reading is one of his favorite things to do. You can usually catch Nick carrying around a good book and sometimes he even shares reading suggestions on Instagram.
Tell us what's wrong with this post? How could we improve it? :)
Let us improve this post!