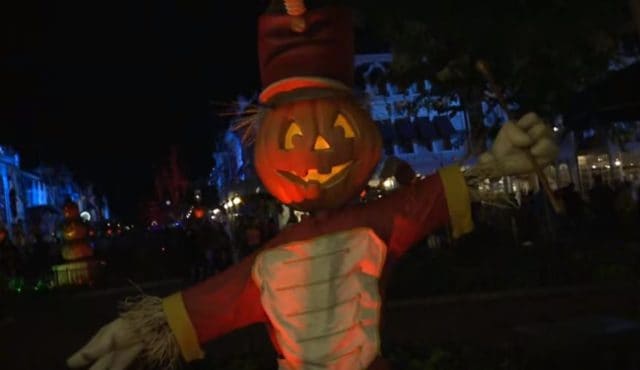 Being in Disneyland for Halloween is a special treat since the entire park is done up in the same type of theme that celebrates this fun and entertaining holiday. Even more fun than the barrels of candy that will be handed out though are the special holiday treats that can be found being sold around the park. These not-so-scary treats include recipes the Disneyland pastry chefs have made especially for the season and are designed to take full advantage of the Halloween spirit. Most of them you can find being sold pretty much anywhere around the park. The list of treats includes:
Jack Skellington Push-pop
This is a delightful dessert made with vanilla panna cotta and vanilla cake and topped with chocolate curls. The entire thing is molded into a push-pop form that can be eaten at your leisure.
Pumpkin cheesecake dome
Crafted to make a pumpkin-like dome this pumpkin-flavored cheesecake is sure to satisfy your taste with each bite.
Mickey pumpkin waffles
With Mickey Mouse-shaped waffles and a huge helping of cream and spices you'll get a delicious mouthful every time you take a bite.
Haunted Mansion desserts
What these look like are hollowed out bricks of chocolate, or cake, that have been filled with different flavors of ice cream. They are also topped with an image from the Haunted Mansion just for fun.
Worms and dirt
This is a classic recipe incorporating gummy worms and cake with crushed cookies for your dining delight.
Mickey cupcakes
Of course no Halloween celebration in Disneyland would be complete without the mainstay of any such party, the customary cupcake.
Nobody throws a holiday party quite like Disneyland, and being in the happiest place on earth is so much fun that being there on Halloween seems like a bonus. The idea of getting to watch the Halloween parade is so enticing that a lot of people might think about racing down to Disneyland just for the experience.
Holiday themes in Disneyland are known for being over the top but not so much that younger kids can't fully enjoy themselves. Between the treats, the rides, and the sheer joy of being in Disneyland one can't help but admit that there is hardly a dull moment when you're in the park. These treats look so good that it's tempting to start making reservations right now in fact.
One thing to remember though upon making your way towards Disneyland for Halloween or any holiday is that expenses tend to go up and these treats you see are not bound to be cheap. That's why moderation is key if you fully plan on going to Disneyland during the holidays. If you've seen what their merchandise and snacks cost then you can easily imagine what it's going to cost to gorge yourself on their more inspired creations.
Have fun with your trip, take your kids or go with friends and just have a good time, but do remember to moderate yourself whenever possible so that you don't end up spending as much in Disneyland as you might on a weekend in Vegas.
Save