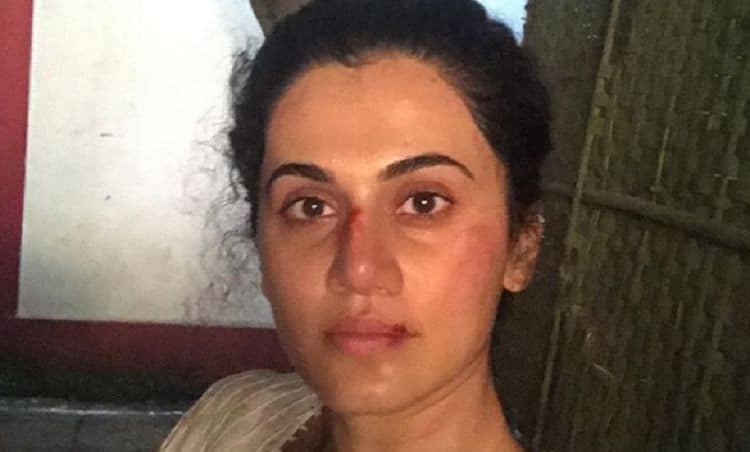 Fans of Taapsee Pannu know her from before she was in the highly lauded courtroom drama Pink. This brilliant and very skilled actress has more layers than an onion, and though she's relatively carefree, this is one actress with hidden depths. If you've been following her career, as we have, then you're probably curious about the star. We did some searching around and found ten things you didn't know about Taapsee Pannu.
1. Beauty and Brains
There are lots of pretty faces, but few who can back their good looks up with the brains to match. Taapsee has a Computer Science Engineering degree from GTBIT. Before moving into modeling and film, she worked as a Software Engineer for a while. In fact, she intended to pursue an MBA in her field eventually and sat for the entrance exams. However, she chose to pursue a very different path in the end. We love a woman with a STEM degree, especially one as talented as Pannu.
2. The Wedding Factory
When it comes to staying busy, Taapsee is a master. In addition to modeling and spending time on set filming movies, she co-owns a business called The Wedding Factory with two business partners. We're not sure how this enterprising woman has time to work more than one job given how much time both of her careers demand, but she pulls it off with grace and style. We admire her success, but hopefully, she takes time off for herself occasionally as well.
3. Daredevil
As though Taapsee wasn't amazing enough, she also works without a body or stunt double when she's filming. That's right, Pannu does all her own stunt work. We're awed by the level of sheer prowess Taapsee displays at everything she sets her mind to.
4. Pageants and Modeling
Taapsee didn't start in the film industry (after she left her computer engineering job). She was a model and walked in pageants before she decided film was the way to go. Pannu won numerous titles for herself. For example, in the 2008 Femina Miss India contest, she won both Safi Femina Miss Beautiful Skin and Pantaloons Femina Miss Fresh Face. Taapsee has graced the covers of quite a few magazines in her time as a model and film star, as well. She was on MaaStars and Just For Women, to name a couple.
5. Never Star Struck
Many starlets decide to marry another actor or a musician. We suppose it gives them a lot of common ground. However, not everyone likes to share the spotlight. Taapsee is in the latter category. She openly admits she doesn't think that having two stars in a relationship works well, and she's not interested in even dating a movie star. One thing is for sure. This star knows what she wants. Perhaps this is because she did date a fellow film star once. Mahat Raghavendra is a Tamil actor best known for his supporting role in the thriller/heist movie Mankatha. Perhaps there's more to the story, but if so, Taapsee isn't telling.
6. Squash Player
When she was in school, Pannu was always very physical and participated in plenty of sports. These days she's a professional Squash player. We don't need to ask how she keeps in shape, but we'd like to know where she keeps the magical device that lets her get around to do everything she enjoys.
7. Dancing Queen
When she was in the fourth grade, Taapsee Pannu began training for dance. Her life long passion for physical activities was no doubt helpful when she eventually transitioned to Bollywood performing. Bollywood's movies are (often)some of the most impressive and involved dance productions you'll ever see. Pannu is well suited to a dancing role since she's classically trained in Kathak and Bharatanatyam dancing.
8. Younger Sister
Shagun Pannu is Taapsee's younger sister. There are four years between the sibs, but Shagu is known for being the more mature sister despite her status as the baby sister. Taapsee, on the other hand, admits she's a bit of a brat at heart and doesn't mind being the less mature sister. She's still very protective of Shagun, who has never been interested in a film career and doesn't even like being on set to see her big sis. They may be very different, but clearly, the siblings have a great relationship. Shagun is every bit as gorgeous as her older sister, and she knows it when she posts magnificent bathing suits and sexy dress pictures online.
9. Powerpuff Fan
One of the most amusing facts we uncovered about the incredible, prolific and brilliant Taapsee Pannu is that she's secretly a fan of the Powerpuff Girls. Maybe she can relate to having a semi-normal life part-time and then having to fly off to a whirlwind of chaotic activity. Then again, perhaps she enjoys watching three girls who can take on the world and win. Whatever her reason, Taapsee lives the cartoon, and that's something most of her casual fans don't know. Were you surprised to learn about her affinity for the children's show?
10. Polyglot
When it comes to acting, those who can speak at least two languages indeed open up new film and screen opportunities for themselves. However, most actors and actresses, like most people, don't move beyond one or maybe two languages. Taapsee Pannu is an overachiever in every aspect of her life, and language is no exception. She speaks Hindi, Telugu, Tamil, English, Malayalam and Punjabi fluently. That's an impressive array of languages. Doubtless, she picked up some of the Tamil and Telugu when she worked in films in the area. Perhaps immersion learning is to blame for all her linguistic prowess, but regardless, she's as talented at learning to communicate in new ways as she is at everything else.
Final Thoughts
We don't think we could be more impressed with an actress if we tried. From running a successful business and having a STEM degree in computer engineering to her careers as a model, pageant girl, and actress, Taapsee Panu has done more in her thirty-two years than most people fit into a whole lifetime. What surprised you the most about her? Let us know in the comments section below.