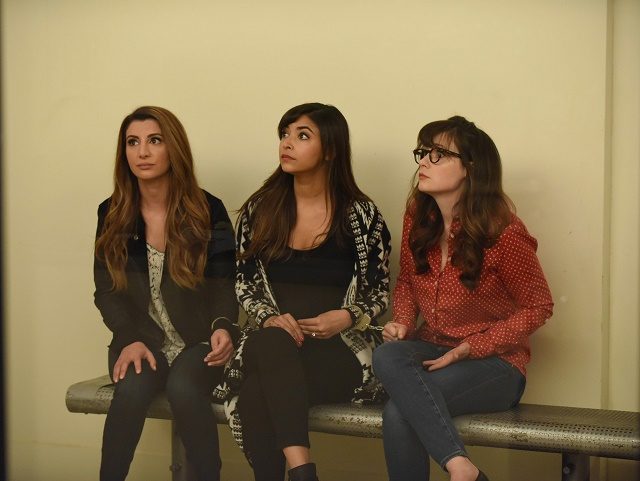 While I'm sure Liz Merriwether and her New Girl writing team didn't know that "Road Trip" and "A Chill Day In" would air on the same night when they were breaking the episodes, the scheduling for these two installments could not have worked out any better for the FOX sitcom. "Road Trip" and "A Chill Day In" feel like two perfect puzzle pieces, and they're pretty much mirror episodes of each other, with very similar plots and themes; hell, they even take place during the same time, as Schmidt and the guys get side-tracked on their trip to Vegas, while Cece and Jess's "chill day" turns into something much crazier. Ultimately, both New Girl episodes are this show at its best, as they tell really heartfelt Schmidt, Cece, and Winston stories, while also subverting many of the typical bachelor and bachelorette party TV tropes and examining masculinity and femininity in very different ways than what we've come to expect from television.
As I hinted at above, while "Road Trip" and "A Chill Day In" are a little bit different in their locations and events, the real meat of both of these episodes is essentially the same. After he's emasculated during a road rage incident, Schmidt admits to Nick that he's worried about whether or not he can take care of Cece, whether or not he can really be the best husband for her. Meanwhile, after Cece and Jess destroy a wedding present from Schmidt's mom (which came with an insulting note, insinuating that Cece wasn't wife material), the bride-to-be also wonders if she will be able to take care of Schmidt in the way that a wife should.
Ultimately, Nick and Jess (who is hilariously high throughout the entirety of "A Chill Day In," but more on that later) are able to reassure their best friends that they'll be able to take care of their soon-to-be spouses. Nick goes through the countless times that Schmidt has been there for him, even when he hasn't asked him to be or wanted him to be. He even calls Schmidt his husband because of how much he's taken care of him throughout their friendship and explains that his time being Nick's friend proves why he'll be the perfect man for Cece.
Similarly, Jess also reflects on her friendship with Cece to show her friend why she'll be an amazing wife to Schmidt. Throughout their years as friends, Cece has always be the fierce one, the one takes charge and makes sure that Jess is okay, no matter what nonsense they get into. As Jess puts it, Cece is a mama bear, and she'll bring that same type of fierceness to her marriage with Schmidt.
Neither Schmidt nor Cece's personalities embody the stereotypical traits of their respective genders; neither of them fits the traditional mold for husband or wife, and tonight's New Girl episodes remind them (and us) that it's completely okay. Traditional masculinity and femininity are constructs that have been created, and just because we don't fall into one of these overly strict categories, that doesn't make us any less of a person. Schmidt and Cece work so well together because they're who they truly are, and they love each other for it; that's the important message here.
In addition to the real heart and deep emotion coursing through both of the main stories on New Girl tonight, there's also some excellent moments of levity. In particular, the use of music in "Road Trip" and "A Chill Day In" is fantastic, as Katy Perry's "Roar" serves as the soundtrack to the hilarious fight between Schmidt's bachelor party gang and the bikers at the bar, while Mark Morrison's "Return of the Mack" (also wonderfully utilized in Netflix's Master of None) acts as a hilarious introduction to Jess and Cece's weed-filled day and as an anthem for when Cece embraces her mama bear roots and breaks herself, Jess, and Aly out of "mall prison."
And speaking of Aly, we have to talk about her and Winston, as the partners finally kiss in "A Chill Day In" after she learns about his feelings for her. The situation is still complicated, of course; despite what Jess thought she saw and heard, Aly and Tripp haven't officially broken up. However, despite the uncertainty of what's to come for this potential new couple, they've been a blast to follow all throughout Season 5, and the little bit of payoff we do get in tonight's second episode, with Winston remembering Aly's work anniversary and her kissing him afterward, is so marvelous that it doesn't really matter what happens in future episodes.
While last week's combo of "Jeff Day" and "Helmet" was more of a miss and hit, tonight's pairing of "Road Trip" and "A Chill Day In" is an absolutely grand slam for New Girl. These are both phenomenal episodes of the FOX sitcom, two of the very best from Season 5, and they've got me excited for what will happen next as we continue to approach Schmidt and Cece's season-finale wedding. Whatever the New Girl writers have in store, I'm not sure if it can top this incredible double-header, but I can't wait to see them try.
Other thoughts:
I mentioned this a little bit above, but how refreshing was it to have a TV show not follow the typical bachelor party/bachelorette party tropes? Schmidt and the guys end up at a terrible biker bar in the desert, while Cece and Jess get stoned and shoplift a breadmaker. Neither of those stories sounds like a bachelor party TV episode, and that's why both "Road Trip" and "A Chill Day In" work so well.
I forgot to mention that "A Chill Day In" brings us the wonderful return of Nadia, who not only sells Jess weed (while also attempting to give her a Russian nesting doll grenade) but also kidnaps the group for what looks like one epic dance party at the end of the episode. Also, how perfect was Robbie instantly falling for her? God, these episodes were just so great, you guys.
Cece and Jess destroying the breadmaker was hilarious. I especially loved their chanting of "USA!" after Jess shouted out that "Homemade bread is for Europeans!"
What moment from "Road Trip" was more outrageously funny: Robbie's enthusiastic and then suddenly horrified reaction to punching a woman during the big fight, or Big Schmidt stripping down as he ran towards his new Native American girlfriend at the end of the episode?
High Jess might be my favorite version of Jess. Every line out of her mouth was gold: "Hey, remember Coach?" "Oh yeah." "Where is he?", "That's a lot of dough. I'm trying to wink. Am I winking?", and, of course, "Baby in a raincoat."
"My favorite kind of white people are redheads with high socks. Male or female." Nick Miller at his weirdest and finest, ladies and gentlemen.
"It's not the feathers you have to worry about. It's the eggshells."
What did everyone else think about tonight's episodes of New Girl? Comment below and let me know.
[Photo credit: Adam Taylor/FOX]
New Girl Season 5 Episodes 17 & 18 Review: "Road Trip"/"A Chill Day In"
Summary
Schmidt and Cece's bachelor and bachelorette parties get a little crazy in two phenomenal episodes of New Girl.