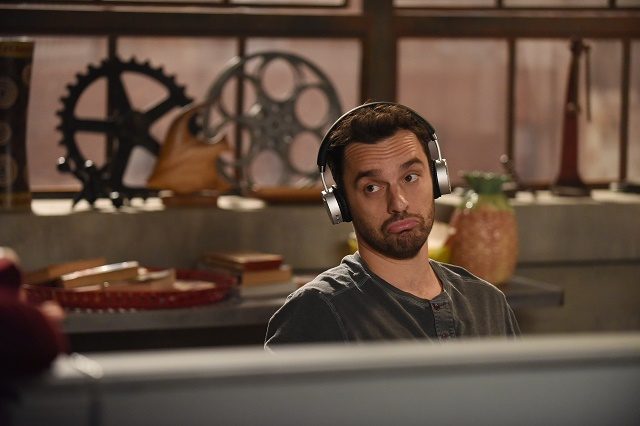 After several weeks of fun but, for the most part, pretty surface-level episodes, this week's New Girl digs a little deeper into the flaws and insecurities of Jess and Nick as they continue to struggle to make their current romantic relationships work. "The Cubicle" doesn't fully center on them and their problems (there's some wonderful material with Cece that I'll discuss later), but how they come together to deal with these issues provides the episode with its best moments, as the two exes and friends have an open and honest discussion about their own romantic history, giving some solid insight into what's causing these present relationship troubles and how they can fix them.
So what are the problems that Jess and Nick are facing? Initially, Jess worries about paying Robby's medical bills, which are way too expensive for her to cover but she insists on paying them anyway since it was technically her fault that he ended up in the hospital. However, all that stress Jess deals with, as she tries to come up with the money, mainly serves as a way for New Girl to reveal the main problem that she and Robby have: he can't criticize her. Meanwhile, Nick hesitates to share his book with Reagan because he's afraid that she won't enjoy it, and despite the glowing reviews from everyone else in the loft, it's Reagan's opinion that means the most to him. Can he allow himself to be that vulnerable?
Jess and Nick both have trouble solving these issues on their own with their significant others, which is how and why they turn to each other (and a bottle of gin) for assistance near the end of the episode. As Jess puts it, they provide each other with some "insight, ex to ex," as Nick explains to Jess that she tends to self-sabotage relationships whenever they seem too good to be true, and Jess encourages Nick to put himself out there entirely with Reagan, to be more vulnerable and allow her to read his book. The advice that Jess and Nick give to each other isn't just a nice moment of two friends helping each other out; it's also a chance for them to reflect on their failed romance and to look at how far they've grown since then. It's very telling that neither of them can truly remember what the final straw in their relationship was, and that all the problems they do list, from Nick's box that he used to use as a bank account to Jess's desire to live on a lake, seem so insignificant now that they're older and a little wiser.
Could this conversation be the New Girl's first step toward bringing Jess and Nick back together as a couple? It's possible, since this scene is very reminiscent of the types of talks the two of them used to have during the show's first and second seasons, before they started dating. However, what's more important than any potential reunion between the two exes is that they both not only recognize that they've matured as individuals but that they also demonstrate this newfound maturity through their actions with Robby and Reagan. Without any hint of romance, this exchange between Jess and Nick works marvelously on its own as a character moment for both of them.
While Jess and Nick spend most of "The Cubicle" worried about their personal lives, Cece is very concerned about her professional one. After booking her sole client, Donovan, his first modeling gig for the LAPD, Cece finds out that she might lose Donovan when he tells her that he wants to leave modeling and become a cop like Winston. Furthermore, Donovan admits this to Cece after Schmidt lands him a job in a new ad that his company is doing for Estrofuel, a menopause pill that eliminates night sweats.
Despite the fact that both Schmidt and Winston are by her side the entire time, pitching ideas and strategies to get Donovan back, Cece herself is the one that finally gets him to return to her modeling agency by convincing him that he'll be able to act out multiple jobs as a model and never be stuck or bored, which is what he fears. This moment is both impressive and pretty significant for Cece's character, as she shows not only the guys but also herself that she will be able to run this business on her own. Schmidt can be there to love and support her (and even buy her the titular cubicle that this episode get its name from), but if Cece really wants to make this agency her new career and not just another throwaway job, like bartending, then she has to have enough confidence and tenacity to make the big decisions that could make or break her agency.
As always, I'm excited to see where the New Girl writers take Cece's story next, and I hope it gets even more attention. Given that next week's episode is titled "Cece's Boys," the same name that Schmidt gives her agency, I'm thinking that this storyline will get plenty of screentime moving forward in Season 6.
Other thoughts:
On its own, Schmidt constructing a home office for Cece in their new house is a sweet and wonderful way to end the episode. However, you add in the comedy of him bringing the whole loft gang and entire Mariachi band to celebrate, and it's downright perfect.
New Girl's weirdest and goofiest jokes always speak the most to my strange sense of humor, which is probably why I found Winston being crowned the COW (Cop of the Week) the funniest moment from "The Cubicle."
A close second to that scene, though, is another Winston moment, which comes from the episode's cold open. Winston reveals that Furguson is in one of Cece's filing cabinet drawers making "fluffies," which he explains are "cat farts," before pressing down on the "bull" button when things get a little too awkward.
Max Greenfield's delivery of "Taking a limo to the bank. What is she a cartoon cat?" is fantastic on its own, but Jake Johnson and Lamorne Morris's reactions to it make that incredibly stupid joke even funnier.
What did everyone think of this week's episode of New Girl? Comment below and let me know.
[Photo credit: Ray Mickshaw/FOX]
New Girl Season 6 Episode 12 Review: "The Cubicle"
Summary
Nick and Jess help each other with their romantic relationships, and Cece takes charge of her modeling business in a great episode of New Girl.