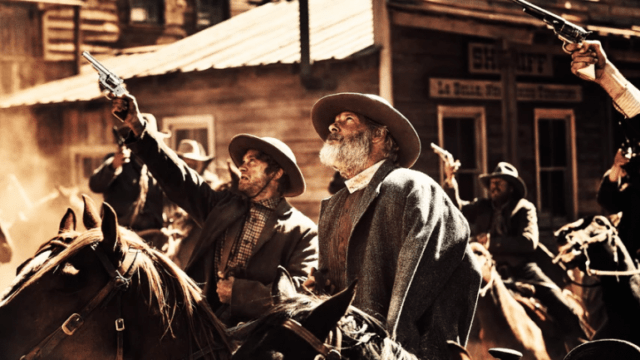 If you've been looking for a new show to binge on Netflix, you've probably heard of Godless. Nestled between the releases of Stranger Things season 2, Marvel's The Punisher, and the fourth season of Black Mirror, Godless seems the odd man out.
Its premise is simple enough to ignore: Jeff Daniels plays a gang leader in the Old West hellbent on revenge. And as the series moves through its plot, there aren't very many surprises. Instead, the show leans on strong performances of its cast.
Michelle Dockery (Downton Abbey) plays a widowed rancher with a half-Native son. Jack O'Connell plays Roy Goode, an outlaw running from his life with a curious method of breaking horses that the Humane Society would approve of. Thomas Brodie-Sangster (Game of Thrones) is a deputy in love with the daughter of a buffalo soldier. And of course, Jeff Daniels, who carries the show as Frank Griffin, a villain who speaks in uneasy Bible passages and carries his severed him with him.
The show is centered around the city of La Belle, New Mexico, a silver mining town that lost most of its men to a mine collapse. The miners' widows try to keep the town running, caught between vulturous mining companies and the coming storm that is Griffin's gang.
There aren't many big reveals or spoiler-baiting plot twists. Its storyline follows the exact path you'd expect it to: an outlaw pursues a man who betrayed him, finds him, and has a showdown.
But that's exactly why we need this show.
As a television viewing audience, we have become obsessed with twists. We lick our lips speculating about fan theories. We get high off of arguing about what's going to happen in the finale. We relish the moment a character turns out to be more than they appear. We've become addicts, waiting for that next hit of shock and surprise. We freak out about it on Twitter, and then forget all about it as soon as the next series drops.
Godless refuses to give in to our demand for these cheap thrills and instead offers a patiently told, expertly crafted narrative.
That isn't to say that the series is devoid of excitement, though. There are moments of grit and grotesque that can make even the strongest stomachs queasy. The gunfights are brutal and bloody. Griffin's actions are callous and cruel. Dockery's character is raped by a group of barely-human outlaws wearing bison heads as masks. The diseases of the day are shown with harrowing accuracy–especially the smallpox den that looks like a set from The Walking Dead.
But overall, Godless keeps a measured pace, swelling towards the inevitable showdown between Frank Griffin and Roy Goode. With each passing episode, the stakes get higher, but not much changes. Which makes the final climax all the more satisfying.
It's a change of pace from most twist-heavy Netflix originals, but it's exactly what we need right now.
Tell us what's wrong with this post? How could we improve it? :)
Let us improve this post!