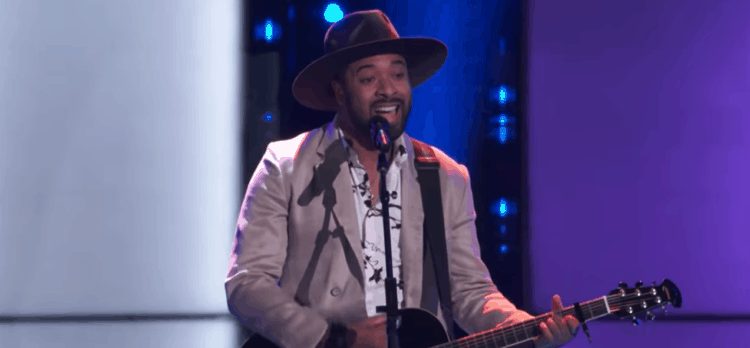 With a smokey rasp in his sultry singing voice, Nelson Cade III had an audition to die for on the Season 18 premiere of The Voice. Social media began to rock almost immediately with the details of his 4-chair-turn judging. The coveted audition was Nelson's to enjoy as John Legend, Kelly Clarkson, Nick Jonas, and Blake Shelton turned their chairs in rapid succession, one after the other, to see the face that matched that voice. It's a wonderful, welcoming face to match an unforgettable voice.
1. Nelson's fiancé Stephanie secretly signed him up to audition for The Voice.
Stephanie was cagey. Nelson told Voice News that she 'dropped him off at the convention center and handed him some paperwork' while telling him to "get out and go play for these people". Nelson said that the whole episode was "pretty impromptu". The two of them often enjoy walking through Los Angeles together while she photographs the city and he sings while playing his guitar. He thought they were going to do that again, but his day turned out to be very different than expected. He decided to sing Stevie Ray Vaughan's "Pride and Joy" as his audition song because he sings it every time he performs, the song reminds him of his fiancé, and he views it's expressiveness as "what music is supposed to be".
2. Nelson stated that he "was raised by several villages"
This truth in his life has prompted him to learn as much as can during his time on The Voice. He told Voice News that he wants those villages to see the fruit of their efforts in his success. It's important to Nelson to reach out and tell them that this is what is possible when "you approach your obstacles with perseverance". Nelson explained that there were "countless" issues which could have prevented him from becoming a successful musician, but he dealt with them by not waiting for opportunity. His decision was to 'spend a lot of time preparing for ANY opportunity'. For Nelson, the idiom "It takes a village" has been a constant presence in his life.
3. Nelson is a classically trained pianist
His parents allowed him to take private piano lessons on the condition that once he started, he would never stop. He was in first grade then, but his musical training continued. He was accepted into the prestigious Orange County High School of the Arts where he studied in the piano conservatory from Grades 7 through 10. He told Baltimore Guided that he practiced and played piano from 5 to 8 hours a day during that time. He transferred into Anaheim High School, where the choir room was his "haven". He didn't have access to a piano, so he got a guitar for Christmas. He didn't know how to play it, but he "figured it out". That's when he started walking from home to school and back. He used his walking time to teach himself how to play guitar. Not much later, he began to sing, too.
4. Nelson's first gig happened because he was seen walking past a Los Angeles farmer's market holding his guitar
He got the gig because one of the market's organizers asked him if he wanted to perform there. That opportunity led to plenty of other gigs all over Southern California. He's performed at the Segerstrom Center of the Arts in Costa Mesa, the Anaheim House of Blues, Los Angeles bars and restaurants, wine bars and private parties. Nelson's love for different music genres keeps him busy performing and composing his own music, too. He performs rock and oldies, folk, pop, blues, and his own tunes.
5. Stevie Wonder joined Nelson onstage to sing a duet
It happened in the Westwood area of Los Angeles at the Skylight Gardens. Someone passed a note to Nelson while he was right in the middle of a song. The note was a message that Stevie Wonder was in the audience. Nelson said he was already nervous by that time, but the note made it even worse. As soon as he finished his instrumental, he got a tap on the shoulder with an even more amazing message. Stevie Wonder was asking if he could play with Nelson. Nelson nearly "broke down" right there and then. The two ending up playing together for 35 minutes. They jammed on all of Wonder's favorites. They took turns singing all the parts. Nelson said that the experience was "So perfect… so perfect… it felt like divine intervention".
6. Stevie Wonder's approval of Nelson completed changed Nelson's perspective
When Wonder asked Nelson if he wrote his own music, Nelson said, "Yes", and Wonder simply smiled. Nelson told CBS Los Angeles News, "Wonder's smile is amazing." Wonder told Nelson that he was excited to hear his music and was looking forward to the release of Nelson's EP. At the time, Nelson had a day job and spent his nights pursing his dream of becoming a musician full time. Nelson said that Wonder's approval erased any doubts about whether he should "move forward" as a musician, and his future decisions about a musical career would now become much easier. Wonder's bodyguard gave Nelson a business card, but Nelson was so inspired by the experience that all he could think about was creating that EP so that Wonder could have the chance to hear it.
7. Nelson played "Sunday Morning" at The Voice Open Mic
The gutsy choice of an acoustic cover of the Maroon 5 song was a hit with the audience.
8. Nelson's mother stated their pastor referenced him in a sermon as a "linguistic volcano"
Nelson was Beverly Clavon's first child. Clavon told Baltimore Guided that he was reading long before he entered Kindergarten and began public speaking when he was in the 5th Grade. As a result, he was invited to deliver the sermon at several churches. His mother is a long-time resident of the Patterson Park area of East Baltimore. Nelson made early videos of himself performing songs in Patterson Park and posted them on social media.
9. Nelson performed for his sixth-grade teacher's classroom when he was in high school
His former sixth grade teacher, Muntzi Roth Verga, told Baltimore Guided about how Nelson came to perform for her class when he was a high school student. She said that she had discovered his talent much earlier- when he was a young sixth grade student in her classroom. It was a rainy day and students were hanging around in the lunchroom. She asked if any of the students could play piano. A few students volunteered before Nelson. But when he took his turn, she said that "all chatter stopped" in the lunchroom. All ears were turned to Nelson's performance. Nelson's sixth grade performance, as Verga posted, let everyone know that they "were in the presence of major talent". Fast forward to Nelson's high school performance–everyone was taking photos and asking Nelson for his autograph.
10. Nelson learned how to play Rachmaninoff's "Prelude in C Sharp Minor" at age 12
His mother offered to buy a tuxedo with tails for him when he has mastered it. She told Baltimore Guided that the piano piece was her favorite. She learned something about his talent when he was punished for getting a bad grade in high school. The punishment included taking away his piano practice. Nelson survived that by learning how to play Guitar Hero. As soon as he beat the game, she said he asked for a guitar. She said that Nelson is "a genuinely kind soul, that is full of talent, love, laughter, and he just wants to share that". She said, "He is music."