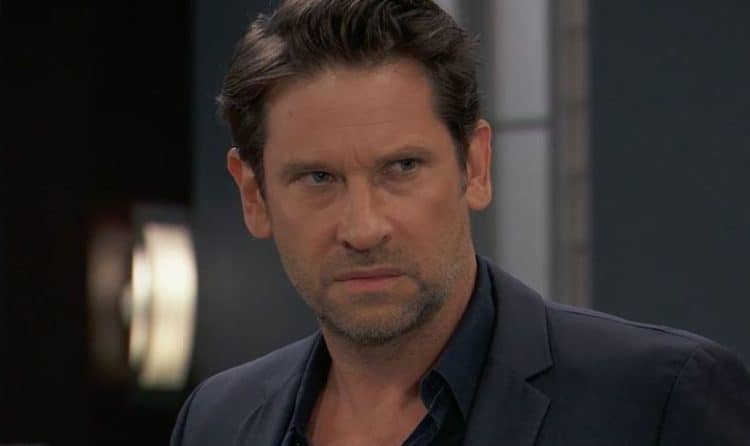 General Hospital fans know things are getting crazier every day, and watching Carly and Joss both have their time with Nelle was all that we could hope for and more. And we have to say that watching Michael and Jason try and figure things out has been good, too. He needs that kind of distraction in his life, and he needs to know that there is something that he can do to make right all the things that he made wrong by not listening to his mother. We had to do it, but she did tell him that this would happen. There is nothing that he can do to change any of this, but she did tell him that it would not end well if he continued to become involved with her so many months ago. Now he is the father of a dead baby, his family is basically in ruins, and everything is a mess.
But his baby is not dead, and it's been hard watching Lucas fall more and more in love with the baby with that knowledge in our minds. We know that he doesn't know that this is not his baby. Brad did a bad thing, even if he did have the best of intentions when he did it. It's been bad news, and we can't help but think that things are going to take a major turn for the worse. We are sorry it all had to end this way, but there is nothing that this can do to make it right for us. One father is going to end up heartbroken however this ends. And it's going to stay a heartbroken Michael, or Brad and Lucas will both end up crushed in a terrible way when it's all said and done.
What's Happening on General Hospital
https://twitter.com/GeneralHospital/status/1027289888347942913?ref_src=twsrc%5Etfw
Let's face it. We all hate Nelle. We seriously hate her and all she did to this family that we've loved for so long. She lied, cheated, tried to kill, tried to make people go away forever, and she ruined lives. She even gave away Michael's baby and told him the baby died. She's horrible, but we all love Chloe Lanier — who is the woman who plays Nelle. She's a genius. And we will miss her terribly. The show said goodbye to her with cake — which we love — and we're sharing some photos of her farewell.
What's Next on General Hospital
"He cannot keep doing this; it's not right!" #GH55 pic.twitter.com/OFQgwC6w33

— General Hospital (@GeneralHospital) August 9, 2018
Fans are excited that the week is over and we can take a breather for a few days. It's been an emotional and upsetting week, but we think that there is a good chance we can get things handled otherwise. For one, we are going to see that there is a lot we can do about things that are going on with Franco and Liz. He wants to make some big moves in life, but we will see her unsure of how to handle that. She's not sure she wants to go that route with him. In fact, she seems to want to go a different route with him altogether. She's not sure that she can find a happy ending with him at this point, and we don't blame her. He's been so focused on everything but their marriage and relationship, and it's been sad for her to deal with that. But, there is always hope.
And then there is the fact that Ava is going to force someone's hand. She's got Scotty on her mind, and she wants him to do what she feels he needs to do. This means that she will go out of her way to ensure that they are able to get what they want from others, and she's not going to stop until she's able to fix her problems and make sure they are good to go. She's going to force his hand, and we know that always means there is a chance that things will turn around for them and make it uglier than it needs to be. It always works that way for her.
Stay tuned for more General Hospital and be sure to check out TVOvermind daily for the latest General Hospital spoilers, news, and updates.