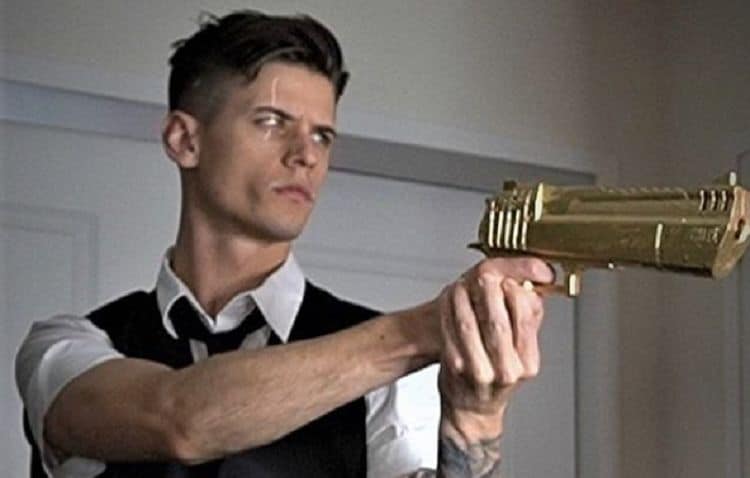 There was once a time when anyone who spent too much time playing video games was considered a nerd. Along with that came not having much of a social life or very many friends. However, times have certainly changed and gamers like Nate Hill are reaping all of the benefits. Hill is a professional gamer best-known for playing Fortnite. The 25-year-old has built up a massive fan base that includes over 1 million followers on Instagram. His YouTube channel also has a healthy following with more than 550,000 subscribers. Keep reading for 10 things you didn't know about Nate Hill.
1. He's Was A Model
Being in front of the camera isn't anything new for Nate Hill. He was a professional model for seven years before getting signed a gamer. His career began after his mom encouraged to pursue the opportunity. He eventually left school to model full-time. Although he's put modeling on hold for now, he still likes to incorporate a sense of style into his gaming looks.
2. He's a Cowboys Fan
Nate Hill is from Pennsylvania and is a fan of most Philly sports teams. However, football is the exception. He's a devoted Cowboys fan and says he began liking the team out of a desire to play devil's advocate when he was younger.
3. He's A Singer
Before his YouTube channel was full of live stream uploads, it had a completely different purpose. Hill used to upload videos of himself singing covers and playing the guitar. Many of his gaming fans are shocked when they find out that he's actually good singer. He may even decide to pursue singing further over the next few years.
4. He's A Big Tennis Fan
Nate Hill loves tennis and grew up watching and admiring Roger Federer. In 2019, he got the opportunity to visit Arthur Ashe stadium to compete in the Fortnite World Cup Finals. During an interview, Hill said he was excited to be at the venue. While there, he even got to play Fornite against tennis player, Taylor Fritz.
5. He Likes To Game For Good Causes
People like Nate Hill have shown the public that gaming can be about much more than just playing around. Hill and well-known DJ, Marshmello, decided to team up to use their talents to help raise money for local businesses amid the current COVID-19 crisis. The two set up a 45 minute livestream where they competed against each other in Fortnite. In a press release promoting the event, Hill said, "I am proud FaZe Clan is teaming up with Verizon to help small businesses in need. As a gamer, I rely on these companies like local restaurants for food every day. I am honored to take part in the Pay It Forward initiative alongside Marshmello and help those in need."
6. He Doesn't Consider Himself A Celebrity
By today's social media standards, Nate Hill is most certainly a celebrity. But he doesn't really see himself that way. He's had dreams of professional gamer for years, and considers himself just that: a gamer. However, he does take his responsibility as a role model very seriously and hopes that he can make a positive impact on his viewers' lives.
7. He Wants To Be An Actor
Right now, Nate Hill is enjoying his gaming career and wants to continue gaming for the near future. When asked what he'd like to do next, he mentioned that acting is definitely something he would like to consider. After modeling and live streaming, it just seems like a natural transition for him to make.
8. Eminem Would Be His Choice For Walk Up Music
Nothing can help you prepare for a big competition like a song with good energy. That's exactly why most athletes listen to warm up and walk up songs as they prepare for games. If Nate Hill had to pick a song to 'walk up' to, it would be "Fall" by Eminem.
9. A Soccer Jersey Helped Spark His Gaming Career
Ultimately, its Nate Hill's skills that got him signed with FaZe Clan, but it was his look that got him noticed. During a Fornite tournament, he attracted the attention of FaZe Clan after someone noticed he was wearing a Manchester United F.C. jersey that resembled the shirt his character in the game was wearing.
10. 3DO Was His First Gaming Console
People would probably assume that Nate Hill started his gaming journey with a main stream console, but he actually started with one that most people have never heard of. His first console was a 3DO which was sold from 1993 to 1996. His favorite game on the console was Road Rash.
Tell us what's wrong with this post? How could we improve it? :)
Let us improve this post!